[box]By Nathaniel Cheairs Hughes Jr. and Roy P. Stonesifer Jr.
University of North Carolina Press, 1993
Reviewed by Len Riedel, Executive Director, BGES
January 3, 2012, Myrtle Beach, SC[/box]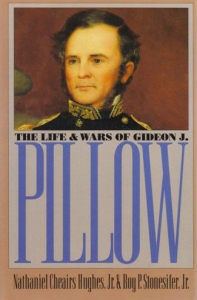 Gideon Pillow, yes I know the name, he was that guy who skulked away with John B. Floyd at Dover Tennessee and left the fate of the Confederate troops stationed at Fort Donelson to Simon B. Buckner and US Grant—a political general and the worst kind of pretender, totally without merit. Yes that is the name I knew until I read Hughes and Stonesifer's book. So little interest did I have in Pillow that I acquired the book and had Hughes autograph it in January 1996 — I finally read it 16 years later. That was my misfortune.