Support Battlefield Preservation and Education with Limited Edition Leather Bound Collector's Books.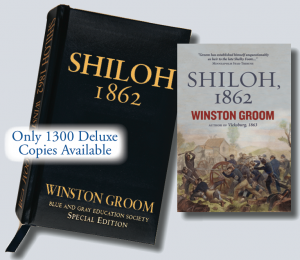 As a member of the BGES, I am proud to help the organization by authorizing a special leather bound limited edition of this book.
— Winston Groom December 2011
Your full price purchase from BGES provides much-needed revenue for Battlefield Education and Preservation. Purchase Shiloh, 1862.
Special leather-bound editions are National Geographic authorized deluxe editions to raise funds for preservation and education and are only available through The Blue And Gray Education Society! Order now before they are gone! Use the links above, or download a printable flyer and order form (pdf).