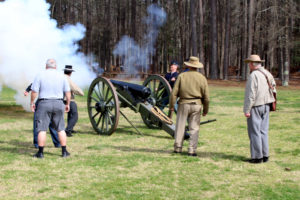 In 2007, A. Wilson Greene, President and CEO of Pamplin Historical Park, asked BGES to cosponsor the acquisition of a piece of artillery for use in their Civil War Adventure Camp. The camps were designed to expose both youth and adults to the life of the common soldier, and the artillery piece was intended to show the power of the combat environment. Participants would have the opportunity to see how the gun was serviced, the teamwork required to fire it, and the tremendous concussive footprint a fully loaded artillery piece had. The park selected a 12-pounder Confederate model Napoleon. BGES members contributed nearly $10,000 as their share of the project. The gun was fired by Marine Corps Corporal Jessie Fletcher, an American Wounded Warrior alumni of our Wounded Warrior tour program, to kick off our 25th Anniversary year in April 2018.
Twelve years after the initial purchase, Pamplin Park approached us about partnering to replace the wooden carriage with an aluminum carriage that would cost $15,000. In the summer of 2019 we agreed to be the last money in. Based on the relative size of the two organizations' donor bases we agreed to 40% of the funding profile. A member of the BGES agreed to match half of the BGES commitment and in cooperation with the Civil War Round Table Congress and BGES members and friends the money was raised in the spring of 2020 and the new carriage has been ordered and will be in use in the summer.
BGES secured the wooden carriage and is refurbishing it for pairing with another tube for either a static display or a functional firing piece. We will update this and announce the placement in due course.