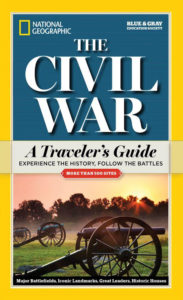 Perfect for tour planning and on-the-ground use, this guide will prove indispensable on any expedition to explore Civil War history in America. Packed with color photographs, more than 600 historic battlefield and additional Civil War related sites, walking tours, 50 detailed maps, and the collective expertise of Civil War historians and dozens of park service experts, this handy, practical guide offers comprehensive information on the more than 384 sites recognized by the National Park Service as official battlefield locations, including the main Battlefield Sites from Manassas to Appomattox Court House. In addition, this guide steers travelers to scores of additional little-seen and off-the-beaten path sites near the main battlefields.
National Geographic The Civil War helps travelers experience the Civil War chronologically by location or campaign, experiencing the battles and skirmishes as the soldiers themselves would have encountered them: Follow Lee's march to Gettysburg or drive the Secession Trail through South Carolina. Walking tours provide visitors with detailed instructions, short histories, and a map so they can get out of the car and explore on foot. A history of individual parks is included, as well as books for further reading about specific figures or battles. A list of all of the Civil War battles in chronological order and a timeline of major events of the war puts the entire war in historical perspective. A complete list of all of the major campaigns as well as short biographies of key leaders and influential figures sheds light on the strategic maneuvers of the war. This travel guide is the perfect companion for any Civil War history exploration.
The author, Len Riedel is the founder and executive director of the Blue and Gray Education Society. Riedel is a graduate of the Virginia Military Institute. He earned his Master of Arts degree from Old Dominion University. His emphasis was in Policy and Strategy with a thesis on General Magruder and the defense of the Virginia Peninsula. Major Riedel retired from the United States Air Force in 1994. He has played a key role in three previous books with National Geographic and has planned and conducted more than 300 different Civil War battlefield tours in 20 years. He speaks easily without notes on a range of topics.
Purchase Civil War: A Traveler's Guide:

using our secure PayPal server

Leather bound, limited edition.

$45.00

$36.00 (until October 31st)

PROMO CODE: 01BGES20

Available only from BGES.

Buy Now

Leather bound, limited edition, signed. $75.00. Available only from BGES.

Trade edition. $25.00
using our secure PayPal server

You can also order by mail. Download a printable flyer and order form (pdf). Prices are inclusive of shipping and tax within the United States. Contact us if you want to purchase Civil War a Traveler's Guide and have it shipped outside of the US.
See our other collectors edition books and help us raise even more for battlefield preservation and education: Limited Edition Collector's Books from BGES.