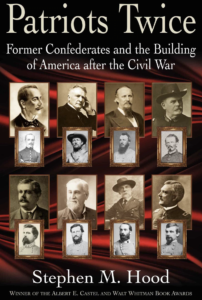 After the guns fell silent and the soldiers on both sides returned home they turned to restoring their prosperity and fulfilling their potential. The United States was on the brink of a world presence that would be imagined, created and propagated across the country and the world. Manifest Destiny rode the rails from coast to coast and transatlantic communications would be established made it a smaller world. The Gilded Age and the explosive growth of educational opportunities propelled the United States into world dominance. A war with Spain saw former Confederate officers recommissioned in the service of the United States and as the Civil War veterans aged and died their legacy and public admiration crested. We see the same reverence today for the dying veterans of the "Greatest Generation." How did this renewal happen?
Sam Hood has written a unique book that was inspired by a political movement that has labeled southerners, who were involved in the Civil War, as traitors. This hurtful and combative label caused Hood to ask if that was indeed true? The more he looked the more interested he became in the post war contributions of these "traitors." As Sam is won't to do he took the contrary position that they were Patriots in loyalty to the South and Patriots again in their newfound loyalty to the Reunited states.
Unlike most books this is really a reference work of more than 300 biographical sketches that selects a wide range of ex-Confederates from all walks of life and levels of authority and follows their post war lives. Each is and should be read as a separate story with all the ramifications that individual had on post war America. The record is an impressive array of successful leaders whose reach was north, south, east west, international, federal, state, local, secular and nonsecular. It is a story of American promise, potential and achievement.
This book is an undisputable and uplifting contribution that reminds us that the Civil War and its participants were all Americans fiercely devoted to their families and beliefs and when educated or opportunity presented itself were as capable and motivated to leadership and public service as any other American. It is and will be indispensable for each person who relishes their ancestry while enlightening people who perhaps never considered that southern citizens were and continued to be valuable leaders in the growing and dominate positions America acquired.
This book does not attempt to solve society's ills nor does it attempt to elevate or make a political statement. It is a simple, interesting compendium of the contributions of former confederates to the post war world. Like all there were failures and successes. This book emphasizes the successes. It is a real pleasure to read.
We have a special relationship with Sam and have made arrangements for signed first edition prints of the book when it is released in another two weeks. You can order your advance copy (copies) of the book by clicking here The inclusive price of $42 includes, a First Day, first edition release dated, autographed copy inclusive of shipping, insurance and tax.
Purchase Patriots Twice: Former Confederates and the Building of America after the Civil War using our secure PayPal server

First Day, first edition release dated, autographed copy inclusive of shipping, insurance and tax. $42.00.
See our other collectors edition books and help us raise even more for battlefield preservation and education: Limited Edition Collector's Books from BGES.