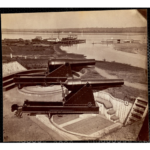 Who, what, where, why?
Know something about the Civil War? We're posting 15 photos each month from the Medford Massachusetts Historical Society collection of photos by Samuel Crocker Lawrence, a Civil War general, and Medford's first mayor. Follow this link to join our treasure hunt and see how many you can identify.
Upcoming
Tours
GET OUT IN THE WEEDS & CONNECT WITH HISTORY | Our historians interact  with the individuals in our small groups to deliver a powerful personal and insightful interpretative experience.  Using 15 passenger vans we access areas buses and large tour groups cannot.