We depend on our members' generosity to support our mission. If you are already a member and want to renew, see our Membership Renewal page. If you're not and want to join, keep reading.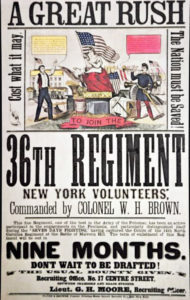 The BGES tracks donors by assigning membership numbers and, like many charitable organizations, has what is termed an Annual Fund. Thus a "member" is asked to donate again annually near the anniversary of their joining the organization. If you join in April, you will be asked to renew your commitment for another year in February, giving you three months to act.
The BGES recognizes the martial nature of the Civil War and organizes into Regiments similar to the military. A new recruit at the basic level is enlisted as a Volunteer, and the membership donation is $75 for the year. A lower level membership joins as a Cadet, and the basic donation is $25 annually. Member number 1832 is in the Second Volunteer Regiment, Company H, while member number 2019 is the Third Volunteer Regiment, Company A.
Donors at higher levels are commissioned as officers at various Leadership Corps levels: Company, Regimental, Brigade, etc. Each level is honorific and does not bring with it special benefits, thus the entire amount is deductible.
Membership donations are unrestricted donations used to fund the operations of the organization, which presently does not seek or use government grants for overhead or administrative funding. This support is essential to the continued existence of the BGES. Your membership makes all the various things we do possible. Projects of the BGES are funded by special collection and appeals.
BGES is a 501(c)(3) organization; therefore, membership donations are 100% tax-deductible. Our members' annual membership donations start at a minimum of $75/year (Volunteer level), although many members choose to donate at higher levels (Leadership Corps). Members may also choose to participate in our Quarter Guard Program which allows them to support BGES on a monthly or quarterly basis.
Benefits of Membership
Benefits of membership include:
A special member's rate on any BGES seminar
Periodic scholarly papers in the Papers of the BGES series
Quarterly electronic newsletter
Reciprocal benefits with sister organizations
Personal updates from the Executive Director for members of the BGES Leadership Corps
Tax-deductible membership fees, annual membership card, collectible BGES membership momentos
Special email updates
The First Edition Autographed Book Club
Access to the nation's leading Civil War scholars and opportunities for autographed, first-editions of their books
Opportunities to participate in projects supporting Civil War education
Join online, using a secure PayPal server.
Count me in! In support of the mission of the Blue and Gray Education Society, I want to join the BGES Volunteer Regiment for $75.00/year.
I am a pre-college or full-time college student and want to join as a BGES Cadet for $25.00/year.
I appreciate the work you do and want to do more to enhance the greater mission of battlefield interpretation by the BGES. I want to make a contribution of over $100 and join BGES as a Leadership Corps member.
To join by mail, use our downloadable, printable registration form.
If you still have questions about membership, contact us.