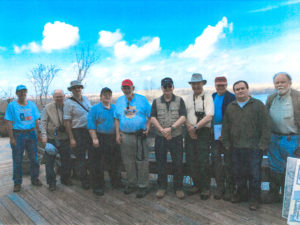 BGES prides itself in completing projects on time and budget. The sign project at Grand Gulf was identified in February 2018, and the Board of Directors granted approval in April. The $8,000 budget was fully subscribed in May, in less than one week, with funding coming from the cohort who attended the February tour, Facebook friends, and an on online appeal that was ended with full funding in just three days.
The project involves stripping down all 34 of the 55-year-old aluminum markers, repairing damaged signs, and then prime painting and final painting with a long-term outdoor paint. The vendor camped at Grand Gulf for the duration of the project, with the camp fees being waived by the park.
A full color printable version of the site map with marker locations can be downloaded here: Grand Gulf Interpretive Markers Map.
The following photos show the state of Grand Gulf signs as BGES begins the project.
The Restored Signs
The project was completion in October, 2018. These are photos of all of the restored signs. Click on any image to see a larger version.