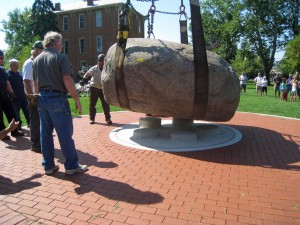 About two years ago, BGES member Joe Heiberger told me of an interesting organization he was volunteering with. It had restored a 19th century coaching inn – a stagecoach-era hotel for man and beast – and was now involved in commissioning and erecting an equestrian statue of its hometown general, William Starke Rosecrans. Sunbury, Ohio, was the place and the Big Walnut Historical Society was the organization that had restored the Myers (coaching) Inn, one of Sunbury's oldest structures. I promised to visit and see what they were doing.
I fulfilled my pledge in June 2012 and found a motivated organization whose high-energy people had well advanced a nearly $200,000 project. The group – nominally centered around a local reenactor, Tom Paul, who portrayed General Rosecrans, and his staff of reenactors – had a prototype design of the statue completed, the spot on the square prepared and a huge stone which would be the base of the monument in storage. I visited all the sites and consulted with the key individuals making specific recommendations. I had a follow-up meeting with Polly Horn, one of the key players in the community, the next day.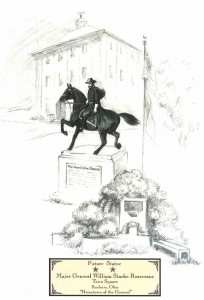 The core of my recommendation was that the project could and should be primarily funded locally. The Governor was from the area and the case was a compelling one. I said that such a combination argued for an appeal to community pride. That recommendation has proven fruitful and I am pleased to report that Sunbury and the Big Walnut Historical Society are within sight of their fundraising objectives. BGES has been invited to the tentative dedication in September 2013 and the stone base is now in place upon the town square.
While BGES wasn't involved in a formal donation, I did believe it was important to offer members the opportunity to participate in this project. There's the opportunity to make a lasting contribution by sponsoring a brick in honor of a member of the Army of the Cumberland or in your own right. It is a worthy project–I am sponsoring a brick for myself in honor of BGES and in tribute to my daughter who is a representative of the future that we must think of in all our preservation work.