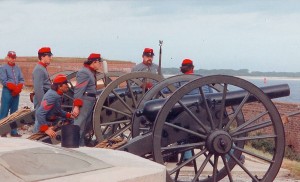 In this season of giving thanks, we're grateful for our members!
BGES may be a small organization, but our members' generous support allows us to go beyond our battlefield tours and make even more of a difference in preserving America's rich heritage.
This year we made good on several educational commitments.
We funded one-third of the cost of a centerpiece exhibit at the newly opened visitors' center at the Sailor's Creek Battlefield, near Rice, Va. The first-of-its-kind display features a hologram of a Union soldier and a Confederate soldier discussing actions during the battle where Robert E. Lee's Army lost close to 8,000 men on April 6, 1864, key to his decision to surrender soon after.
We partnered with the Hanover (Virginia) County Sesquicentennial Committee to produce a brochure featuring the county's Civil War sites, including North Anna where we've been supporting interpretation projects since 1997 – and where we're key players in expanding interpretation of the battlefield park.
We fulfilled our pledge as leading supporters in helping the Friends of Raymond restore and place 10 pieces of artillery on the battlefield at Raymond, Mississippi.
We funded the $5,000 prize for the Society of Civil War Historians' First Public History Award, presented to the Gunn Historical Museum in Washington, CT, for its splendid presentation, "Life through Letters."
We partnered with the National Geographic Society to publish Winston Groom's superb book, "Shiloh, 1862" – our third collaboration with NGS as part of our mission of "Revealing our Past for our Future."
We held a book sale to raise funds to finance the repair and painting of BGES's Chatham headquarters and reduce its principal debt.
We've begun working on replacement of some interpretive signs at Perryville Battlefield.
We kicked off efforts to help Florida's Fort Clinch fund an additional artillery piece as as part of its educational outreach.
Last, but by no means least, we conducted 8 battlefield tours for wounded warriors recovering at Walter Reed National Military Medical Center. This year, we served nearly 200 warriors and family members.
As I've said before, "For a group so small, we pack quite a wallop! To paraphrase Stonewall Jackson, 'Who could not conquer with such members as these?'"
Happy Thanksgiving to all our members and friends!