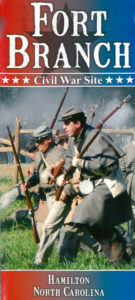 By spring 1862, the Union Navy and Army had secured footholds along the coast of North Carolina and South Carolina. With control of Port Royal, Pamilico, and Albemarle Sounds, Confederate engineers engaged in an aggressive program fortifying and protecting rivers and railroads. In North Carolina, the Roanoke River presented an aquatic dagger into the interior threatening the critical Wilmington–Weldon Railroad. Plans were laid and work started on an earthen fortification near Hamilton with a commanding position on a bluff overlooking the river, Fort Branch.
As the war progressed, Fort Branch was outfitted with eleven guns. Such significant protection allowed the nearby construction of the ironclad ram C.S.S. Albemarle, which would go on to help regain control of the lower Roanoke River and Albemarle Sound. Several efforts were made to capture the fort, but serious combat was not her fate. When the war ended, the Confederates dismounted the artillery pieces and dumped them into the river.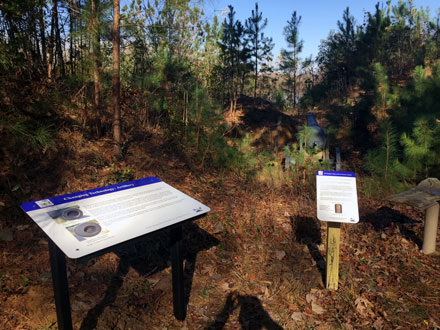 Time has been good to the fort, and the site is in pristine condition. For more than 30 years, reenactment groups have sponsored the site and used it to train encamped reenactors. The owner and his heir are farmers who have managed the property and created a museum with the recovered guns and artifacts. Active archaeology is revealing more secrets. The fort is open to visitors on weekends, and the site is staffed by volunteers. A "Friends Group" looks out for the interests of the site.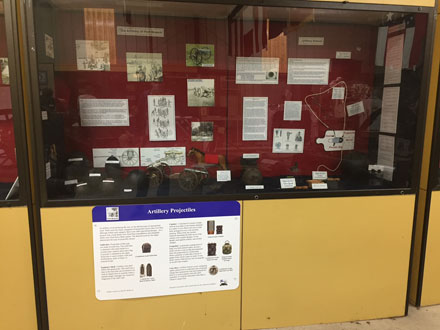 In the summer of 2018, the BGES Board of Directors authorized a partnership with Fort Branch to produce approximately 20 signs interpreting many sites and items at the fort. Fundraising was completed by September, and a rough draft of the signs began coming together a few months later. Former BGES Historian Gloria Swift took some text provided by volunteers at Fort Branch and created the final wording for the signs. Then BGES volunteer Scott Williams completed the layout and graphic design of the signs, which were proofread and approved by the Fort Branch volunteers. After the signs were manufactured, a large group of volunteers installed the 18 signs at Fort Branch the weekend after Thanksgiving in 2020. BGES provided the mounts for the larger signs while Fort Branch provided mounts for the smaller signs, plenty of cement, and the majority of the tools and labor.
Follow these links for:
Click any sign below to see a larger version.