[box]By Nathaniel Cheairs Hughes Jr. and Roy P. Stonesifer Jr.
University of North Carolina Press, 1993
Reviewed by Len Riedel, Executive Director, BGES
January 3, 2012, Myrtle Beach, SC[/box]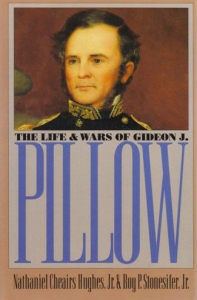 Gideon Pillow, yes I know the name, he was that guy who skulked away with John B. Floyd at Dover Tennessee and left the fate of the Confederate troops stationed at Fort Donelson to Simon B. Buckner and US Grant—a political general and the worst kind of pretender, totally without merit. Yes that is the name I knew until I read Hughes and Stonesifer's book. So little interest did I have in Pillow that I acquired the book and had Hughes autograph it in January 1996 — I finally read it 16 years later. That was my misfortune.

Gideon Pillow was a man of substance—indeed one of the richest men in the south. A successful cotton planter his wealth in land, cash and slaves was impressive then and it is also so today. Pillow was a product of his central Maury County,Tennessee community having graduated from the University of Nashville in 1827 and becoming a successful attorney who was fully connected to the political network that started with Andrew Jackson at the Hermitage near present day Opryland.
As a young man of promise, Pillow immersed himself in the politics of the state and soon became the patron and kingmaker for James K. Polk. When Pillow planned and executed the Democratic party's nomination of Polk for the presidential canvas in 1844, he earned a place in the fast track lane which resulted in his selection as a Major General in the Regular army during the Mexican American War and as the number 2 man in Winfield Scott's march upon Mexico City. While Pillow earned accolades for his actions at Chapultepec he had many more failures and found himself an outcaste among a legend of heroes. Pillow had used his intimate connections with the president to the detriment of Scott and anyone who had gotten in his way. A self promoter of the first order, people who might have shared the glory found themselves wondering who was this "great war hero?" Indeed Pillow had engineered a heroic painting of the war with his portrait being prominent, had written self serving accounts of his successes under a pseudonym "Leonidas" and manipulated the history of the war written by a subordinate, Roswell Sabine Ripley. Most contemporaries, understandably, realized they were in the presence of a great self promoter.
When the wounded Pillow returned to Tennessee he expected to advance within the political network and when Winfield Scott sought the presidency in 1852, Pillow put his resources behind another "Dark Horse" candidate—Franklin Pierce. Pillow believed that his status as a "War Hero" and his patronage would secure for him the Vice-presidency or maybe even, using the same template as worked for Polk, the presidential nomination. If Pillow was not a King maker, he was certainly part of the royal entourage. Pillow's ambition continued to burn bright and after declining a nomination for the governorship in Tennessee he eyed the prospects of Stephen A. Douglas and was active into the 1860 electoral campaign.
The Civil War history of Pillow is interesting but not dramatic. Pillow parlayed his political influence and military record in Mexico into the command of the Tennessee forces being organized. As a Major General of the Provisional Army of Tennessee (not to be confused with the Confederate army of the same name), Pillow demonstrated an extraordinary degree of organizational energy in bringing large numbers of forces to the field. Establishing his state headquarters at the famous Gayoso Hotel in Memphis—Pillow was disappointed when the Confederate government failed to honor the governor's request to make him a Major General—instead Pillow was commissioned a Confederate Brigadier General—a rank he never exceeded despite numerous self serving efforts to rise in rank.
Pillow was integral in efforts to fortify along the Mississippi River, to the detriment of the river fortifications—most noteworthy those at Forts Henry and Donelson. Instead, Pillow devoted himself to alliances with commanders in Missouri and Arkansas to occupy key positions along the Mississippi River and to move on St. Louis. All such plans came to nothing and Pillow's greatest contribution may have been to help draw his new commander, Leonidas Polk into occupying Columbus, Kentucky—a move of very poor political wisdom.
Pillow's lack of military skill were displayed in the subsequent battle of Belmont and the Fort Donelson Campaign. Granted command authority by Albert Sydney Johnston, Pillow failed to properly prepare the fortifications and in the ensuing campaign led a successful breakout attempt on February 15th only to order his successful troops to return to the fort after having opened a route of escape to Nashville. As Grant closed in, Pillow refused to surrender but also refused to be surrendered and consequently abandoned his command along with General Floyd. As word of the abandonment leaked out both Floyd and Pillow were dismissed from command by authorities in Richmond.
Pillow labored mightily to clear his name and achieved modest success sufficient to be ordered to Braxton Bragg's army at the battle of Murfreesboro (Stone's River) when he arrived in time and was sent to John C. Breckinridge and placed in command of a brigade literally minutes before the January 2nd assault on McFadden's Ford. Pillow acquitted himself well but was accused of cowardice—a charge that could not be substantiated. Following the battle, Pillow found himself again without a command and proposed to serve in a special assignment recovering deserters and other soldiers missing from the ranks. In this role he was exceptionally successful; however, again ran afoul of Richmond politicians. Each time Pillow proposed an area where he might serve he found little enthusiasm and yet in many of these bit pieces he was successful. A late war stint as a cavalry commander resulted in harsh criticism for a failed attack at LaFayette, Georgia and he was again dismissed. Even acting as the Commissary for Prisoners brought misfortune and when the war ended, Pillow returned to his home near Columbia.
Interestingly enough, Pillow was a survivor and his immediate efforts to restore prosperity to himself and his family met with some initial success; but, ultimately his various schemes and initiatives spread over a lifetime of wheeling and dealing brought him to grief and bankruptcy. His enemies found ample opportunity to pick at his assets and the broken barrister bit back even to the end. His will defiantly struck back at family and enemies.
The authors have performed an important service that should not be overlooked in this sesquicentennial commemoration. Gideon Pillow was an important southern leader—one whose life reveals a great deal about his society, the life of the wealthy cotton merchants and the power they wielded in their society both regionally and nationally. Pillow is not a man to be mocked or overlooked. The very strength of his presence and personality is impressive. He lasted the entire war because of that prewar power—he was not one who could be easily dismissed and he refused to be discharged. Pillow was not a young man—he was a little older that Robert E. Lee and was 55 years old when the war began.
Hughes and Stonesifer have done a wonderful job in this fair but critical biography. Pillow would not have approved but his rivals would have recognized the man. He was a conniving and manipulative man. He was self centered to the extent that it contributed to his success. He believed in himself and his intrinsic value to the people surrounding him. Indeed he believed that he had gifts that compelled him to a life of public service. He understood and wielded power as it was practical to do so and people found themselves holding him at arm's length while never turning their backs on him or disregarding his missives.
Like many powerful men, he was insufferable—he wasn't trusted or liked, perhaps feared and loathed are better descriptors. He was a man who but for the twists of fate could very well have been the 14th or 15th President of the United States. Indeed it is a mystery that he was not more significant in the political fabric of the Confederacy—perhaps that he never served in Washington is the only reason he was not one of the fire-eaters of the South. I found myself believing that he was such a strong personality that he was intentionally omitted from the power portals of Washington and Richmond—first by Polk who sent him to the army; then by Pierce and finally by Davis. I found it somewhat amusing but very revealing that after the war, Pillow became a strong advocate for reunion and that after having remarried (to a woman nearly 40 years his junior) he took his wife to Washington to call on President Grant—afterwards he wrote to Grant and proposed himself for a seat on the United States Supreme Court. Like so many of Pillow's requests it went unfulfilled—still one has to admit this was a man of the times.
I recommend the book. It is not a hard read and yet I think if you are to understand anything about the upper South, it is essential.