[box]By Gary D. Joiner
The Rowman & Littlefield Publishing Group, 2007
Reviewed by Len Riedel, Executive Director, BGES
March 29, 2010.[/box]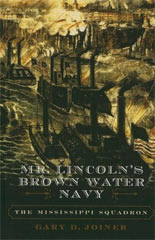 Gary Joiner is part of a new breed of historians populating the study of the Civil War. He is the nation's leading expert on the Louisiana Red River Campaign and has given that region of the country a much needed anchor in Civil War historiography. Gary has become prolific in his publications, discharging years of research in a relatively brief period of time and he has recently undertaken a very prestigious editorial function with the University of Tennessee Press. He holds a faculty position at the Louisiana State University campus at Shreveport—his tours of the Red River in Louisiana are not to be missed.