BGES members and friends have really come through this year! Our various fundraising efforts have largely offset the lost but budgeted revenue created by the coronavirus. We have completed projects and raised funds when pledged funds were not received. We have funded and completed the projects we planned before the virus hit—thank you. Now we can turn our efforts to the end of the year and what we are raising funds for and what we need.
There are two organic fundraisers that remain.

GIVING TUESDAY
The first is the worldwide Day of Giving, known as Giving Tuesday, slated this year for December 1, 2020. Following Thanksgiving weekend, Black Friday, and Cyber Monday shopping campaigns, Giving Tuesday builds on the good feelings that surround the push to spend money to give to those you love by also asking you to remember nonprofit organizations you love. Over the past few years, BGES has received over $17,000 for various projects during the Giving Tuesday fundraising campaign. We tie it to fundraising on our email program Emma, and between those two efforts we have found nearly $50,000 for our work.
Giving Tuesday Goal
We will announce a Giving Tuesday Goal of $7,500 on Facebook. To participate you must either be my (Len Riedel's) friend on Facebook—so if there, please send me a request. Or you must be someone who "likes" the Blue and Gray Education Society's Facebook page. The two fundraisers will interchange. In each instance you can give one of three ways:
You can donate through PayPal
You can donate through PayPal using your credit or debit card
You can mail in a check to BGES
OUR ANNUAL YEAR-END BUCKET APPEAL
The second fundraiser is Our Annual Bucket Appeal, based upon the widespread appeal of bucket collections such that the Salvation Army uses, focusing on the end of the tax year. Last year we commenced an appeal that spilled over to late January to reduce and eventually pay off a $38,000 9.99% VISA card bill—which we did by the end of the spring (saving us some $2,700 a year in interest payments). The target date for that is completion or checks dated by December 31, 2020.
SNAIL MAIL APPEALS
At the same time of the Facebook drive, we will be seeking to raise $10,000 through our Emma outreach. There will be three snail mail appeals:
Once coming within the next two weeks for the Video Archives
One that arrives Thanksgiving week that gives you a chance to participate in Giving Tuesday using snail mail
And then the Bucket Appeal that will come the week of December 7.
If you itemize, it is particularly important to consider what might work best for your tax situation and the 2020 tax year conclusion.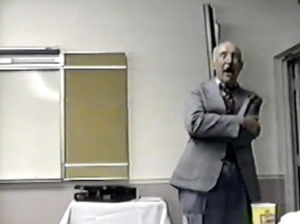 OUR FUNDRAISING GOALS
These two opportunities, Giving Tuesday and the Bucket Appeal, are tied to existing projects and our desire to repopulate our reserve fund for 2021 tours. We are in the midst of fundraising for the BGES Video Archives project. The entire project to put 350-plus videos online will cost $25,000. We were approaching $15,000, only to get the sad intelligence that a matching funds request for $1,500 was denied because we were not a bricks-and-mortar educational school. So we are currently at $13,000 with the need for another $12,000 by spring 2021. To date all this has been raised online, but we will do a snail mail appeal to BGES members and friends this month.
The second funding requirement is approximately $7,200 to fund the work of photo archivist Jane Martin through the end of 2021. We took Jane on in August and she is working the provenance project of the
Medford Historical Society Photographic Collection
you see every Wednesday. Our average expense is $600, which pays 12 hours a month. In as much as this is an educational project of the same magnitude as Fort Branch Interpretative signage or the the 20th scholarly monograph, we need to fund the work by raising the supportive funds.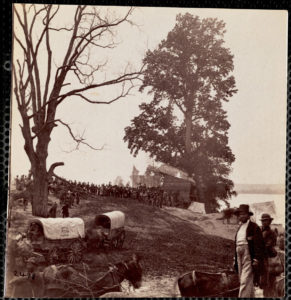 Finally, we have a need to restore some $20,000 in advance deposits or payments for our 2020 seminar programs that were paid in 2020. While this will not affect the conduct of the programs, it will reduce the possibility that the money that we used to pay off the residue of the Visa bill in 2020 might have to be charged against and held as an unpaid balance at some lower level going forth in 2021.
I usually like to wrap this up with sexy projects and things that folks can get excited about. The best I can offer is two excellent projects that will be sources of pride and which fit our mission. While telling you that the sacrifice and careful planning required to navigate the coronavirus has been successful, and if you are willing to support these appeals, we will have come out of the lockdown a stronger organization, more financially stable, and ready to press ahead for 2021.