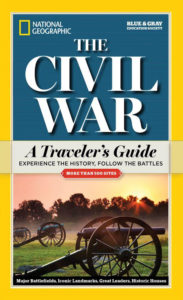 As BGES navigated the troubled waters stirred by Coronavirus, we sought to sell 1,000 books to net an estimated $38,000. Pretty aggressive for a group of 400-plus members, but amazingly enough we did sell and ship nearly 400 books—a net of nearly $18,000, and we aren't quite done.
While a Silent Auction of rare collectors books flopped, our last focused use of our leather special edition prints with National Geographic was just announced on November 1 and featured the very handsome blue-leather-with-silver-trim National Geographic travel guide The Civil War: A Traveler's Guide. Since I was the editor of the guide and am the only surviving sole author of the BGES's National Geographic Book series, I can and am offering signed copies of the leather travel guide ready for immediate shipment for that special gift either for yourself or friends.
You may have a shrink-wrapped copy for just $45 inclusive of shipping, insurance, and delivery confirmation. For $75, you can get one autographed and even personalized as you may wish. All orders must be received for stateside delivery by December 5. For international delivery, additional postage will apply and orders must be received by November 23.
These are great gifts, and orders have already been received from our November 1 announcement.
Click here
to order your book today. You will be helping us in our transition funding.
Make this a Happy Holiday for you and your friends!