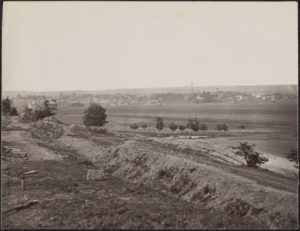 For more than 20 years, the BGES and the Medford Historical Society (MHS) have collaborated to digitize the priceless Gen. Samuel Crocker Lawrence Photographic Collection owned by MHS. Recently the digitization was completed, and now one of the nation's premiere 19th-century photographic collections is available to review 24/7 from the privacy of your own home. While Lawrence was meticulous and many of the images have identifying information on them, we are also aware that Lawrence was buying copies of images that were being reproduced and sold; thus, the originals are most likely somewhere else and may be misidentified.
In history the supporting evidence makes our understanding clearer and our interpretations better. The same pertains to images like the Lawrence collection. For years, Medford has licensed the rights to photographic brokers for use in articles, books, and other public displays. The net helps pay the costs associated with maintaining the collection. Today anyone can contact Medford to get a high resolution image of any picture in their collection for a modest fee.
Because we are an educational institution and a close friend and supporter of Medford, we have made an arrangement to use their entire collection to help BGES in our mission and to help promote BGES. In exchange for that, we established a new longterm project for the 3,000-plus image collection. We wanted to find out the "Who, What, When, and Where" of each image. And about five months ago, we devoted our Wednesday Dispatches to that effort. Knowing that it would take 60 years to get through the entire 3,000-plus-image collection if we published 52 a year, we added a  monthly 15-image supplement to our website to accelerate the effort. Now we have about 232 images a year and estimate a 15-year project—unless we further accelerate it. We have decided to do precisely that, and have hired a contractor to assist us with the effort.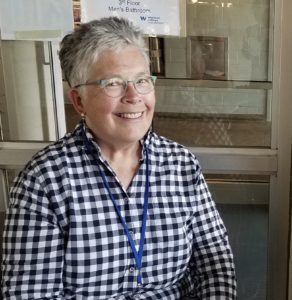 Jane Martin, who lives in the Boston area, is a freelance photo editor, after having worked on many books and magazines as a photo editor for the National Geographic and other national publications. Jane was our photo editor for the Civil War: A Traveler's Guide. Jane's love of images and all they tell us made her a perfect selection to handle this. She has eased into the position from the first of August and is getting grounded in the process, but will soon be funded to increase her hours to accelerate the work. We will be asking you to support that effort fairly soon.
Here is the plan. Five months has given us a sense of what is working and what isn't working. We have some photo hawks out there and they are relentless in the "Who, What, When and Where" part of it. Each Wednesday we provide a new image and the identity of the previous week. Each month in the Newsletter we also identify the 15 images that are supplemental on our website and swap out for the next 15. Jane handles all of that, and she is building a database. Here is what we need you to do. More than 1,100 of you look at every image, but we rarely get more than 10 guesses or inputs to the question—but that is only half the project. Jane is going to move things up for the second half, and this is where you fit in, as Lincoln once said: "Everybody may not be able to skin but they can hold a leg."
Once we reveal the image identity, we need you to provide information that you know or can find about the image subject. Those inputs will build a storyline for each person, place, or thing identified and will give context to the image that we have revealed. This will allow Medford to build a file of background information for each image that provides positive correlations for people who are seeking the right image for their own historical needs. Verification is important, and knowing that many of you are already excellent historians, I know that you will seek to document your own submissions to Jane. All you need to do is respond to the Wednesday email, which is directly sent to Jane. She can then extract what you have submitted and ask questions if she feels the need. It will create a wonderful narrative for these images of the past.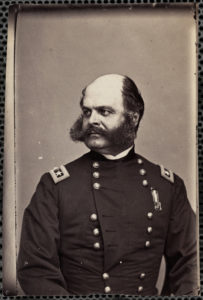 So two things. First, be on the lookout for our initial fundraiser to support this effort. We will be working on a shoestring budget and minimal hours until we can find enough money to support maybe five or six hours a week. Once we get rolling, we may increase it up to 10 hours a week—more images, more information, and more of the pie eaten. I would really like to see this all complete in 10 years or less. Second, help us build the final product, the most substantially documented and useful collection of Civil War era images in the country—a true tribute to Lawrence's fastidious obsession with these new media forms. "Come on, join the cavalry and have some fun."
My favorite thing to do with these images? We have a zoom capability. I like to enlarge and look at the noncentral images and figure them out. Look closely enough to see there is a dog at the man's feet, there are ships' masts in the background. There are slaves on the portico above the main porch; there is an image of a half-dozen military officers, three or four civilians, someone looking out of the upstairs window when the other shutters are drawn, and two children of color—what is the story? The closer you look, the more you see until you have analyzed each aspect of the image. Before you know it you are hooked! The images are compelling as you are looking in the the face of your long past. It is addictive. So if you have looked but haven't engaged, we welcome you back to the Great BGES Photographic Hunt—there is something for everyone!