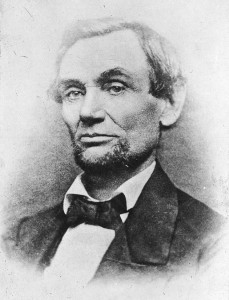 One of the most famous ideas in history – "We hold these truths to be self-evident that all men are created equal, that they are endowed by their Creator with certain unalienable rights" – begins the preamble of the Declaration of Independence, adopted by the Continental Congress on July 4, 1776. This idea informs all other institutions under which Americans live.
During his pre-inaugural trip from Springfield, Illinois, to Washington D.C., President-elect Abraham Lincoln would refer to this foundational ideal during a visit to the place of the Declaration's birth.
At Philadelphia's Independence Hall, on February 22, 1861 – the anniversary of George Washington's birth – Lincoln said in "wholly unprepared" remarks: "I have never had a feeling politically that did not spring from the sentiments embodied in the Declaration of Independence."
Standing in the place where the Founders dedicated themselves to what Lincoln had earlier called the Declaration's "sacred principles" deeply moved the new president, who said: "I have often pondered over the dangers which were incurred by the men who assembled here and adopted that Declaration of Independence – I have pondered over the toils that were endured by the officers and soldiers of the army, who achieved that independence. I have often inquired of myself, what great principle or idea it was that kept this Confederacy so long together. It was not the mere matter of the separation of the colonies from the mother land; but something in that Declaration giving liberty, not alone to the people of this country, but hope to the world for all future time. It was that which gave promise that in due time the weights should be lifted from the shoulders of all men, and that all should have an equal chance."
The Declaration was Lincoln's "political chart and inspiration," as his aide and biographer John G. Nicolay also attested. But because of the universality of its ideals, America's Declaration of Independence has also served to inspire generations the world over.
The legacy of 1776 is indeed something to celebrate – today and everyday!
---
Photo by Samuel G. Alschuler, Chicago, Ill. November 25, 1860. From Library of Congress Prints and Photographs Division.