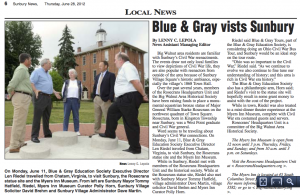 For the past several years, members of the
Rosecrans Headquarters Unit
and the
Big Walnut Area Historical Society
in Sunbury, Ohio have been raising funds to place an equestrian bronze statue of Major General William Starke Rosecrans on the northwest quadrant of Town Square. Rosecrans was born in Kingston Township near Sunbury.
Two weeks ago, Blue & Gray Education Society Executive Director Len Riedel traveled from Chatam to Sunbury, where he visited the Rosecrans statue site and the Myers Inn Museum, home of the Big Walnut Area Historical Society. Len met with members of the Rosecrans Headquarters Unit and the Historical Society and then at the Rosecrans statue site, Riedel he also met with Sunbury Mayor Tommy Hatfield, village administrator Dave Martin, village solicitor David Brehm and Myers Inn Curator Polly Horn.
This article from the Sunbury News covers the visit in more detail: Blue & Gray Visits Sunbury (pdf).