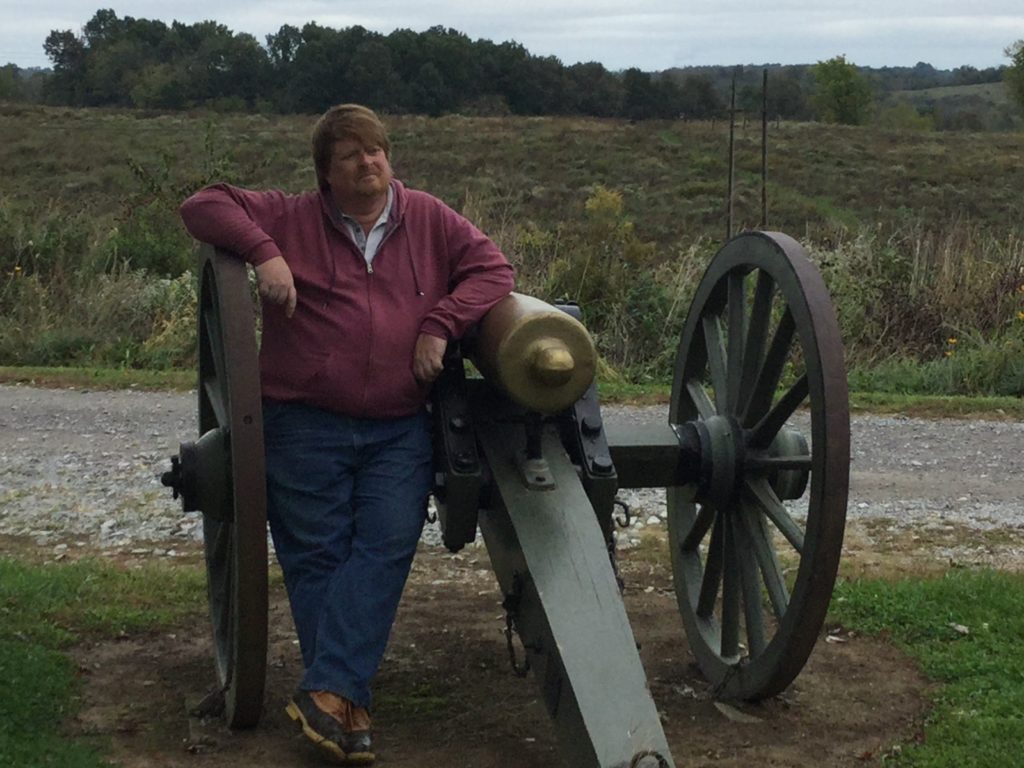 If you have been on a BGES tour over the past few years, you have likely met Burford Smith. A big, burley guy, Burford was a sheriff's deputy in Fulton County (Atlanta Area) and is a graduate of Washington and Lee University in Lexington. While there, he was the manager of several of the athletic teams and found himself involved in travel planning and other logistics-intensive issues. In all, he learned to be a problem solver.
Burford came into my sphere several years ago, and in tours around the Atlanta area, he saved us hours of time by taking us around the congested metropolitan area, along back roads where we could avoid maddening traffic jams. After several years of discussion, he accepted my offer to handle BGES tours, and this year he became primarily responsible for them. We still have a few logistical issues to work out, mostly those where questions make their way to me and I promptly give bad instructions that further complicate a problem, or when I fail to get a registration form done and online in time. One thing is certain, he is capable, and several adaptations show the qualitative improvement—he has gotten, at his own expense, his commercial driver's license and has found a central source that has upgraded our transportation from vans when it makes sense to 15-passenger buses up to 38 passenger buses. Comfort has been enhanced, costs lowered, and flexibility maximized. He is both a leader and a force multiplier.
I am recognizing him today for two important and unknown traits. The first is his willingness to drive across the country to meet BGES needs to wit. We had a large book collection located in Phoenix, Arizona, nearly 2,500 miles distant from Chatham, Virginia. We also had the scraps of the Pamplin Park Wooden Gun Carriage some 100 miles east of Chatham. In one trip, he drove from Douglassville (near Atlanta) to Chatham (400 miles), dropped off his truck, attached a trailer to the BGES van, drove to Pamplin Park, picked up the carriage, and delivered it 800 miles away to Clinton, Mississippi, returned the trailer to Atlanta, then drove to Phoenix, picked up the books, drove them back to Chatham, picked up his truck, and drove the 400 miles back to Douglassville. When the gun carriage was ready, he drove the BGES van 400 miles to Clinton, picked it up, returned to Atlanta, and then the next day drove it about 100 miles to Whitfield County and the new Rocky Face Ridge Park near Dalton.
The second reason is that this guy is a gem. As you may know, BGES has had a longstanding relationship with America's Wounded Warriors and their families. In late May, a family crisis resulted in a soldier divorcing and abandoning his wife and four children. The wife of 18 years was handicapped, and several of the children had special needs. Following the divorce, the family had to leave its Fairfax rental house by June 25. They determined to relocate to Rochester, New York—nearly 400 miles away. Since we were going to do a program in Valley Forge, I asked if Burford might be able to help. Long story short, on June 17, Burford loaded a 27-foot U-Haul with a 10-foot trailer, drove and unloaded their household goods, drove the rentals back to Fairfax, then drove to Valley Forge that Monday. He conducted the program, then drove back on June 24, and loaded a 15-foot truck with the remainder of the furniture (including a piano, beds and appliances). He delivered them to Rochester, 400 miles away, unloaded everything, and then returned the 15-foot truck to U-haul and then the BGES van back to Chatham, and then drove home. He didn't ask a thing for going 1,600 miles out of his way to help people in need.
But that is not the whole story. The timing was tight but everything worked out. Burford had a family issue in which an elderly relative had to move out of his home. Less than a week later, Burford was in Columbus, Georgia, getting his relative moved out and their furniture disposed of. Less than a week later, he was in Memphis, where I had just withdrawn from supporting the trip because I had Covid.
His humor is wry and he is quiet, but Burford Smith is a BGES member who makes a difference. I wanted you all to know. I am very proud to know him and glad to call him a friend and have him in an important role at BGES. Thank you, Burford. —Len Riedel