Bob Jenkins is a whirlwind of activity. As Len Riedel says, "Bob is a ball of fire." He's a practicing attorney who has played a role in the Whitfield County and the City of Dalton's battlefield preservation efforts. At a time when statues were being torn down, he carefully negotiated between the folks who wanted Joseph E. Johnston's statue scrapped and those who wanted to preserve it. He has been part of the development and preservation of historical earthworks and sites that illustrate the first portion of the decisive Atlanta Campaign. He has also played a part in bringing Civil War tourism to Whitfield County and Dalton. He is an engaging public speaker and author who understands the war and its ramifications and shares it with a large audience. He also leads BGES's study of the Atlanta Campaign.
 We managed to catch up with Bob to speak with him about his accomplishments, to better understand all that he has contributed to historic preservation and more.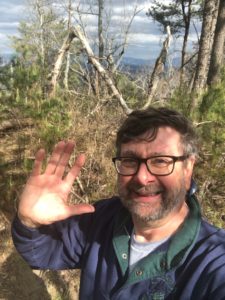 BGES Blog: If one scans your accomplishments, a common theme is historic preservation. What does this mean to you? Why is it important? 
BM: I believe that it is important to preserve our nation's rich history so that future generations will be able to discover and enjoy it. I believe that as stewards of our country's history we owe it to posterity to try and do our part to protect and preserve important places in our history. I have been blessed to work with a number of wonderful colleagues and organizations in a shared interest in preservation efforts.
BGES Blog: When did you first become interested in history? Was it something you were brought up with or discovered on your own? Was it always Civil War or are you interested in other periods?
BM: Both. My parents and other elders in my family instilled the importance of history and civics in me, but during a 4th-grade social studies/fair project my topic was "War in Georgia," and that is where my passion for the American Civil War really took off. My class partner, Jim Bennett, and I made a papier-mâché model of Stone Mountain, painted some plastic soldiers blue and gray, and gave a report on the Atlanta Campaign. Ever since then, I have been hooked, so much so that I would always try to find a Civil War angle for any project or report throughout the rest of my school, in history, English, science, or any other class that I could. By the time I was in high school, my teachers forbade me from writing on a Civil War subject to try and get me to diversify. I'm not sure that it worked!
I also have an interest in military history, including the Roman Punic wars, the American Revolution, and World War II.
BGES Blog: Tell us about preserving the Joseph E. Johnston statue? 
BM: The moving of the Joseph E. Johnston statue was a collaborative effort by a lot of individuals and organizations in the Dalton community. While other communities were engulfed in demonstrations, protests, and riots during the summer of 2020, the people of Dalton and the surrounding area worked together to try and find a solution. Yes, there were some marches and protests in Dalton about several issues including the moving of the statue, but most of the protesters did not want the statue destroyed. Most people involved in the marches simply wanted it removed from a public city square where the statue had been located for over 100 years.
The Trustees of the historical society's Board agreed to permit the statue to be relocated to the Huff House property. The local historical society, the Whitfield-Murray Historical Society, had acquired the historic Huff House through a generous donation from its previous owners, the Boring family, and the house had recently been completely restored to its 1860s condition. Moreover, it was the home and location of Gen. Joseph E. Johnston's headquarters during the Confederate Army of Tennessee's winter encampment from December 1863 to May 1864. This location would be very fitting for the statue given his connection to this house.
The City of Dalton assisted in the logistics of moving the statue which began on February 6, 2021. By the Summer of 2021, all of the conditions had been met except for the completion of a portion of the fence which was erected in stages. The last portion of the fence was just completed last week.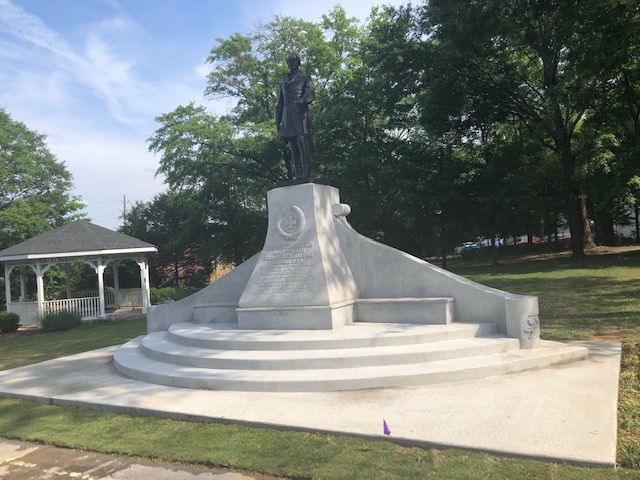 BGES Blog: You have brought Civil War tourism to Whitfield County and Dalton. What did you do? And what is the impact?
BM: This is an unfair statement. Countless other persons and groups have been instrumental over the years in protecting and preserving Dalton's heritage and history and in developing tourism for our community. I have been privileged to serve in some small measures in that. In the 1980s, several parties in Dalton worked to acquire and protect the Dug Gap Mountain Battlefield Park, which is owned by the Dalton Chapter of the Civil War Roundtable and historic society. In the 1990s under the leadership of Whitfield County Commission Chairman, Mike Babb, the County acquired some 660 acres atop Rocky Face Ridge thus preserving that site from future development. Otherwise, the ridge today might look like Lookout Mountain or Missionary Ridge with homes all across the ridge top. In the 2000s, local businessmen Mr. Paul Belk, a realtor, and Dr. Bill Blackman, an eye surgeon, worked with the County and the landowners to acquire an interest in Blue Mountain (Signal Hill) where General Sherman had his field headquarters at Dalton.
Carrying forward from that momentum, in 2011, a group of local businessmen and women got together to form Save the Dalton Battlefields, LLC. I have been privileged to serve as this organization's president, but the real work by this group is from its members, much of which is behind the scenes as we work with landowners to identify appropriate properties, acquire easements or fee simple title to properties, and partner with other organizations such as the American Battlefield Trust, Georgia Battlefields Association, Blue and Gray Education Society, the Community Foundation of Northwest Georgia, the Bandy Center in connection with Dalton State College, the Georgia State Patrol, local utility companies, the State of Georgia, Whitfield County, and City of Dalton to develop the properties to be protected, preserved, interpreted and open to the public in perpetuity.
In 2012, Save the Dalton Battlefields, LLC acquired the Potato Hill site with the substantial support of Georgia Battlefields Association, and in 2014 as part of the sesquicentennial events, Potato Hill Civil War Battlefield Park was opened by Whitfield County.
In 2013, Save the Dalton Battlefields, LLC acquired the Mill Creek Gap site with the support of the State of Georgia, the Georgia State Patrol, and the Community Foundation among others, and in 2014 also as part of the sesquicentennial events, Mill Creek Gap Civil War Battlefield Park was opened by Whitfield County.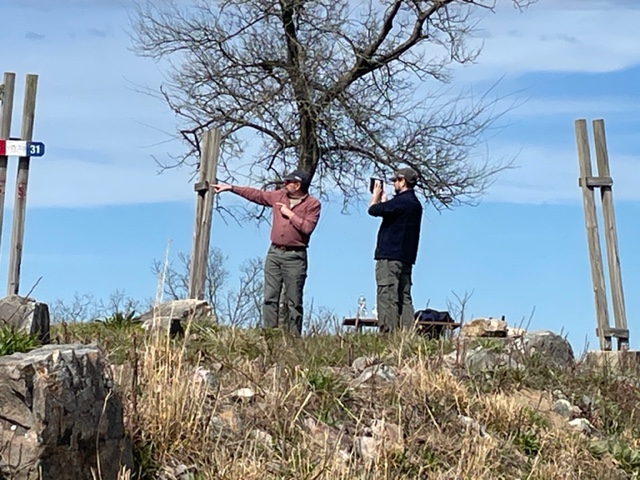 During these two acquisitions, contacts and relationships were made with Civil War Battlefield Preservation Trust, the predecessor to American Battlefields Trust (ABT), which culminated in Whitfield County's acquisition of a substantial portion of the Crow Valley battlefield property, some 306 acres, which connects with the previously acquired Rocky Face Ridge property by the county twenty years before. This major project was again led by Mike Babb who again served as the Whitfield County Commission Chairman and was made possible by ABT and a number of organizations, some of which were outside of the battlefield preservation community including the mountain bikers, conservationists, and environmentalists. Rocky Face Ridge has already unofficially opened over the past several months, and a grand opening is scheduled for later this spring.
We are continuing to work to preserve properties in our community and have several projects ongoing. We are also working on erecting historic markers as appropriate on these sites and other locations. If anyone would like to make a charitable donation which is a taxable deduction, they may make a check payable to "Community Foundation of NW Ga." and put "Save the Dalton Battlefields" in the memo and mail to me at: P.O. Box 6124, Dalton, GA 30722.
Dalton and Whitfield County have more civil war earthworks than any other county in the Nation. Come to Dalton and let me prove it to you and open your eyes to not only miles and miles of pristine earthworks, but a greater variety of field works than any other place. We have below ground, above ground, slave dug, dug while under fire, Confederate, Federal, infantry, artillery, stone forts, stacked rocks, lunettes, traverses, redoubts, much of which looks like it was dug yesterday.
BGES Blog: You have written two significant books on the Atlanta Campaign, plus led an 8-tour, 16-day study of the Atlanta Campaign for BGES. Why this topic? What draws you to it?
BM: I never set out to write the two books, The Battle of Peach Tree Creek, Hood's First Sortie (Mercer Univ. Press, 2014), and To the Gates of Atlanta, from Kennesaw Mountain to Peach Tree Creek, July 1-19, 1864 (Mercer Univ. Press, 2015). They both sort of grew legs of their own. In the early 1990s my Aunt Elaine McIntyre, a retired 8th–grade history teacher from Choctaw County, Mississippi, discovered our direct lineal ancestor's compiled service records at the State Museum in Jackson, Mississippi. Although I grew up in metro-Atlanta, my family was from Mississippi, and all of my ancestors were from the Deep South: Georgia, Alabama, Mississippi, and Louisiana,
Aunt E. M. said, "Bobby, you are the family's civil war expert (Ha!), here is your Great-Great Grandfather's (Caradine "Jerry" Jenkins) service records. It says he was in Company E, 31st Mississippi Infantry; now tell me where all he and his regiment served and what did they do in the war." To my embarrassment, I realized in a New York minute that I knew almost nothing that could answer her question. I had grown up reading Catton, Connally, Horn and Foote, and I knew a little about the Lees, Longstreets, and Jacksons, and the Grants, Shermans, and Sheridans. But, I really knew so little about the details of the war and about the "other" corners of the war.
So, over the next several months, I set out to answer my Aunt E. M.'s questions. It led me to county libraries and museums across the South, and eventually the country, as there was nothing in any secondary source to answer her question. After six months or so, at the next family gathering following, perhaps a Thanksgiving dinner, I relayed to the family what I had learned about our ancestor and the 31st Mississippi. After we finished, someone said that somebody should write a book about the regiment. My dad, a retired school principal, said, "Son, that somebody should be you."
So, I began a 20-year journey to research and write on this obscure Mississippi regiment which led me to the Battle of Peach Tree Creek where they had their biggest battle. As I kept a busy law practice and helped raise two children, the research would be shelved from time to time. During the process, I realized that the story of the Battle of Peach Tree Cree was untold and not understood. Further, there were some huge gaps in our understanding of the Atlanta Campaign which needed to be addressed. In other words, I got sidetracked. I have been fortunate to have Mercer University Press publish the two books which were really written together but broken into two volumes. Also, Blue Gray Magazine was kind enough to publish an article on the battles around Dalton for me in 2016.
Concerning my involvement with tours and BGES, I owe full credit to my friend Gary Ecelberger, a frequent tour guide and historian for BGES. Gary was kind enough to recruit and involve me in several of his tours of the Atlanta Campaign, which is how I became connected to BGES.
BGES Blog: If you could leave one mark, do one thing, what would it be?
BM: That I would be found faithful by God and that others would be benefited in some measure by God's use of my life.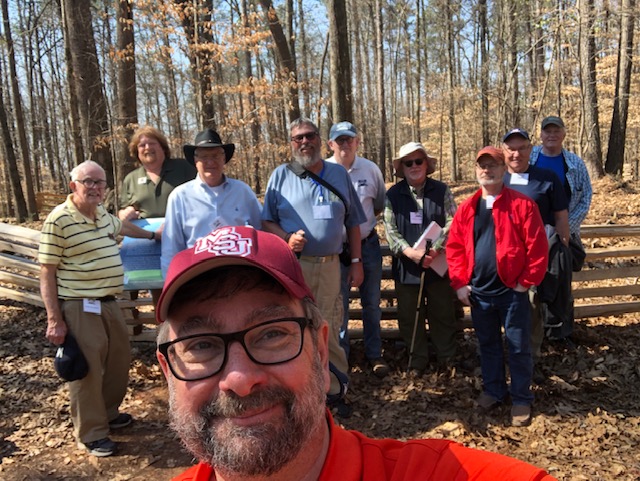 BGES Blog: What's your next project?
BM: Concerning preservation efforts, we are working to open the County's new Rocky Face Ridge Park. Twelve new historic markers have been installed in the field, and trails are open to the public. Thanks to Blue Gray Education Society, a new gun carriage will soon be installed in the new park and additional historic markers are planned. Also, Save the Dalton Battlefields is currently involved in at least two ongoing property acquisition projects and there are two or three additional projects in the works for the near future.
Concerning writing projects, I am currently working on full-length books for Dalton and Resaca and an article on Cassville. I dream of having a book-length work on each of the Atlanta Campaign battles one day if I live long enough, although Gary Ecelberger has two of them well covered in Atlanta and Ezra Church, and I know that Scott Pachan is close (hopefully) to completing Jonesboro. I also dream of covering the 5th Alabama Battalion, an illustrious unit in the Army of Northern Virginia in which I have an ancestor. I still haven't gotten back to the 31st Mississippi! And Mississippi and Franklin, Tennessee, are of interest but Tim Smith and Eric Jacobson and others have them well covered.
BGES Blog: If you could vacation anywhere, where would you go?
BM: Everywhere. My wife, Shari, and I love to travel. We have a 5th Wheeler camper and love to visit the national parks, especially Yellowstone. I usually manage to weave a Civil War site in somewhere along the way. We have a long-planned trip to Spain in our future if Covid will cooperate and stay away later this year.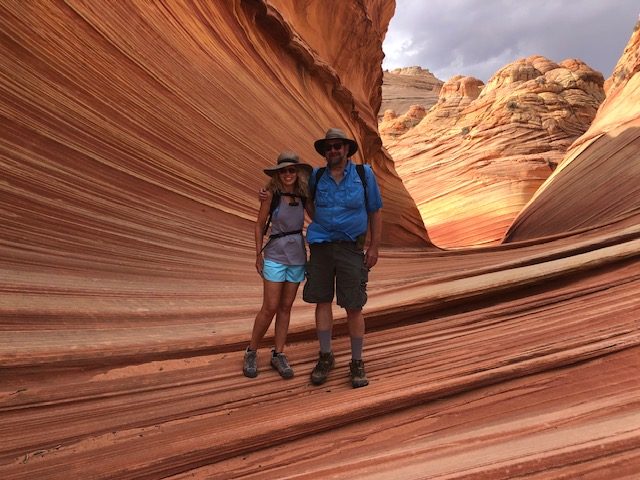 BGES Blog: What do you enjoy doing in your free time?
Blind reading Civil War–era newspapers and compiled service records on microfilm, the OR, treatises, handwritten reports, letters and diaries, and other primary materials. We spent a few days at the beach in Florida for spring break and I kept Serial No. 74 of the OR in my hand under the umbrella on the beach! Shari is doomed! 😊
I love the chase of trying to find that missing piece of history that answers unsolved questions in history like who planned the Battle of Peach Tree Creek, Johnston or Hood? (Johnston planned it, but Hood had to adopt it, make it his own and have the moxie to actually carry it out!) Why was Snake Creek Gap left unguarded? (Still don't know! May never know, but Johnston and Hood and Wheeler had something to do with it!) Why did McPherson back off from Resaca? (Learning!) Did Butterfield's division have contact with Hood's Corps at Cassville? (Looks like it! McCook certainly did. Still working on tying Ward's brigade to Hindman's casualties. McCook caused Stewart's casualties.) What were the number of Confederate desertions during the Georgia Campaign and what units did they chiefly come from? (NW Georgia units in heavy percentages.) And other fun rabbit holes!
BGES Blog: Where do you find time to do all this good work?
BM: I don't know if it is necessarily "good" work, but I have been very blessed to have a supportive and wonderful wife and soulmate.
BGES Blog: Do you have anything else to add?
BM: I am very grateful to BGES for the opportunities to meet wonderful people from all over the country (and Canada!) and to share our mutual passion in education and preservation of history.