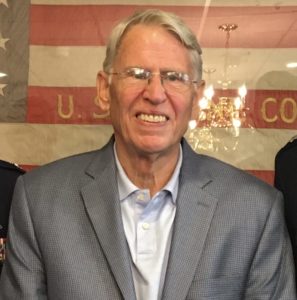 "American hero" is a term thrown around all too casually these days, especially in this era of endless political cycles and over-zealous media personalities who believe they're the purveyors of patriotism. But that's not the case with the late Ernest Evans, a U.S. Navy commander during World War II. He was the real McCoy.
BGES member Stephen Reagan discovered this just recently when he learned the story of Evans while reading Last Stand of the Tin Can Sailors by James Hornfischer. The book chronicles the Battle off Samar, the site of the fiercest action seen in the larger Battle of Leyte Gulf in the Philippine Sea in October 1944. "I hadn't heard of Evans before," says Reagan. "But he was an extraordinary hero."
Indeed, the Battle off Samar served as a rallying cry for American forces as they scored a crucial win at sea that helped put the final nail in the coffin of Japan's navy. The victory came despite the U.S. Navy being overmatched by a massive Japanese armada and suffering heavy casualties, including the loss of more than 1,000 men. Evans was the Commander of the U.S.S. Johnston, one of two destroyers sunk in the battle. A Native American known as the "Big Chief," he had broken one barrier after another on his rise through the ranks. True to form, Evans went down with his ship
Reagan instantly felt a kinship with Evans. Both were born and raised in Oklahoma—Reagan in Claremore and Evans in Muskogee. A retired dentist, Reagan also knew something about selfless service to the military, having spent 20 years caring for patients in the Air Force. It surprised him that a historical figure like Evans had eluded him all these years. What he learned next was even more stunning.
"After finishing the book, I wondered what Muskogee had done to honor Evans," says Reagan. "When I found out that they hadn't done anything, I was hooked. Evans deserves to be recognized."
Reagan wasted no time getting to work, launching the Ernest E. Evans Memorial Fund. The mission is to raise $40,000 to create a bronze bust of the Big Chief. "The sculpture will be displayed in a prominent place in Muskogee," Reagan says. "I am working with Mayor Marlon Coleman to determine the best location."
Reagan pulled off a major coup when he convinced world-renowned sculptor Paul Moore to take on the project. "He loves history," says Reagan. "After I explained my idea to him, he studied up on Evans and decided that he wanted to help. He has been great to work with."
So far, Reagan has been heartened by the robust response to his campaign. In fact, the fund is already halfway to its goal. Meanwhile, the bronze bust has been cast and production of a black granite pedestal will begin soon. Looking to make a final push to cross the finish line, Reagan is now appealing to BGES members to join the cause.
"I have been a member for many years and love the organization," he says. "I'm hoping my fellow BGES members will make a donation and help honor Evans."
According to Reagan, there are several ways to contribute. The easiest is to visit the fund's official website at www.ernesteevansmemorialfund.com. Reagan also established a Facebook page, which provides regular updates on the fund's progress. He says donations can be made through PayPal or by check.
Checks should be mailed to:
Ernest E. Evans Memorial Fund
P.O. Box 721625
Oklahoma City, Oklahoma 73172
"It is time for Muskogee to do the right thing," says Reagan. "The fighting spirit Evans demonstrated was amazing. He should be honored for it."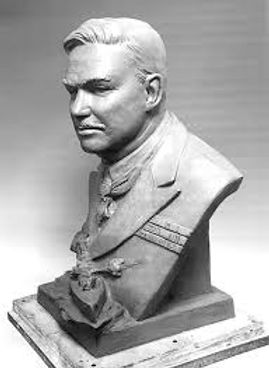 ---
All photos courtesy of www.ernesteevansmemorialfund.com.