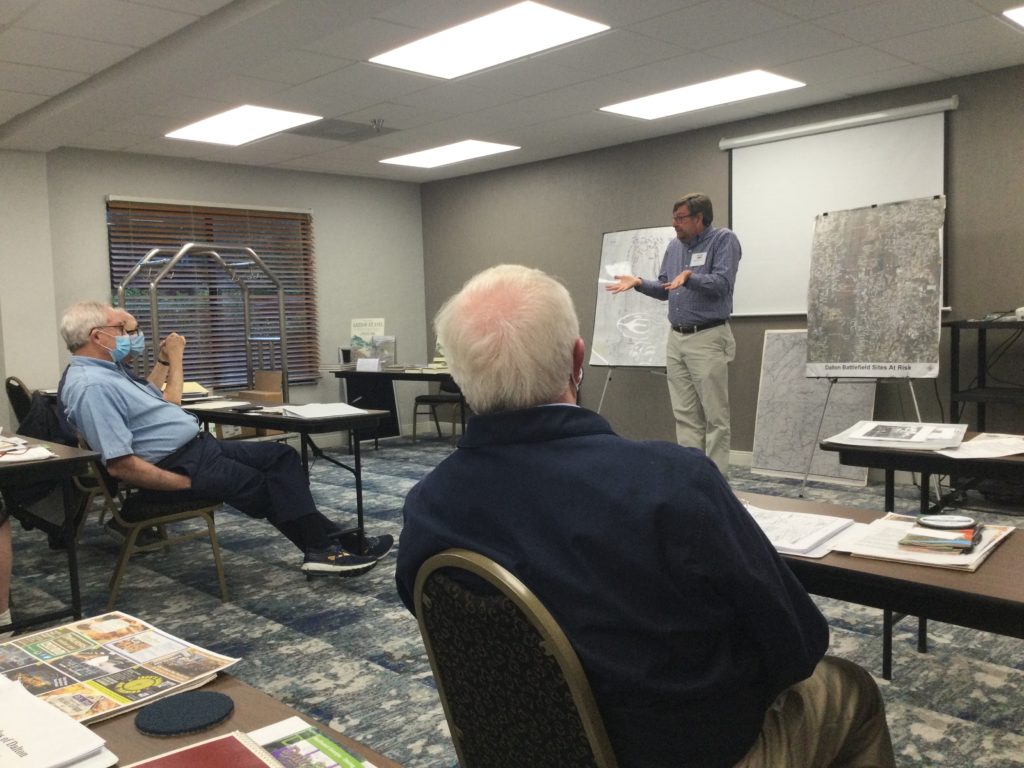 It was eerie: Fist bumps and face masks, people brandishing their Covid vaccination records, a nervous chatter in the meeting room muted by masks and uncertainty that all was normal again. Two BGES board members who were physicians were in attendance; the BGES lawyer was there as well. I went to ensure that there would be no issues about compliance with CDC guidance and the demands of our insurance underwriters.
We were conducting two back-to-back tours as part of Bob Jenkins' "The Atlanta Campaign on the Weekends" series, on April 21–25, our first tours in more than a year.
The result: There was no issue.
Everyone vaccinated was able to ride within the bus—no trailers, no need for vests to protect the unvaccinated. Daily temperature checks were quick, discrete, and no problems were encountered. We discarded masks at the field stops, and people naturally separated, some still feeling more comfortable wearing masks, while others discarded them but wore them when a location or event required they be worn.
COVID did not slow or hamper the BGES tour.
Each tour was designed with an opening lecture on the first night followed by two full days of fieldwork—and work them we did. The rugged terrain of northern Georgia held rewards for those willing to follow Bob into the woods. A climb to the top of Rocky Face Ridge involved more than 4 miles of hiking at one stop—it was unique to the defenses of Dalton. The counties had scores of heretofore undisturbed defensive trenches. There were artillery battery embrasures and sites with transverses and ditches for defense. The reason sites were selected for defense and the challenges of assault were obvious, the advantages of the defensive positions daunting, the magnitude of the mistakes such as leaving Snake Creek Gap unoccupied as clear as the nose on your face.
People walked and talked. Folks who managed places such as Johnston's Headquarters at the Huff House were so glad to see folks coming back to their sites. The walk to Tunnel Hill and the debate about the location of Hood's amputated leg near the Clisby/Austin House was just as vociferous. The various meals revealed the unique flavors of the region, and desserts such as warm banana pudding and strawberry shortcake did not disappoint.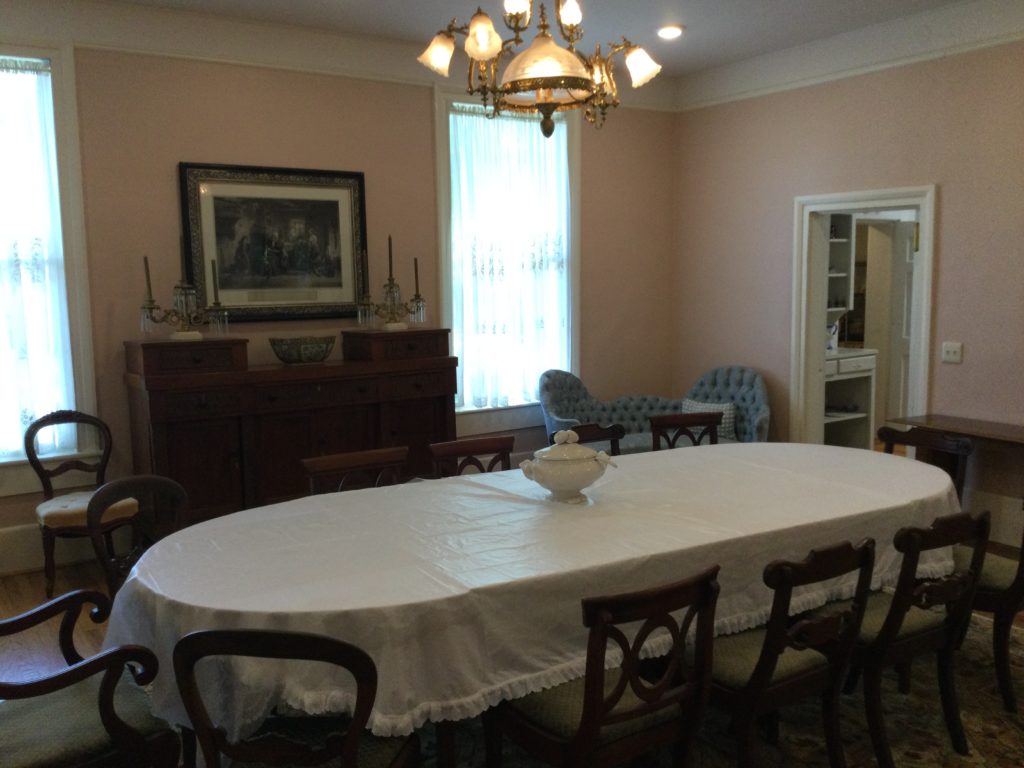 We had 10 registered participants for each event. Some old faithfuls like Harry Thaete, Fowler West, and Craig Clark. We also welcomed new folks like Laurie Burgett, Shane Teasley, Lanny Morgan, and Carl Kuhl.
Laurie said afterward: "I had a blast and enjoyed myself immensely … Bob was an incredible teacher and resource (not to mention very entertaining) … I'm hoping I can make the next part of the series."
Lanny said, "Classroom outings such as this leave me now with a myriad of questions … a lot of what-ifs … love it. P.S. What time did you say the bus will be leaving? I don't wanna be late …. Glad I am now a BGES member!"
Even Harry Thaete had something to say: "I really did enjoy the tour and thought Bob did a great job presenting. I now have a much better understanding of the terrain." He added in a comment to me that Bob's walk along the ridge of Rocky Face may have been the best battlefield hike he had ever done!
Could everyone do it? Generally, yes. Eighty-year-old Fowler West didn't bat an eyelash at the climb and walk at Rocky Face and Dug Gap.
Yep, we are back—next program: "Shiloh, Bloody Shiloh" with Greg Mertz on May 12–15.
See you there or elsewhere.