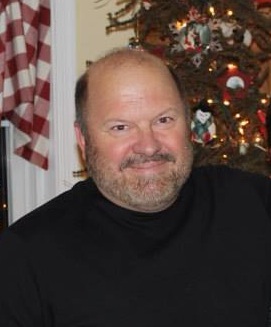 Since the day he was born, Scott Williams has known no other home than Virginia—specifically Chesterfield County in the Richmond area. But Williams, a BGES member for nearly a decade, admits that familiarity didn't necessarily breed appreciation. In fact, in 1996, when he began working for the county as a mapping technician, he came to a somewhat startling realization. "I had no knowledge of anything that happened here," he says.
It's not that Williams was uninterested in history. As a Cub Scout in his youth, he made a trip to the Fredericksburg Battlefield, which sparked a passion for the Civil War. Williams would later develop an even greater interest in the terrain itself, eventually graduating from Old Dominion with a degree in Geography. But he never fully made the connection between his study of Civil War history and the fabled land right beneath his feet, namely the site of the Bermuda Hundred Campaign.
"I was working with George Fickett," Williams recalls. "He was the main preservationist in the area. George had been researching the Bermuda Hundred since the 1970s. He gave me a great education."
Williams took that knowledge and ran with it. Ultimately he teamed up with Fickett to restore and preserve Bermuda Hundred sites located in parks throughout Chesterfield County. "George was the driving force," Williams says. "He was a committee of one. But I could make his life easier by handling the administrative duties."
That provided another education for Williams. To procure funding, he had to learn the ins and outs of navigating local politics. "The biggest challenge was making people aware of the significance of Chesterfield County's important history, particularly the Bermuda Hundred Campaign," says Williams. "You have to be very determined and disciplined."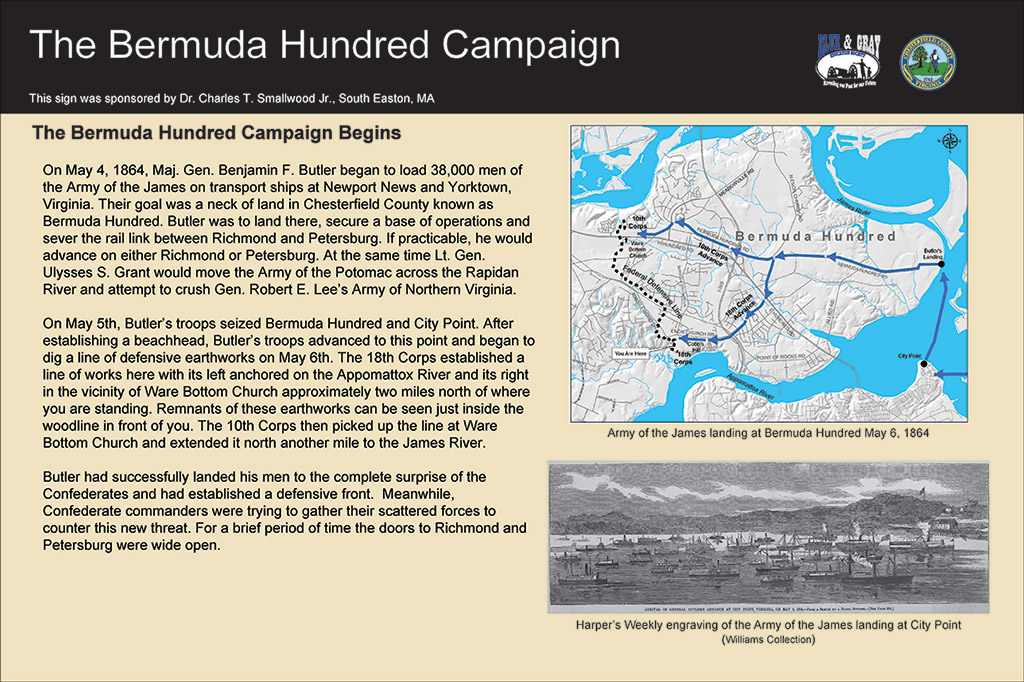 Working with Fickett soon led Williams to the Chesterfield County Historical Society, which he calls the "guardian of local history." Today, Williams sits on the Board of Directors and acts as the point of contact on many of the restoration projects undertaken by CCHS. His first came as part of the 150th anniversary of the Bermuda Hundred Campaign in 2014. Williams was part of a coalition of CCHS volunteers that helped secure a $250,000 operating budget to cover infrastructure needs, including creating new trails and building pull-offs and parking areas.
When the call came for signage along the trails running through the Bermuda Hundred territory, Williams was initially unsure where to turn. That facilitated his introduction to BGES. "Someone told me about the group, so I called Len Riedel," he says. "It was a great partnership from the start."
With the support of BGES, Williams drafted 46 interpretive signs that now appear on trails throughout the region. He also served as a contributing author, researcher, and cartographer for the official "Bermuda Hundred Campaign Tour Guide." In 2013, Williams stepped up his involvement with BGES by hosting a four-day tour of the Bermuda Hundred Campaign, along with Fickett.
All of this brought Williams right back to where he started. "Sure, my proximity to the Bermuda Hundred Campaign increased my interest in it," he says. "But I found this to be uncharted territory in a lot of ways. It's a study in bad decision-making and poor leadership. It's also a fascinating study in a clash of personalities."
Williams has also discovered who makes up the lifeblood of organizations like BGES and CCHS. "I've always been impressed by how active BGES members are," he says. "They pull off projects that other groups might not even take on. It underscores the fact that we'd be nothing without our volunteers."