For those who don't know much about the Civil War, or are looking for an entrée into this expansive topic, these are the cities of the South that played hugely important roles. Within them you'll find all kinds of museums, historic sites, national battlefields, monuments, and more that will be sure to whet your appetite to keep exploring more.
Atlanta, Georgia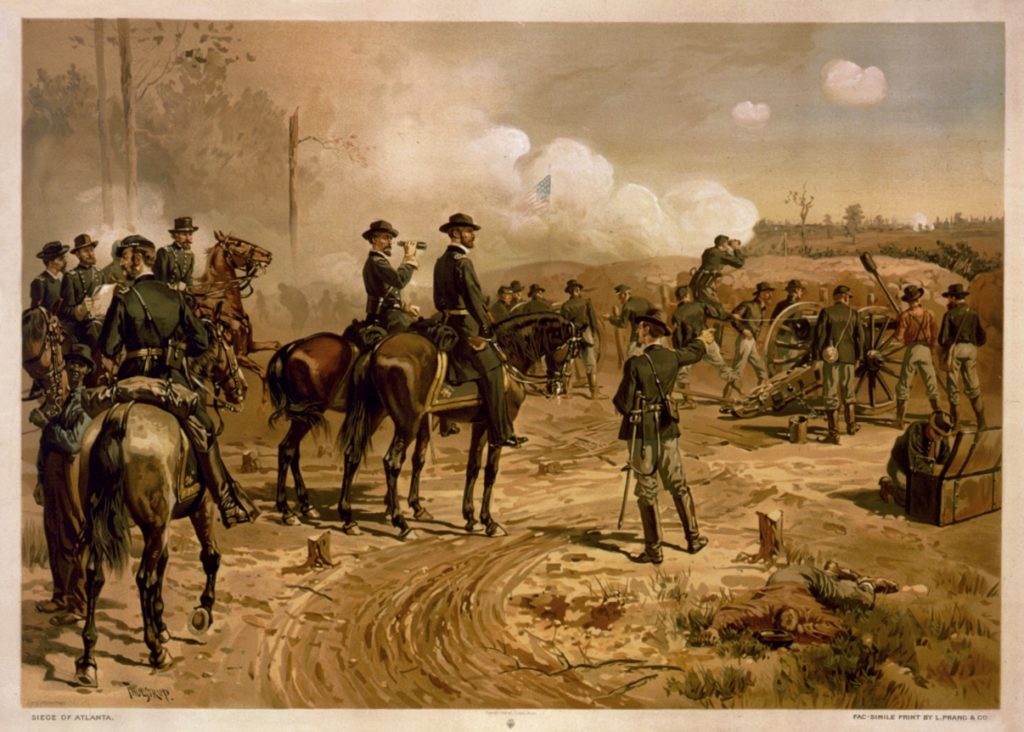 A vital transportation and commercial hub, Atlanta was critical for the Confederacy's military operations—making it a major Union target. Gen. William T. Sherman's attack on Atlanta in 1864, and its subsequent fall, ultimately led to the Confederacy's downfall. It provided the national morale lift needed to propel Lincoln to be the first president to be reelected since Andrew Jackson.
Key Battles:
New Hope Church: May 25-26, 1864
Dallas: May 26-June 4, 1864
Pickett's Mill: May 27, 1864
Kolb's Farm: June 22, 1864
Kennesaw Mountain: June 27, 1864
Peachtree Creek: July 20, 1864
Atlanta: July 22, 1864
Ezra Church: July 28, 1864
Utoy Creek: August 4-7, 1864
Jonesborough: August 31-September 1, 1864
Allatoona: October 5, 1864
Buck Head Creek: November 28, 1864
Key Sites to Visit:
Atlanta Cyclorama at Atlanta History Center
Kennesaw Mountain National Battlefield Park
Pickett's Mill Battlefield State Historic Site
Further reading:
The Day Dixie Died: The Battle of Atlanta, by Gary Ecelbarger.
Chattanooga, Tennessee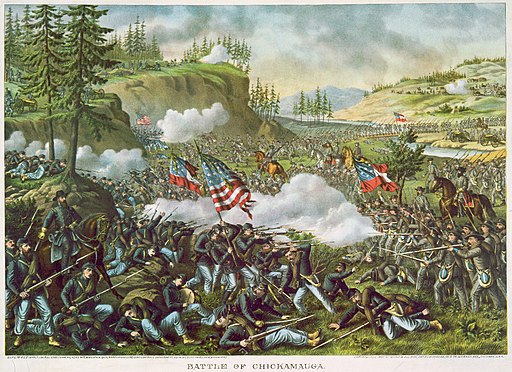 Serving as a gateway to Virginia and Atlanta, boasting strategic river and rail systems, Chattanooga hosted some of the Civil War's hardest fought battles in fall 1863. The ultimate Union victories repelled the Confederates back to Georgia, thereby ending the siege of Chattanooga and paving the way for Sherman's March to Savannah in 1864. The Chickamauga Chattanooga National Military Park reigns as the nation's oldest and largest military park, established by Civil War veterans in 1889.
Key Battles:
Chattanooga I: June 7-8, 1862
Chattanooga II: August 21, 1863
Wauhatchie: October 28-29, 1863
Chickamauga Campaign: November 23-25, 1863
Ringgold Gap: November 27, 1863
Dalton I: February 22 and 27, 1864
Rocky Face Ridge: May 7-13, 1864
Resaca: May 13-15, 1864
Dalton II: August 14-15, 1864
Key Sites to Visit:
Battles for Chattanooga Museum
Chickamauga and Chattanooga National Military Park
Tennessee Valley Railroad Museum
Also see BGES Blog's "Five Questions: The Battles of Chickamauga and Chattanooga, with Norm Dasinger, Jr."
Mobile, Alabama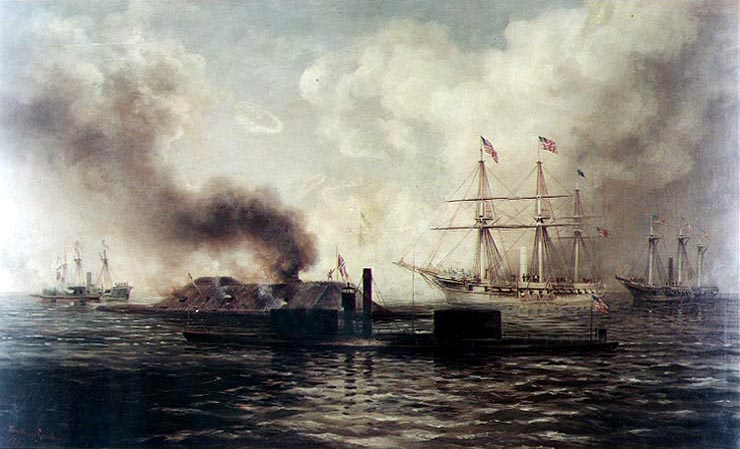 General U.S. Grant coveted this key blockade-running Confederate port on the Gulf of Mexico, and it eluded him most of the war. Finally, he had his chance, as warships battled and armies marched in 1864–1865, resulting in the capture of the last major Southern city still in Confederate hands. The Battle of Mobile Bay could not have been won without the courage of Rear Admiral David Farragut, as he urged his flotilla of warships onward despite the danger of underwater mines (or torpedoes): "Damn the torpedoes. Full speed ahead!"
Key Battles:
Santa Rosa Island: October 9, 1861
Mobile Bay: August 5, 1864
Spanish Fort: March 27-April 8, 1865
Fort Blakely: April 2-9, 1865
Key Sites to Visit:
Battle for Mobile Bay Civil War Trail
 Also see: BGES Blog's "Five Questions for Mike Bunn about the Mobile Campaign."
New Orleans, Louisiana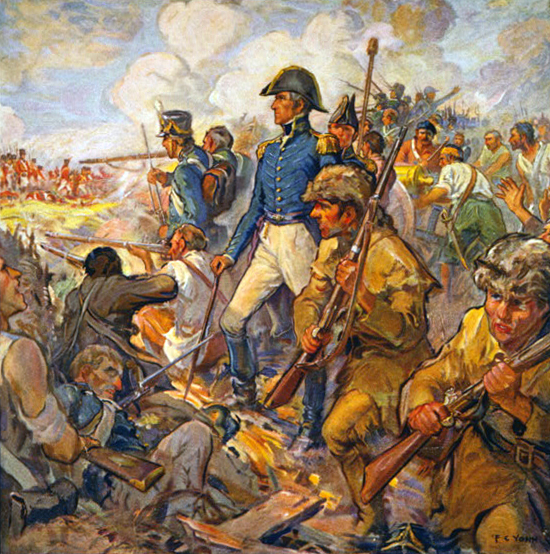 New Orleans' strategic position at the mouth of the Mississippi River made it unduly attractive to the North. Sure enough, her capture in April 1862, opening up direct access to Vicksburg, proved to be a turning point in the war.
Key Battles:
Battle of New Orleans: April 24-25, 1862
Key Sites to Visit:
Confederate Memorial Hall Museum
Jackson Barracks
Further Reading:
When the Devil Came Down to Dixie: Ben Butler in New Orleans, by Chester G. Hearn
 Also see: BGES Blog's "Five Questions for Len Riedel: Civil War New Orleans and the Gulf Coast."
Richmond, Virginia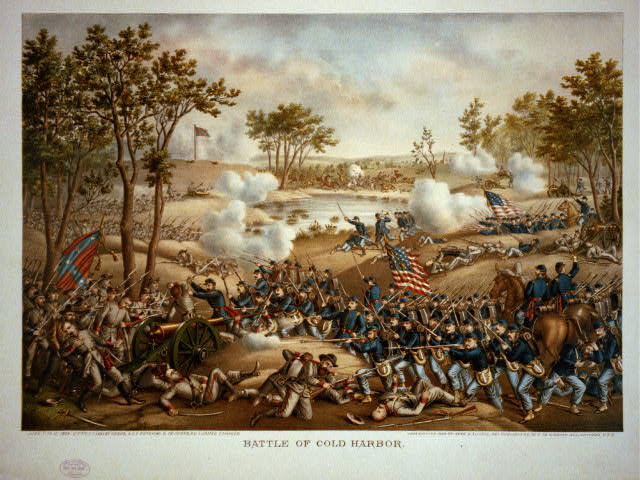 The capital of the Confederacy, Richmond saw many defining battles in and around town during the entire course of the war. With its iron works, flour mills, tobacco factories, woolen mills, and terminus of five railroads—everything that supported fighting the war—it also was an important industrial hub. Here, too, were Confederate hospitals and prisoner-of-war camps. It finally fell on April 2, 1865, after the nine-month siege at nearby Petersburg had been broken.
 Key Battles/Campaigns:
Peninsula Campaign: March 1862-July 1862
[including Seven Days' Battles: June 25-July 1, 1862]
Williamsburg: May 5, 1862
Eltham's Landing: May 7, 1862
Hanover Court House: May 27, 1862
Seven Pines: May 31-June 1, 1862
Beaver Dam Creek: June 26, 1862
Oak Grove: June 25, 1862
Gaines' Mill: June 27, 1862
Garnett's and Golding's Farm: June 27-28, 1862
Savage's Station: June 29, 1862
Glendale/White Oak Swamp: June 30, 1862
Malvern Hill: July 1, 1862
Overland Campaign: May-June 1864
Yellow Tavern: May 11, 1864
North Anna: May 23-26, 1864
Wilson's Wharf: May 24, 1864
Haw's Shop: May 28, 1864
Totopotomoy Creek/Bethesda Church: May 28-30, 1864
Old Church: May 30, 1864
Cold Harbor II: May 31-June 12, 1864
Saint Mary's Church: June 24, 1864
Siege of Petersburg: June 9, 1864-March 25, 1865
Deep Bottom I: July 27-29, 1864
Deep Bottom II: August 13-20, 1864
Chaffin's Farm and New Market Heights: September 29-30, 1864
Darbytown and Newmarket Roads: October 7, 1864
Darbytown Road: October 13, 1864
Fair Oaks and Darbytown Road: October 27-28, 1864
Key Sites to Visit:
American Civil War Center at Historic Tredegar
Richmond National Battlefield Park
Petersburg National Battlefield
White House and Museum of the Confederacy
Also see: BGES Blog's Tour of Richmond's Civil War Sites and Pamplin Historical Park.