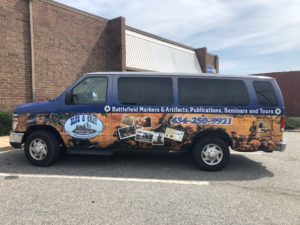 For a non-profit that drives its members around the USA more than 25,000 miles a year, visiting one fascinating historic site after the next, the Blue and Gray Education Society is proud to announce a new member to our family: A beautiful 2014 Ford Ecoline 15-passenger van swathed in a personalized wrapper.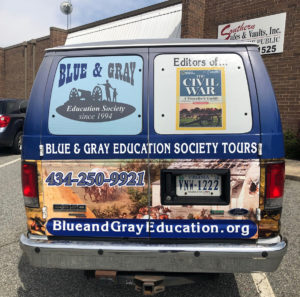 Sponsored by one of our members, BGES contracted with Carolina Customs Signs & Graphics of North Carolina to print, laminate, and install the wrap. It showcases the BGES logo, organization name, and contact info, along with eye-catching historic and contemporary photos. Every detail was considered, down to the colors: The sky-blue color matches the Union uniform, and the gray color is Confederate Gray.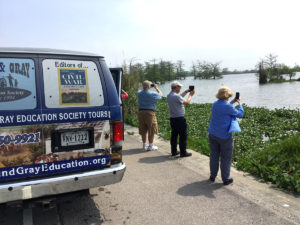 While clients are shuttled around in style, there's another upside to the new van: It has improved BGE' exposure to the public. Len Riedel, BGES' indefatigable Executive Director, commented that in the first week it debuted: "A New Orleans police officer spoke with me at an airport on removal of monuments in New Orleans, a contact from a local tour group in Metairie Cemetery approached me with questions, I had a conversation with a man about his Civil War ancestors while pumping gas in Danville, Virginia, and a walk-up client wanted to hear about our discussion on the Creek Indian War in northern Alabama."Not bad for one week's work!