If you're a parent, you know that getting your kids excited about anything related even remotely to education while on vacation is no easy trick. But these Civil War attractions fit the bill. In fact, your kids will have so much fun they might not realize they are actually learning about one of the most significant periods in American history.
1861 Girls School
Columbia, TN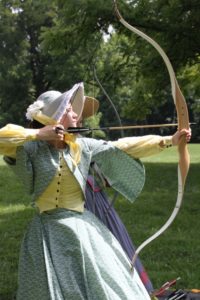 As its name suggests, the
1861 Girls School
is the perfect way to take a step back in time…to 1861. Founded in 1991, the weeklong summer camp caters to girls ages 14 to 19, offering them a chance to "experience a bygone era" as they make friendships that last a lifetime. Campers stay in a beautifully maintained plantation home that sits on acre after acre of lush Tennessee farmland. They spend their days learning the ways of proper antebellum southern women. Lessons and activities include needlework, penmanship, mourning customs, period dance and parlor games. The final night of camp is reserved for the elegant Grand Ball. The 2019 edition will be held from June 22 to June 28. In 2020, it will be from July 11 to July 17.
Civil War Adventure Camp
Pamplin Historic Park (near Petersburg), VA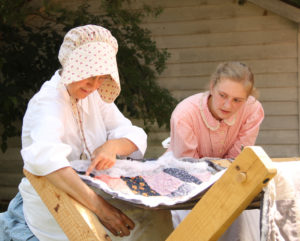 If you or your kids ever wanted to know what it was like to be a private on either side of the Civil War, the
Civil War Adventure Camp
is your chance. Upon your arrival, you are greeted by your commanding officer, who issues you a uniform and readies you for a full day of training and drilling. You learn how to march in formation, provide medical care to wounded soldiers, code and decode messages using signal flags, and guard your camp. By nightfall, you are ready for an authentic wartime meal and a good night's sleep. The camp operates year-round.
South Carolina State House
Columbia, SC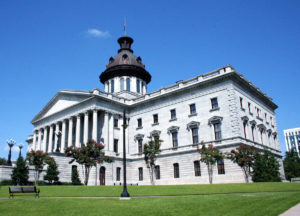 At first glance, your kids might wonder why you've chosen to visit the
South Carolina State House
. Granted, it's the seat of the state government, and they can watch the legislature in session from January through May. They can also see exactly where General Sherman's Union forces shelled the State House in 1865. But what kids really enjoy is the scavenger hunt run by the tour office. It takes about two hours to complete, and it provides a fascinating walking history of Columbia, including many Civil War nuggets.
American Civil War Museum
Appomattox, VA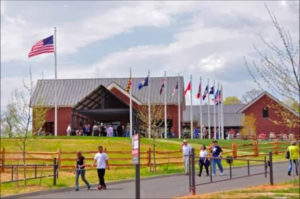 The
American Civil War Museum
and its affiliates, Historic Tredegar and the White House of the Confederacy, offer loads of family fun. The Civil War Summer Day Camp is two days of living like a Union or Confederate soldier. It's geared to two age groups: 8 to 10 and 11 to 13. The ACWM hosts a Family Day each summer, where kids and their parents can participate in a variety of activities. And come December, the museum also takes part in Richmond's Court End Christmas, a city tradition that sees historic sites open their doors for free and offer crafts, caroling and more.
Gettysburg National Military Park Museum and Visitor Center
Gettysburg, PA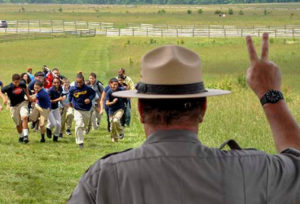 This is an obvious selection, partly because the
Gettysburg National Military Park Museum and Visitor Center
goes out of its way to make the experience engaging and unforgettable for children. For example, every summer, kids from age 7 to 12 can enlist in the Army and learn about life as a solider during the Civil War. This one-hour program runs from mid-June to mid-August. Also on some summer afternoons, a special cart is rolled out, containing all sorts of Civil War artifacts that kids can touch, feel, and even wear. The museum is home to the unique Cyclorama painting, a vivid depiction of Pickett's Charge on a canvas that's 377 feet long and 42 feet high. Tours of the battlefield can be done via iPad, on horseback, or even rolling along on a Segway.
Fort Ward Museum Civil War Kids Camp
Alexandria, VA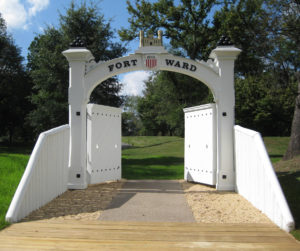 This weeklong camp at historic
Fort Ward
teaches children about life during the Civil War. They do everything from performing military drills to crafting a miniature fort to interacting with reenactors. An educational tour of Fort Ward is also included. The camp runs this year from June 24 to June 28, from 9am to 1pm each day. Space is limited. Call 703-746-4848 for more information.
Fort Delaware
Delaware City, DE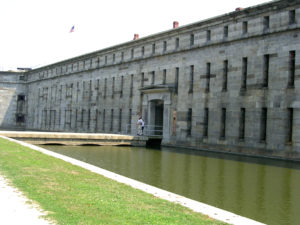 Making the trip to
Fort Delaware
can be a great adventure for many reasons. First of all, you have to take a ferry to get to Pea Patch Island, where the fort is located. Once there, you can learn about Fort Delaware's role in the Civil War, most notably as a Union prison camp that held nearly 33,000 Confederate POWs. What's more, the fort's Columbiad cannon still fires. Historians dressed in period clothing roam the grounds. But what may be more interesting to your kids are the ghosts that are said to do the same. Paranormal tours are offered in the fall.