One of the great things about a trip to Gettysburg is the number of Civil War attractions within walking distance of each other. In fact, you don't even have to stray outside of the city's historic downtown area to find an intriguing collection of sites. Here's an easy walk that takes in central sights providing a quickie tour of this significant place in American history. And if you would like to learn more, please be sure to keep a unique upcoming BGES Gettysburg tour in mind, led by a newly retired senior leadership faculty member at the National Defense University: A Military Perspective of the Gettysburg Campaign, slated for May 30 to June 2, 2019.
Lincoln Railroad Station
Begin your walking tour at the Lincoln Railroad Station, at 35 Carlisle Street.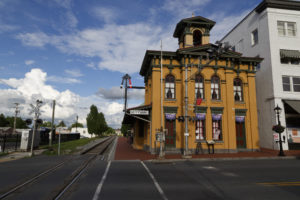 One of Gettysburg's most iconic sites, the Lincoln Railroad Station served many roles during the Civil War. Union soldiers boarded trains here as they headed out to combat, and Lincoln arrived here before delivering the Gettysburg Address. The station was also used as a hospital as Union casualties increased. A renovation of the building was completed in 2006, and today the station is home to its own museum. Visitors can also take self-guided tours daily.
David Wills House
Walk two blocks up Carlisle Street; at the traffic circle, continue straight onto Baltimore Street/Lincoln Square, to 8 Lincoln Square.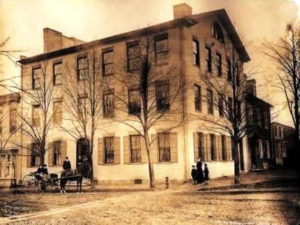 If it wasn't for David Wills, the National Cemetery in Gettysburg might not exist. One of Pennsylvania's most prominent attorneys, Wills is most remembered for ensuring the Union soldiers who died had a proper burial. He purchased the western half of Cemetery Hill to create the first National Cemetery. For the cemetery's dedication, he invited Abraham Lincoln to speak—the rest, as they say, is history. The President stayed in the Wills house and added his finishing touches to the Gettysburg Address while here. The David Wills House opened to the public in 2009 and is home to a museum that features six galleries and two rooms that have been restored to their 1863 condition.
Gettysburg Presbyterian Church
Continue up Baltimore Street to 208 Baltimore Street at High Street.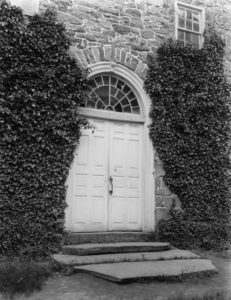 The Gettysburg Presbyterian Church was built in 1740, just outside of the town limits. As the congregation grew, it eventually moved to its current location. During the Battle of Gettysburg, the church was converted into a hospital. Four months later, Lincoln attended a patriotic meeting here after delivering the Gettysburg Address. The pew he sat in is marked with a bronze plaque.
Gettysburg Female Institute
Mosey up West High Street to the corner of South Washington Street, to 68 West High Street.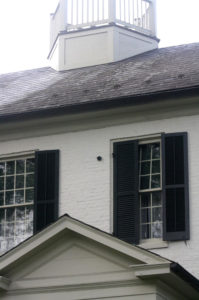 On June 26, 1863, the students of Rebecca Eyster's Young Ladies Seminary were studying at this "old Academy Building" when the Confederates showed up from Seminary Ridge. Mrs. Eyster gathered her children on the front porch and told them: "Children, run home as quickly as you can." They later returned to the school, just in time to see Buford's cavalry arrive in Gettysburg. One of the girls, Tillie Pierce, described the scene: A crowd of 'us girls' were standing at the corner of Washington and High Streets as these soldiers passed by. Desiring to encourage them, who, as we were told, would before long be in battle, my sister started to sing the old war song 'Our Union Forever.' As some of us did not know the whole of the piece we kept repeating the chorus." The building was used as a hospital during the battle. If you look closely at this beautiful house, you can spy a large shell sticking out of the front wall at the right second-story window.
Farnsworth House Inn
Backtrack to Baltimore Street and turn right for several blocks to 401 Baltimore Street.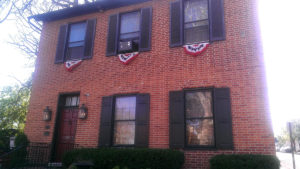 Brig. Gen. John Elton Farnsworth died heroically on the final day of the Battle of Gettysburg. After the failed Pickett's Charge, Farnsworth led another offensive that also proved costly, claiming his life, plus 65 of his men. The Farnsworth House was named after him. Originally built in 1810, it was expanded in 1833 with the construction of a brick structure. Today, more than 100 bullet holes are still visible on walls around the house. The inn offers accommodations in Victorian bedrooms and fare inspired by the Civil War in the Meade and Lee dining rooms. Sweeney's Tavern features Civil War artifacts and memorabilia from the movie Gettysburg.
Jacob Stock House
Walk down South Street and turn left on S. Washington Street to 407 S. Washington Street.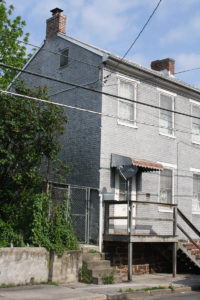 This is another beautiful example of a building still ridden with bullets garnered during skirmishing between Confederate and Union troops on Gettysburg's southern edge. Jacob Stock (or Stuch, as some records show) operated a tavern, the Swan Inn, out of this building. There are more than 70 holes in the brick on the south wall caused by projectiles, and the east wall shows major battle damage as well.
Jennie Wade House
Backtrack to Baltimore Street, turn right on Baltimore Street, and proceed for several blocks to 778 Baltimore Street.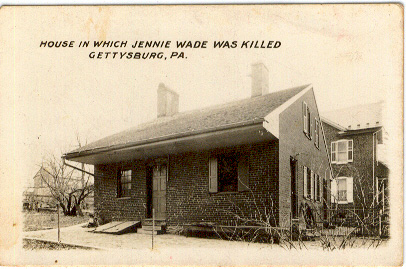 Virginia "Jennie" Wade was an unfortunate casualty of the Civil War, even though she never saw a day of combat. With the Battle of Gettysburg imminent, she and her mother took up residence with her sister, Georgia McClellan, who was due to give birth any day. The women did their patriotic duty by feeding Union soldiers. Alas, a stray bullet—probably coming from a Confederate sharpshooter—struck Jennie as she was baking bread. She died shortly afterward and was originally buried in her sister's garden plot at the house before being moved to their church cemetery on High Street. When construction began on new homes in the area, she was moved to her third and final resting place, in Evergreen Cemetery, a short walk from the house. Her grave is marked with a monument and a perpetual American flag that flies day and night; the only other woman to claim that honor is Betsy Ross. The house is now a historic museum where tour guides dressed in period attire love to tell her story and artifacts from 1863 are on display.
Dobbin House Tavern
Backtrack to Steinwehr Avenue and turn left, continuing for several blocks to 80 Steinwehr Avenue.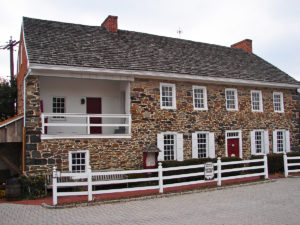 Built in 1776 by Alexander Dobbin, the Dobbin House is Gettysburg's oldest building. Dobbin was a reverend who immigrated to the New World from Ireland. He became a community leader as well as an abolitionist who helped runaway slaves along the Underground Railroad. Today, the Dobbin House offers casual dining in the Springhouse Tavern and a more formal setting in the Alexander Dobbin rooms. The Abigail Adams Ballroom hosts special occasions, while the Gettystown Inn is an elegant bed and breakfast.