On April 25, 2019, BGES celebrates 25 fantastic years of fronting Civil War education and preservation. In that time, we've scoured related sites both large and small with our premier study tours, and branched off into other important areas of American history as well. We've launched some important legacy preservation projects, grown our Wounded Warrior tours for America's heroes, and published books and monographs. And through it all, we've been honored to engage with some of history's and the military's greatest minds. To commemorate our 25th anniversary, in the days leading up to the Big Day some of our members will be sharing their favorite BGES stories on these pages. Be sure to return to the website often to relive some poignant memories.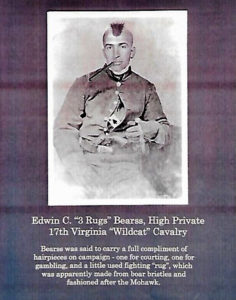 One of my favorite BGES memories was from the 2005 BGES "Road to Appomattox" tour with Ed Bearss and Chris Calkins. The tour started with the Union breakthrough at Petersburg and followed Lee's retreat to Appomattox. There were many wonderful moments, such as when we stopped by Olger's General Merchandise store at Sutherland Station, made famous in Tony Horowitz's Confederates in the Attic. Jimmy Olger had the oddest collection of stuff I have ever seen, but what topped it off was that Chris got Jimmy to do an authentic "Rebel Yell."
But perhaps the most fun moment of the trip was when we got to the visitors center at Appomattox. Along one of the walls were photos of various Civil War soldiers present at Appomattox. The park ranger told Ed there was one in particular he wanted Ed to see. As we wandered over, Ed suddenly broke into a great booming laugh. There on the wall was a photo of a private in the 17th Virginia "Wildcat" cavalry named "Edwin C. '3 Rugs' Bearrs," sporting a Mohawk haircut. Underneath the photo, the inscription read, "Bearss was said to carry a full complement of hairpieces on campaign—one for courting, one for gambling, and a little used fighting 'rug', which was apparently made from boar bristles and fashioned after the Mohawk." The park rangers were tipped off that Ed was arriving that day and superimposed a doctored photo of Ed on top of the picture of one of the soldiers and added the humorous caption.
That was a priceless moment.