On April 25, 2019, BGES celebrates 25 fantastic years of fronting Civil War education and preservation. In that time, we've scoured related sites both large and small with our premier study tours, and branched off into other important areas of American history as well. We've launched some important legacy preservation projects, grown our Wounded Warrior tours for America's heroes, and published books and monographs. And through it all, we've been honored to engage with some of history's and the military's greatest minds. To commemorate our 25th anniversary, in the days leading up to the Big Day some of our members will be sharing their favorite BGES stories on these pages. Be sure to return to the website often to relive some poignant memories.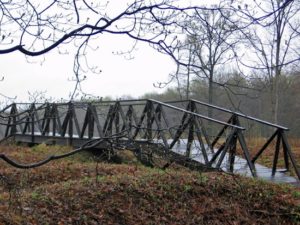 Waite Rawls III, President of the American Civil War Museum Foundation, wrote about his experiences with Len and BGES back in 2003 for Hallowed Ground the American Battlefield Trust's flagship magazine. Here are his memories.
I had joined the group on a two-day staff ride of the Wilderness. The tour, of course, was meticulously presented, kicking off in Culpeper, Virginia, and following the route of Grant's Army of the Potomac in the direction of the Rapidan River. Many of the houses that had served has Federal headquarters were still standing to this day. But as we approached Germanna Ford, I was dismayed to discover a four-lane highway (today's Germanna Ford Road/Route 3). Clearly, the "wilderness" was endangered.
We continued westward toward Saunders Field, finding hints of the wooded battlefield. I enjoyed a special moment with the group when I shared a story about my great-great-uncle who fought with Brigadier General Robert Johnston's North Carolina brigade in the flank attack. The general had written home a couple days later: "Our front line pressed them back so rapidly that we scarcely got a shot at them."
But as our BGES group continued our tour, approaching the intersection of Orange Plank Road and the Brock Road, anything special about the place was shaken back to the modern day with more sprawl and modern development. As I wrote in the article, "I became almost despondent looking into the future of this critical intersection. Unless something intervenes, it will one day look exactly like the current scene on Route 3 at Salem Church—an island of preservation in a sea of development."
The battlefield teaches us about the past—which emphasizes the importance of protecting it from the future pace of development.
Isn't that what BGES does so handily?