Debonair and dashing, J.E.B Stuart cut an unmistakable figure on and off the battlefield during the Civil War. Regarded as the Confederate Army's most accomplished cavalryman, he proudly looked the part, typically adorned in flamboyant military garb as he sat atop his warhorse Skylark. Stuart made his mark leading successful reconnaissance missions, which in part helped him gain the undying friendship of Robert E. Lee. However, dubious strategic decisions made by Stuart in the prelude to the Battle of Gettysburg strained that relationship and caused some to question his fitness for command. Ultimately, the "Knight of the Golden Spurs" was heralded as a true Confederate hero.
Here are 10 interesting facts about him.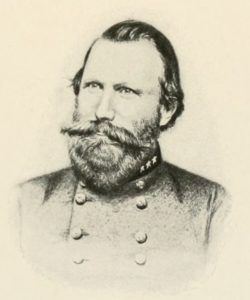 1. Let's start with the most obvious. His name wasn't "Jeb." The initials J.E.B. are an acronym of his three names, James Ewell Brown.
2. Stuart came from a long line of accomplished military leaders. His great-grandfather, Major Alexander Stuart, was a regiment commander during the Revolutionary War. His father, Archibald Stuart, saw action in the War of 1812 and went on to become a U.S. Representative from Virginia.
3. In his youth, Stuart earned the moniker "Beauty," although it was anything but a compliment. His "short and retiring" chin was said to be totally distracting to anyone who looked at him. Classmates at the U.S. Military Academy coined his nickname with tongue fully in cheek. After graduation, Stuart wore a long, well-groomed beard to hide his chin.
4. Stuart was a man ahead of his time in how he created and maintained his public image. Without a doubt, he dressed to impress, often festooned in a red-lined gray cape with a yellow sash and a red flower in his lapel. His hat, which he always wore cocked to the side, featured an ostrich plume.
5. Stuart met Flora Cooke in 1855, and the couple was engaged within two months. They planned a big wedding, but changed their plans to a ceremony just for family after Stuart's father died unexpectedly. The newlyweds proved to have an unbreakable bond. Upon Stuart's death, Flora wore a black armband for the rest of her life.
6. Stuart was an excellent engineering student at West Point. But he was relieved when he wasn't assigned to the Army Corps of Engineers, which he viewed as a complete bore. In 1859, Stuart received a U.S. patent for a piece of cavalry equipment that he invented called a saber hook. He was paid $5,000 by the government for a "right to use" license, and later contracted with Knorr, Nece and Co. to manufacture his invention. 
7. J.E.B. and Flora had three children, though only two survived past birth. A girl was born in 1856, but died the same day. The following year, Flora gave birth to another girl, who was named after her mother. In 1860, a boy arrived, named Philip St. George Cooke after Flora's dad. But Stuart took great offense when his father-in-law chose to fight with the Union in 1861, and changed his son's name to James Ewell Brown Stuart, Jr.
8. Stuart's legendary fashion flare may have been the impetus for a successful raid in 1862. After nearly getting captured by Union troops and having his signature hat and cloak confiscated, he staged a reprisal the following day. Stuart's gambit paid off big, as he and his troops commandeered the headquarters of Maj. Gen. John Pope. Stuart not only got his duds back, but also walked out with Pope's full uniform, not to mention orders that detailed the general's plan for reinforcements in the coming weeks.
9. Stuart died young, at the age of 31 in 1864. In his final battle, fought on the outskirts of Richmond, he was shot by a Michigan trooper and succumbed to his wound the next day. His daughter Flora had died from typhoid fever just a month earlier. Reportedly, Stuart's last words were, "I am resigned; God's will be done." 
10. Stuart's name lived on long after he died. In 1884, the town of Taylorsville, Virginia, was renamed Stuart. During World War II, the British Army changed the name of its American-made M3 and M5 tanks to the Stuart tank. And from the 1960s to the 1980s, DC Comics published G.I. Combat, a series that featured "The Haunted Tank," which was commanded by Stuart's namesake, Lt. Jeb Stuart, with the guiding hand of the ghost of Stuart himself.
Learn more about J.E.B. Stuart on the upcoming BGES tour, "A Clash of Sabers: Stuart is Surprised at Brandy Station," on May 4-5, 2019. We are honored to have Clark Bud Hall, a foremost expert on cavalry operations in the Civil War, leading the tour.