On April 25, 2019, BGES celebrates 25 fantastic years of fronting Civil War education and preservation. In that time, we've scoured related sites both large and small with our premier study tours, and branched off into other important areas of American history as well. We've launched some important legacy preservation projects, grown our Wounded Warrior tours for America's heroes, and published books and monographs. And through it all, we've been honored to engage with some of history's and the military's greatest minds. To commemorate our 25th anniversary, in the days leading up to the Big Day some of our members will be sharing their favorite BGES stories on these pages. Be sure to return to the website often to relive some poignant memories.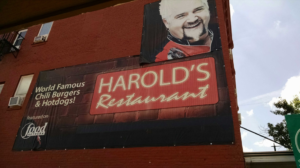 Education is always in the forefront of Len's plans for the Field University Programs. I have been thrilled to visit Honey Hill with Steve Wise, South Mountain with Tom Clemens and Scott Hartwig, and Sycamore Shoals with Bert Dunkerly, along with many other historical sites. BGES's educators make the places come alive–being introduced to the ordinary folks who formed this country.
One thing that I have learned is that Len likes to eat, and Len knows where the best places are. I fully expect to see Len featured for BGES's own version of Diners, Drive-ins, and Dives! Well, we did check out Harold's Restaurant in Gaffney, South Carolina, the home of world famous Hotdogs and Chili Burgers.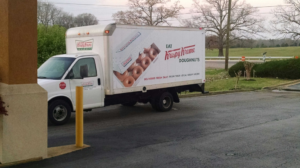 Imagine the look on the faces of the customers at Krispy Kreme when a van caravan pulls in and 10 people jump out to get a hot Krispy Kreme. And, needless to say, Len did walk out with a box, too. Krispy Kreme shops aren't that common in Pennsylvania, but every time I see one–well, I think of Len. Several years ago, we joined Len in Savannah, Tennessee, to study the Battle of Shiloh. What pulls into the hotel, but a Krispy Kreme truck–Len is addicted!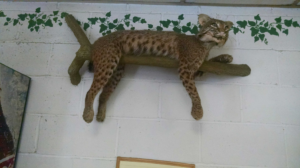 Len seems to pick an eatery by the vehicles in the parking lot. Ehrhardt, in the low county of South Carolina, is home to the Bee Box Restaurant. The parking lot was full of pick-up trucks with dog kennels in the bed–so definitely, a place where the locals go for good food. And it was good food–buffet style, so I could eat as much as I wanted of the delicious southern banana pudding! The décor was also entertaining and unique.
I can't wait for the next educational tour–along with Len's favorite places to chow down.