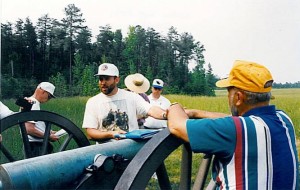 April 25, 1994 is Founder's Day at BGES. That's when Executive Director Len Riedel, then a soon to be 40-year-old Air Force retiree, fulfilled his dream to help preserve some of America's most important history by incorporating the BGES as a non-profit tax exempt organization. The mission then as today was "Revealing Our Past for Our Future."
The newly minted BGES received valuable early support from Will Greene, President of the Association for the Preservation of Civil War Sites (APCWS), and Mark Stephens, the APCWS program director. They helped advocate for the BGES to the APCWS board and got access to the APCWS mailing list of some 7,000 people. Len then stuffed envelopes and wrote letters inviting APCWS members to support a joint symposium and tour with the BGES in October, 1994, at the Seven Days Battle sites near Richmond, Virginia.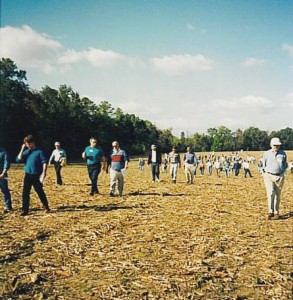 The photograph of the cornfield was taken at the site of the Battle of Glendale, where our first tour goers learned about Robert E. Lee's final opportunity to intercept the Union Army on June 30, 1862.
BGES's first event was a symposium which preceded the APCWS annual tour. Our faculty included Terry Jones, Louis Manarin, Joe Glatthaar, Ed Bearss, Mike Andrus, Mike Litterst, A. Wilson Greene, and Archer Jones. Our third tour, of the Overland Campaign in the spring of 1995, brought onboard Bill Matter, John Hennessy, Gordon Rhea, and Andy Trudeau. Tour leaders recognizable in the photo included Greg Mertz, Frank O'Reilly and Mike Miller – all are still active with BGES.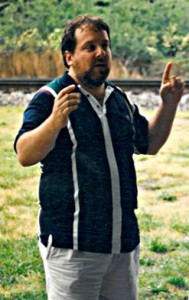 Riedel continues to welcome people to what he calls his "Walter Mitty Dream." Except that the organization has only grown from its first beginnings – which is great for Len, who loves his role as founder and mover of this uniquely American battlefield university. Len says that "if I didn't do this, I'd have to work for a living!"
Of course, BGES has never just been about tours. We pride ourselves in getting projects done on time and on budget. BGES's first project, providing a wooden APCWS site sign at The Coaling, a strategic point at the Battle of Port Republic, was $600 – which was a lot for an organization with less than $3,000 in annual income. That sign is long gone as the Civil War Trust now controls the site. BGES' second project is also overlooked; but it is the paved parking lot at the foot of Sitlington Hill, site of the May 1862 Battle of McDowell. BGES's unpaid Director raised $3,000 in matching funds for the APCWS' share of a $15,000 Department of Transportation matching grant.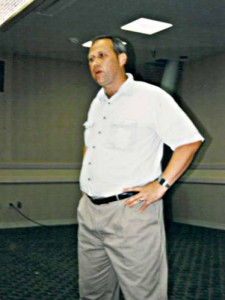 BGES has come a long way in the past 18 years. Today its 400-plus members constitute a generous and devoted following that has enthusiastically taken up preservation and education work at some key Civil War battlefields. Soon BGES will turn over $30,000 to the Friends of Raymond to refurbish 10 cannon on the Raymond Mississippi battlefield – as one example of its work.
BGES has also heard the call to serve our service members wounded in Afghanistan and Iran. As partners with the Yellow Ribbon Fund, BGES volunteers help take wounded warriors and their families to sites like Gettysburg, Antietam, Fredericksburg and other sites in the Washington, D.C. area.
Riedel sums up the past 18 years in characteristic style: "Happy Birthday to 'Bee Gees!' Here's to 18 more!" For BGES, the past is prologue to what's yet to come.