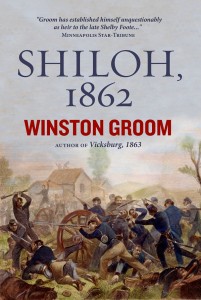 "Groom has established himself unquestionably as heir to the late Shelby Foote…" — Minneapolis Star Tribune
"… Most historical accounts place the reader above the fray looking down, In Shiloh 1862 Groom places you next to the participants and has you looking to your left and right–you can hear the shell bursts, feel the pulsating anxiety and experience the moment–it educates and entertains–a fine read!"
We invite you to buy this fine book from us because Winston says in his acknowledgment (and we paraphrase) "Blue and Gray Education Society got the ball rolling in the first place by introducing me to a large amount of material on Civil War Corinth — from that discussion grew the idea for a new account of the Battle of Shiloh." Winston has also authorized a special limited leather edition of the book to raise funds for the BGES.
Read an excerpt from Shiloh, 1862.
Purchase Shiloh, 1862:

using our secure PayPal server

Leather bound, limited edition.

$45.00

$36.00 (until October 31st)

PROMO CODE: 01BGES20

Available only from BGES.

Buy Now

Trade edition. $25.00
using our secure PayPal server

You can also order by mail. Download a printable flyer and order form (pdf). Prices are inclusive of shipping and tax within the United States. Contact us if you want to purchase Shiloh and have it shipped outside of the US.
See our other collectors edition books and help us raise even more for battlefield preservation and education: Limited Edition Collector's Books from BGES.