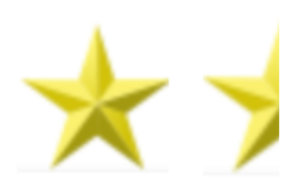 By Albert Castel (Stackpole Books, 2001, 244 pages)
---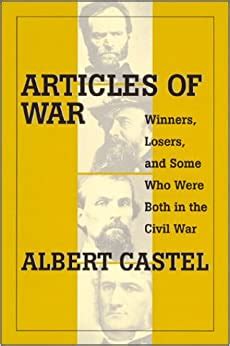 With a personal library of more than 5,000 books, I have more books than I will ever read in my life. And so, in selecting "unread" books, I went to my various stacks and randomly selected books that I once had on my "to read" list. I screened using name recognition and relative obscurity of the title to the look of the cover, and then put it in the "read and review" stack. For the past six months, I have focused on the works of legendary historians that did not have the lift or cache of their more famous works. Albert Castel is most noteworthy for his seminal work Decision in the West about the Atlanta Campaign—an extremely well-written and meaningful contribution to the definitive list of campaign studies. So Articles of War fit my selection criteria. I made a mistake.
We have all seen essay publications in which well-known historians such as Gary Gallagher and Steven Woodworth have selected a campaign or narrow period of time and asked lesser-known historians and graduate students to contribute essays that are collected, edited, and published. It is like going to a day-long symposium or academic conference. There is a purpose, and if you relish this type of dialogue, it can be very instructive. It is why academic presses often are their publishers.
Castel's work is notably different. The title is descriptive. This is a book of articles about the war. They are retreads of Castel's more than five decades of popular publishing. The majority of articles are reprints of articles he wrote as far back as 1952. Each had a refresh for this volume, but they were generally not written as peer-reviewed publications, thus relieving him of a serious level of academic scrutiny. This allows him to trade on his degree while not assuming the responsibility that is assumed by his lofted status. We expect a higher bar for academic historians. They are the umpires of history and popular or pop history. That the articles have been consolidated over nearly 50 years makes this an encyclopedia rather than a work of original scholarship. The only advantage of it is that if you wanted to read articles by Albert Castel, you would save yourself a deal of research. He has picked what he believes are his best.
I mistakenly believed Articles of War was a thematic objective. I did not realize until I opened it and looked it over that he was merely stating the obvious. This was a book with 14 different articles, turned, kneaded, cut, and leavened to create a unique loaf of bread. To that extent, it is satisfying if you like the ingredients.
Castel is a Western historian. He rightly believes that the heavy-lifting in winning the war took place in the West. He frames the recipe in three measures: winners, losers, and some who were both. He opens with Grant and closes with Sherman—go figure. What is interesting are the folks in between. He makes the point that, in addition to Grant, he claims Black Jack Logan, Alpheus S. Williams, and Nathan Bedford Forrest were winners from start to finish. Keep in mind his first article has roots when Harry Truman was President, and many of the articles were crafted in the late sixties and seventies.
Castel postulates that George McClellan, Earl Van Dorn, George Stoneman, and Theophilus Holmes were unquestionable losers. I found his knowledge of Van Dorn's life very slim and, like Van Dorn's biographers, he misses the animating force behind many of his military misdeeds—his chronic philandering. In Stoneman's case, he focuses only on the Andersonville Raid: It was an opportunity woefully underdeveloped, but consistent with the rules surrounding popular publications. In this case, he published an article he had written for a publication that went out of business before it could print the article—go figure.
Interestingly, he then assembles a series of popular articles on leaders who started the war with great press and high expectations but who flamed out: Albert Sydney Johnston, Leonidas Polk, Senator Jim Lane, and William Quantrill—Quantrill, really? In Lane's case, he misses his organization of and the first engagement of U.S. Colored Troops (1st Kansas Infantry) at Island Mound, Missouri—you get what you pay for.
He closes strong-talking about two men who appear in the early part of the war to be losers but ultimately were winners. He opens with an unexpected but welcome article initially completed in 1952 on Sam Houston and his efforts to avoid war, and Texas being dragged into it.  He then pulls together a three-part article on William T. Sherman's journey to essential consigliere for the triumphant Grant to close his presentations. On the edges, Castel does give some interesting content with an opening note written "tongue in cheek" by an anonymous Confederate soldier T. Oady and published in The Memphis Appeal in 1864. He reprints an essay he wrote for a special edition of Civil War Times Illustrated on "How the War Began, Fort Sumter, 1861″—interesting but boilerplate stuff.
A six-page epilogue presents a shallow answer to the question of "Why the North Won and the South Lost?" He rationalizes it with the promise he hopes one day to do a book that would fortify his thesis—that was 2001, he passed in 2014. In this excuse for a summary, he is so careless as to mention Confederate generals who do not have articles within his "articles" book: Robert E. Lee, Stonewall Jackson, Joe Johnston, Beauregard, Bragg, and Hood. When he lists the top five generals who were the architects of Union victory, George Thomas, Rosecrans, and Sheridan are all missing from this book.
I found this book entertaining but a waste of time. Devoid of a unifying theme, it is clearly a rework of intellectual investments of long ago. Castel publishes this at age 72. There is nothing new and no work to bring them together, just a loose affiliation of winners and losers. The book gets a star for being readable and a half star for having a marquee historian associated with it, but all the discretionary intangibles that make a book worthwhile are missing.  I rarely buy or read popular magazines on the Civil War. Articles of War is a slim hardback version of some 17 picked works over 48 years. Save your time and money.