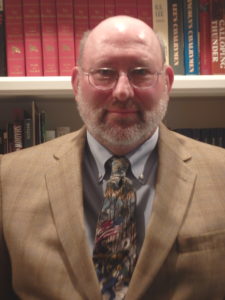 Upon completing a phone interview with BGES member Greg Mertz, you are immediately struck by two thoughts.
First, despite an illustrious career in the National Parks system, including more than two decades as the Supervisory Historian at Fredericksburg & Spotsylvania National Military Park (FRSP), Mertz might have missed his calling. His rich, distinctive voice and gregarious personality easily could have landed him a primetime spot hosting his own radio show. However, he put his natural gifts to perfectly good use on the countless number of tours he's hosted over the years.
The second thought is that Civil War history has never had a better friend and supporter. From the first time Mertz first visited Shiloh National Military Park as a kid with his Boy Scout troop, he has been all-in on education and preservation efforts. "I'm a public historian and an avid traveler," he says. "Nothing is better than experiencing history where it happened."
That was the reason Mertz studied park administration at the University of Missouri, and later earned his Masters at Shippensburg University in Pennsylvania. He wanted to work somewhere he could totally immerse himself in history.
"At the time, UM was just one of the five accredited Parks & Rec programs in the U.S.," Mertz recalls. "As part of an interpretation class, I had to prepare and give tours. My first was on edible plants. I remember thinking I had blown it. But my teacher pointed out something I did well. That stayed with me."
Mertz would spend the rest of his career paying it forward. He loved helping students get their start in the National Parks system. "I always enjoyed the selection process," he says. "I really got jazzed up interviewing candidates and getting to know them."
Mertz also loved training new recruits. "It was the most important time I spent on the job," he says. "Going out in the field and critiquing a program brought me back to my first tour. I knew I could really boost the confidence of young students."
One of his fondest memories during his time at FRSP was the Sesquicentennial, which allowed him to work at other major Civil War battlefields across the nation, including First Manassas, Cedar Creek, and Antietam. While at Gettysburg, Mertz got the thrill of a lifetime. "I was conducting tours that were exploring Devil's Den," he recalls. "There was a man carrying a Civil War sword. Turns out he was a direct descendant of Lt. Col. Francis M. Cummins of the 124th New York, injured when a cannon rolled into him and also broke his scabbard on Devil's Den, and this was his sword and damaged scabbard. He even allowed me to handle it."
Those types of interactions were commonplace for Mertz. Sharing his love of history with others came naturally to him. It also led to opportunities to contribute to the broader discussion of the Civil War. Mertz is the founding president of the Rappahannock Valley Civil War Round Table and a past vice-president of the Brandy Station Foundation. Both remain close to his heart, especially since his retirement from FRSP.
"I'm back on the board for RVCWRT," he says. "It has become a thriving and innovative group. They now sponsor an NPS scholarship, plus an internship."
Mertz has also reinvigorated his commitment to the Brandy Station Foundation. "Upon my retirement, they called immediately," he says. "Our major thrust is to turn Brandy Station into a state park. We're currently looking into the initial steps. I've always been impressed by how important local involvement can be."
The same can be said about Friends of the Wilderness Battlefield, an organization formed to aid FRSP in the preservation of Wilderness Battlefield. It also provides advocacy, educational programs, and service projects. Mertz was the liaison to the group while he worked at FRSP. Beginning this fall, he will sit on the board in an advisory role. "They succeed because they are so active," he adds.
Mertz has written several feature articles for Blue and Gray Magazine, and his first book, Attack at Daylight and Whip Them: The Battle of Shiloh, April 6-7, 1862, was released in 2019 as part of the "Emerging Civil War" series. "I very much enjoyed writing it," he says. "I've been bantering around a few ideas for a new book."
Mertz has also become a popular BGES tour guide. His next tour, "A Comprehensive Study Tour of the Battle of Fredericksburg" (December 10-12, 2021), is the last BGES program of the year. It's a team effort with Paul Severance that examines both battles of Fredericksburg, plus the events at Chancellorsville.
With so many irons in the fire, Mertz likes to joke that his retirement has been anything but boring. Not that you would expect anything less from him. The Civil War is the lifeblood to him, and he's determined to use his dulcet voice to keep it part of the national conversation.