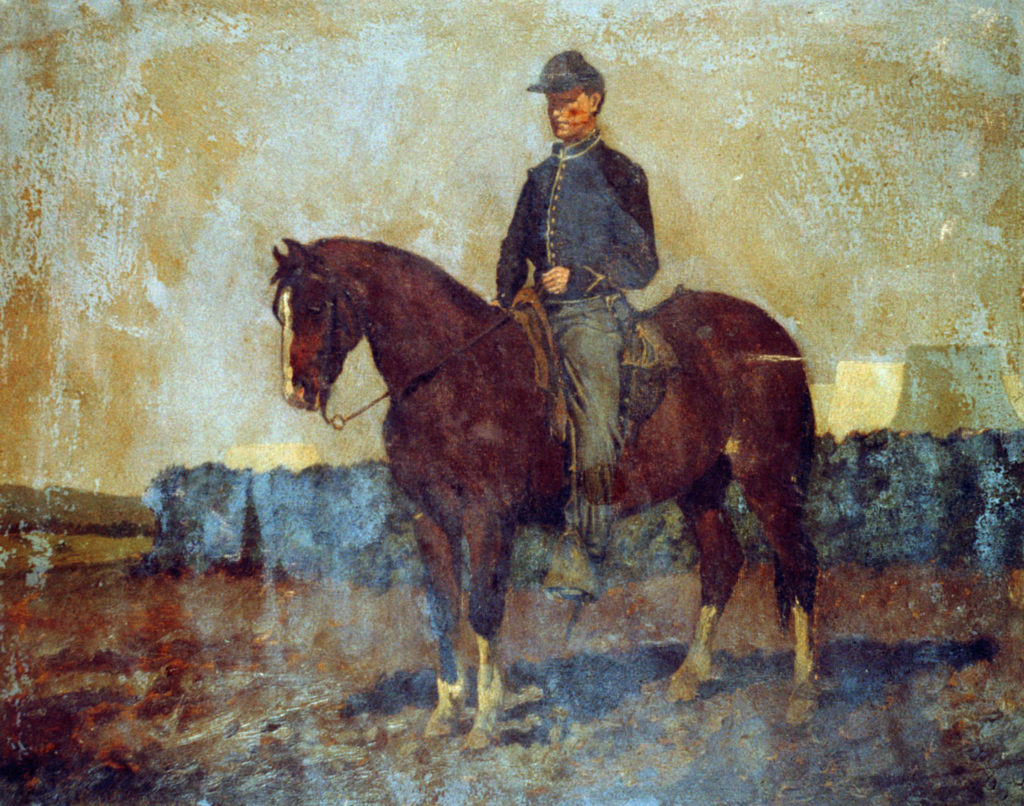 For many historians, there is nothing more exciting than having a personal connection to their subject matter. BGES member Tim Smith knows this feeling very well. A native of Mississippi, he grew up a stone's throw from the hills and valleys where Union Calvary general Benjamin Grierson famously led his troops on an attack in and around Vicksburg that helped turn the tide of the Civil War. Smith, in fact, wrote one of the preeminent books on the subject, The Real Horse Soldiers: Benjamin Grierson's Epic 1863 Civil War Raid Through Mississippi. In March 2021, he is set to host a BGES tour on the same topic. BGES Blogger Mike Kennedy sat down with Smith to discuss his life as a student of the Civil War and why Grierson's raid continues to fire his imagination.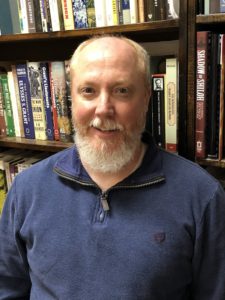 MK: You were born in Mississippi. Where exactly? What was your childhood like?
TS: I was born in Meridian, in 1974. I had an idyllic childhood growing up in Carrollton, a town of less that 500 people and setting several decades behind modernity. The entire county I lived in had no hospital, Walmart, or even a stoplight. My dad was the longtime town preacher, so we knew everybody and everybody knew us. It was like growing up in Mayberry.
MK: Is this where your interest in the Civil War began?
TS: Growing up in Mississippi, I was surrounded by history, and my dad often took my two brothers and me to Shiloh and Vicksburg, and to other battlefields even in the east as well. We had several direct ancestors who fought in the war, including five at Vicksburg, and so it was almost a given my interest would be piqued.
MK: You worked for the National Park Service, including seven years at Shiloh National Military Park. What was that experience like?
TS: I learned a lot, both positive and negative. I learned a whole lot about speaking in front of people and giving presentations, as well as a lot about Shiloh history. I also learned I did not like the mind-numbing Federal bureaucracy, as well as figuring out that I was not cut out to be a public historian. I enjoy meeting people on tours and speaking events, but I also cherish the time I have researching and writing. My wife says the friends I hang out with most are all dead.
MK: You went on to get your BA and MA in History from the University of Mississippi, and then earned a Ph.D. from Mississippi State. Now you teach history at the University of Tennessee at Martin. What did you enjoy about higher education?
TS: As a student, I enjoyed the learning and research in school, obviously more as I went along and began to be able to focus on my interests more. Now as a professor, I can do that exclusively in teaching and writing. I particularly enjoy the process of taking raw material and forming it into the finished product of a book.
MK: Speaking of books, in 2018, you published The Real Horse Soldiers: Benjamin Grierson's Epic 1863 Civil War Raid Through Mississippi. Was your proximity to where the raid took place the spark to write the book?
TS: Growing up literally in the middle of the raid's area was a big deal, at times in my life right in the towns where it happened. John Wayne's The Horse Soldiers also piqued my interest. As I began to have more than a rudimentary interest in the events of the Mississippi Valley, it was not a large leap to do something on Grierson's Raid.
MK: What unique challenges did horse soldiers face during the Civil War?
TS: The challenges were numerous, but they were of course more adept at handling them than we are today. We are a largely horseless society, the majority of Americans not owning one. Their use of horses back then would be synonymous to us dealing with our automobiles every day in present times. That said, horses (and especially mules) obviously have minds of their own. Plus, a raid like this offered more challenges as the mileage per day was brutal on man and beast. And some of the men had hemorrhoids!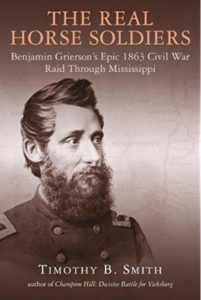 MK: In March 2021, you're hosting the BGES tour "The Real Horse Soldiers, Grierson's Raid." What are some of the highlights?
TS: We will travel the exact route the raiders did as best we can. Some of it is on private property and some of it has been lost to history, but we will do as much as possible. In particular, we will hit the towns they went through, plus their historic sites as some such as Montpelier have moved since the raid. We will also visit most of the plantations where they camped, at some seeing the house sites and the family cemeteries. I did a lot of work in deed records at the county courthouses and found where most of the plantations were located. We will of course also hit the major fighting areas as well as some of the river crossings. It will be a lot of back roads (and worse).
MK: This is the first time you're guiding this tour. What goes into planning an inaugural effort like this one?
TS: I traveled the route doing the research of course, but this will be the first time leading a tour group on it. Not a lot of planning besides the logistics of eating and sleeping. I'm not sure how much time we'll need where, or how fast we will move throughout a day. I promise we will cover the raid route in a shorter time than Grierson did, though. A lot will depend on the wants and desires of the group in terms of how many side trips we take.
MK: Finally, you've written a few new books in the past year. Tell us about them.
TS: The Union Assaults at Vicksburg: Grant Attacks Pemberton, May 17-22, 1863 came out in January 2020. It covers the May 19 and 22 assaults in detail. It's part of what will ultimately be a five-volume history of the Vicksburg Campaign. The book on the siege—a very large one, by the way—will be out in the summer of 2021.
MK: Thanks Tim!