The Last Hurrah, Sterling Price's Missouri Expedition of 1864 by Kyle S. Sinisi (Rowman and Littlefield, 2015 / paperback 2020)
---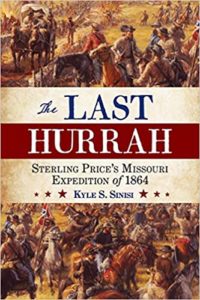 More than 20 years ago, the old Association for the Preservation of Civil War Sites hired me to execute a National Park Service grant to conduct a preservation plan for Sterling Price's 1864 Missouri Campaign. As I surveyed the span of the operations, I was intimidated by the challenge of such a trail and could not see a way forward to a meaningful visitor's experience. There was just too far to ride (more than 1,400 miles and far too little of substance to see). I found the most interest and promise to be in the vicinity of the Big Blue and Little Blue Rivers and Westport. Another useful waypoint was moving south toward Fort Scott. As the subsequent years evolved, preservation work improved at Pilot Knob, Westport, and Mine Creek. Today there are excellent interpretative stops at points of action.
About 10 years ago, Kyle Sinisi, a professor at the Military College of South Carolina (the Citadel), began writing this book, and it made it to the bookshelves in 2015. The book feels like a book ought to feel. The cover art is attractive and the book paper weight is substantial enough that you know you are holding a book—with excellent photography and maps, it is structurally a good add. However, it comes at a price–$45 is on the upper range of affordability, and frankly, the subject is not of significant importance to merit the price tag. This is not unique to this book, as low print runs often drive prices beyond what most retail customers are willing to pay.
What immediately strikes me about Sinisi's book is that it is intellectual while at the same point readable. Having been on tours that Kyle has led, I can hear him talking when I read his narrative. It sounds like he thinks, and that is a good thing. Editorially the book is clean with very few typographical or spelling errors.
The importance of any history book is the event it covers and the manner in which it is covered. Starting with a very long campaign—it lasted from the end of August until the first week of December 1864—Sinisi's challenge was to engage the reader early and then sustain interest. As with my report, I found it hard to draw me at the edges; that is, the organization of the raid and the disastrous end of the operation. That I fear may drive readers to put the book down before it gets to its real strengths. What Kyle does, which I appreciate, is that he opens by setting Sterling Price in the context of Missouri; he is a man of great substance in that area. I had read Price's short biography written by Albert Castel in 1968. I think that is a great pairing and a good book to read before Kyle's, but if that is not possible, the Price chapter was a worthy inclusion and it should keep most people in the book.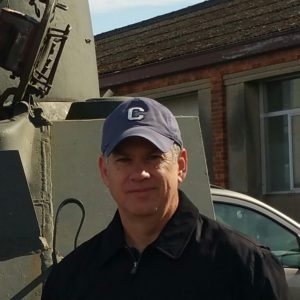 The unfolding of the raid and getting it out of Arkansas is tedious, and I don't know any way to make it more exciting—it is what it is. Missourians, primarily former Governor Price and the Confederate governor Thomas Reynolds, had long sought to redeem the state, but after the late 1862 debacle at Prairie Grove, the Confederate government didn't view it as a high priority. Perhaps due to the nature of the state as a frontier culture with bushwhackers and large areas of lawlessness, Missouri just didn't have to be preserved as a Confederate and slave state.
Politically, though, the state was a lightning rod for Missouri natives and politicians, and therein was the demand for the operation. So what was it to be: a liberation, a raid, or a recruiting operation? Supplying the venture would be demanding, and the need to carry and gather the provisions and some level of weaponry would vex Price and a relatively mediocre group of subordinate commanders. These are really studied points that Sinisi clearly understands and keeps in front of him as he steers Price and company through the campaign. As a retired military man, I appreciate that Kyle installs that in the reader's mind.
Having gotten the raid into Missouri, the pace picks up considerably, and Sinisi does a fine job of placing the Federal commanders, the state militias, and the movement of the rebels in relative position to each other. I thought his treatment of Pilot Knob is an excellent narrative description that matches the vivid memories I had of walking the site with him just last year.
From Pilot Knob the pivot away from St. Louis—realizing perhaps that this was too big a fish to swallow—toward Jefferson City and the heart of southern sympathy in the state was deftly done, and the loitering time in the area was productively used recruiting thousands of new soldiers, albeit raw recruits with no sense of how to fight or possessing the weapons of war. The double-edged sword of that was that Federal forces in the region, under the familiar name of Maj. Gen. Alfred Pleasonton, were given time to move on Price's rear guard. Ultimately it is the entrapment between Pleasonton and Federal forces under Maj. Gen. Samuel Curtis from Kansas that flush Price, who dashes himself against both forces in and around Independence and along the banks of the Little Blue River and Big Blue River.
As Price realized that his time in Missouri was up, he began a rapid retrograde that devolved to a rout with the loss of much of his wagon train. Price certainly might have been destroyed but for the reluctance of the Missouri forces and the Kansas forces to work effectively to prevent Price's escape. Political considerations combined with a commander, William Rosecrans, whose star was dimming in the backwoods, ultimately saved Price after nearly two months in and around the state.
The raid is one of the longest of the war and, as I said in the beginning, it takes a very disciplined student to dig up the backroad routes and drive along hundreds of miles to get to the three maybe four meaningful sites where action took place. Fortunately, on the whole, I found the middle 250 pages or so certainly justifies reading the book—it is informative, insightful, and fast-paced.
Price's Raid is integral to any history of Missouri that includes the Civil War. As a military operation, is is late and relatively devoid of the promise of great things. In its own way and for its own reason it is not at all dissimilar to Gen. John Bell Hood's 1864 Tennessee Campaign. It is an effort to redeem a portion of the country that was too split to come down solidly on one side or the other—it was contested ground.
In the interests of full disclosure, I am Kyle's friend and we both went to the Virginia Military Institute. I graduated nearly a decade before him. I am evaluating his book in the context of my professional experiences with Price's Raid and my previous knowledge of it. I am more educated for the effort.
I give this book a very solid 3 stars out of 5, not for defects in style or content but rather because the subject is only attractive to a fairly limited audience. You will find it a useful and important book on the Trans-Mississippi, but it need not be essential reading for the war as a whole. If you are a collector, then you need Trans-Miss works on your shelf, and this is a significant capstone event in that theater. Essential works there would include Hatcher and Piston's work on Wilson's Creek, Shea's and Hess's work on Pea Ridge, Shea's on Prairie Grove, and now Sinisi's on Price's Raid. Those are the indispensable four for Missouri.