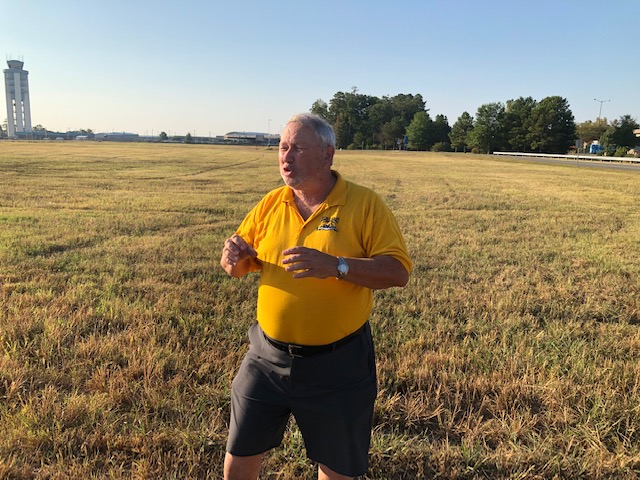 ---
Tour: Jeb's Ride Around McClellan
Date: September 29 2019
Tour Leader: Len Riedel
Reported By: Dave Downing
---
As a member of the Blue Gray Education Society, I closely follow upcoming tours/events published in the BGES Newsletter, and one such event ("Jeb's Ride Around McClellan") caught my attention. I have long admired Stuart and was certainly aware of his escapades, but actually knew few details of his ride around the Union Army of the Potomac in 1862. The fact that the tour led by Len Riedel was a single-day event made it especially appealing, since it's been difficult to carve out multiple days in my schedule.
Joined by two of my "Civil War buddies" and several other enthusiasts, we kicked off the day bright and early near the last remaining earthworks of the Richmond defenses close to today's Richmond Airport. As Len does so beautifully, he set the stage for Stuart's ride with detailed background of what led to Lee's need for additional reconnaissance of the Federal Army, even though the Confederates were now face to face with McClellan's army (across the tarmac of today's airport).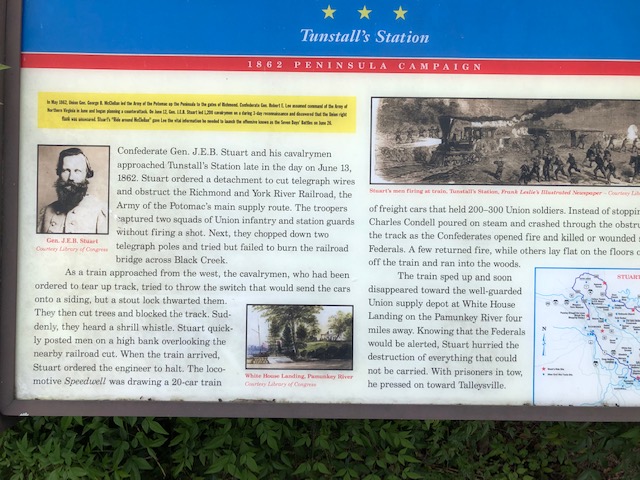 Knowing not what to expect and frankly wondering how exciting it could be to simply retrace the route that Stuart and his troopers took, we all were extremely pleased with a fascinating trip that covered over 100 miles with multiple stops where actions, confrontations, skirmishes, and key decisions had to be made by Stuart! Of course, Len has the ability to bring any event like this alive with his vast knowledge of the Civil War one may otherwise never learn! I think we were all surprised to understand Lee's strategy and his need for knowledge of whether the Federal army was moving toward Richmond from Fredericksburg with more troops. Armed with Stuart's information, it enabled Lee to move Stonewall down from the Valley to hit McClellan on his right flank and help push the Federals away from Richmond and crush the Peninsula campaign. It was interesting to learn that Stuart was not ordered to circle the Federal army, but really had no choice but to move forward versus retracing his route after he had engaged Union troops and risked being cut off should he attempt to return from the way he came.  I find it incredible that Stuart and his men covered such a long distance in such a short period and in such close proximity to the Federal army.
What a really great tour that was much more than a long day's ride, but rather an in-depth look at the strategy of opposing armies and the men who executed them.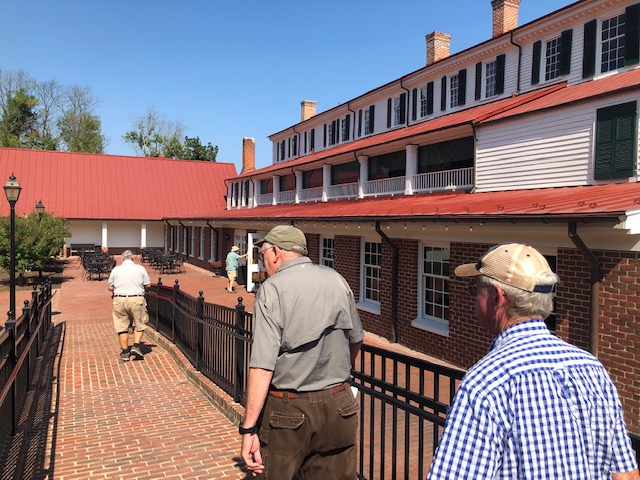 Finally, it didn't hurt that the day was augmented with a great lunch at the historic and elegant Hanover Tavern (passed by Stuart during his ride) and also with an impromptu stop at the church where our first, First Lady (Martha Washington) attended growing up.
My buddies and I couldn't quit talking about the enriching experience of the day during our travels back to Raleigh, NC, and we're all looking forward to another great tour conducted by the BGES!