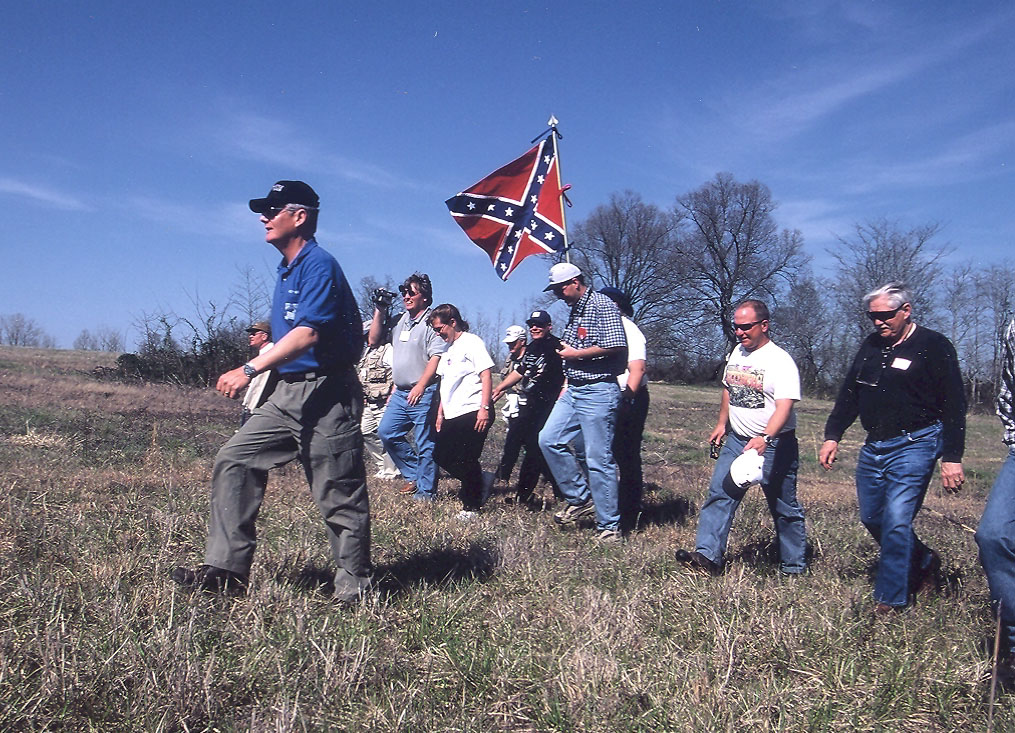 Perhaps no one has done more to interpret and preserve Mississippi's complicated Civil War past than Magnolia State native Parker Hills.
A military veteran, Hills served for more than three decades in active and reserve roles, retiring as a brigadier general, Mississippi Army National Guard. Fittingly, it was during a military staff ride more than thirty years ago that he discovered his passion for Civil War history.
 Since then, Hills has been active in preservation and interpretation projects of all shapes and sizes. He has served as president of Friends of the Vicksburg Campaign and Historic Trail, president of Friends of Raymond, chairman of the Mississippi Civil War Battlefields Commission, and chairman of the Mississippi Sesquicentennial Commission of the American Civil War. In addition, Hills is the author of five books, including Receding Tide: Vicksburg and Gettysburg (with Ed Bearss) and A Study in Warfighting, the Battle of Brice's Crossroads.
 Hills resides in Mississippi, with his wife Carol. He owns Battle Focus, a leadership training company. Hills also is an accomplished tour guide for BGES. He talked to us about his long and impressive career.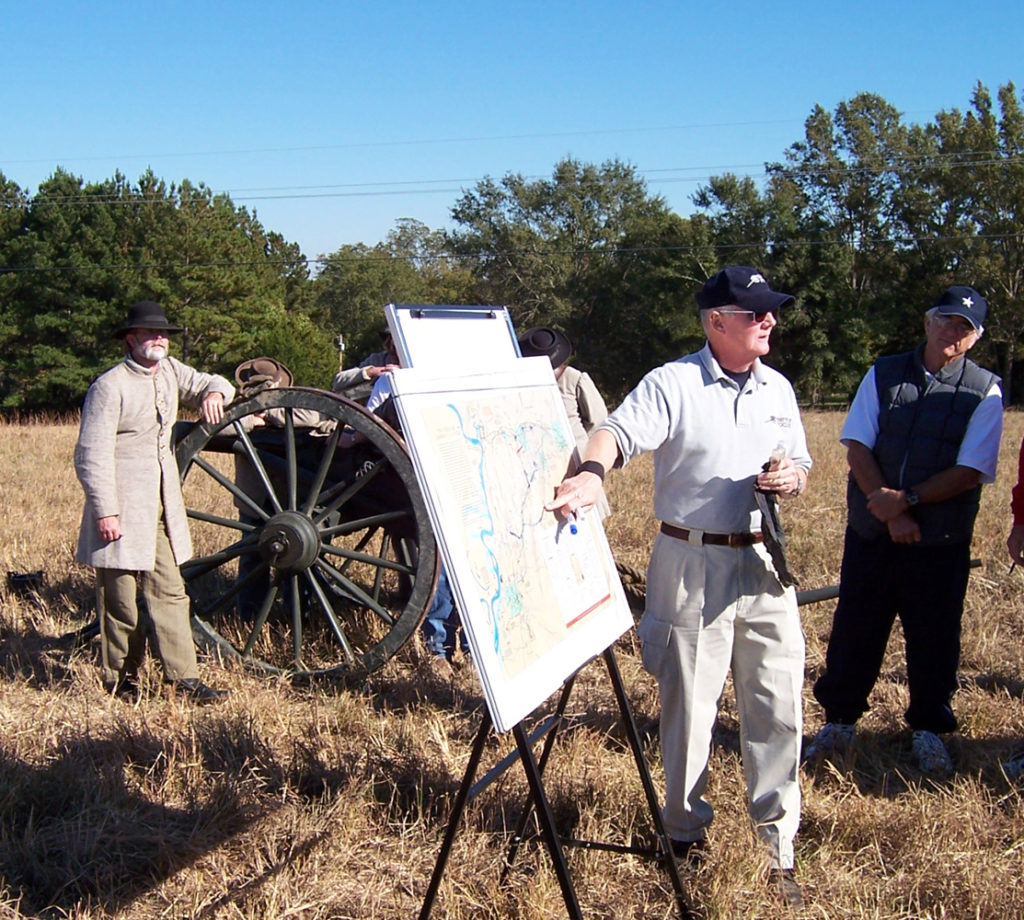 BGES Blog: You've participated in Civil War preservation projects all over Mississippi. What sparked your interest in the state's Civil War history? What keeps it going?
Parker Hills:  In 1986, I was tasked by a major general to organize and lead the first military staff ride in Mississippi. A staff ride is an on-the-ground leadership training exercise using actual battlefields as the training ground. The term "ride" dates back to the late nineteenth century when Army officers would ride on horseback to Civil War battlefields for study, but today a staff ride involves a lot of walking, studying the terrain, learning about the troop movements and the leaders, and most importantly going over their decisions and how they reached them.
At the time of this initial staff ride, I was a major, and I was tasked to lead two busloads of full colonels and general officers at Shiloh, Tennessee, for one day of training, and at Brice's Crossroads in North Mississippi for a second day. The staff ride was a successful exercise, and I found the acronym of "SME" associated with me for military staff rides. SME translates to "Subject Matter Expert," by the way, and may the Lord help you when you are given that title. It means that all such additional duties are sent to you. However, I love training soldiers and I love history, so throw me in that briar patch.
After that, I conducted dozens of staff rides for all types of military units from all over the world, including Army, Marines, Air Force, and British.  For some reason, the Navy never asked an Army officer to conduct a staff ride for them; at least, not this Army officer. To this day, I am dying to conduct a Navy staff ride of the Bayou Expeditions of the Vicksburg Campaign, or maybe of the Battle of Grand Gulf.
BGES Blog: Which project are you most proud of and why?
Parker Hills: One of the most memorable of the staff rides that I conducted was in 1992, with the U.S. Army Sergeants Major Academy from Fort Bliss in El Paso, Texas. We trained at Brice's Crossroads, and I issued Civil War replica Springfield rifles (borrowed from re-enactors) to the students and a replica saber (which I purchased and still have) to the full colonel in charge, as well as replica Civil War regimental flags (which my wife sewed). Then I led the troops on a seven-mile run to the battlefield, just as the Federal troops had to do. It was wonderful training, and I was later invited to Fort Bliss to speak to the entire academy. I was a lieutenant colonel at the time, so I was quite honored.
Another staff ride that stands out was in 1995 for Lt. Gen. Paul Van Riper, USMC, and his staff from Quantico Marine Base, Virginia. Again, we trained at Brice's Crossroads, but with a lieutenant general we were able to arrange for the late Shelby Foote to speak to us at Millington Naval Air Station, just north of Memphis, before the exercise began. We then followed the Union route from Memphis to Brice's; studied the battle, and followed the retreat back to Memphis. That was the most thorough staff ride I had done for the Brice's Crossroads Campaign because I was given the necessary time and resources. It was memorable. I mentioned this to Len Riedel, and after that he always made sure that I had the necessary amount of time and resources for a BGES tour. That is a major reason I enjoy working with BGES so much.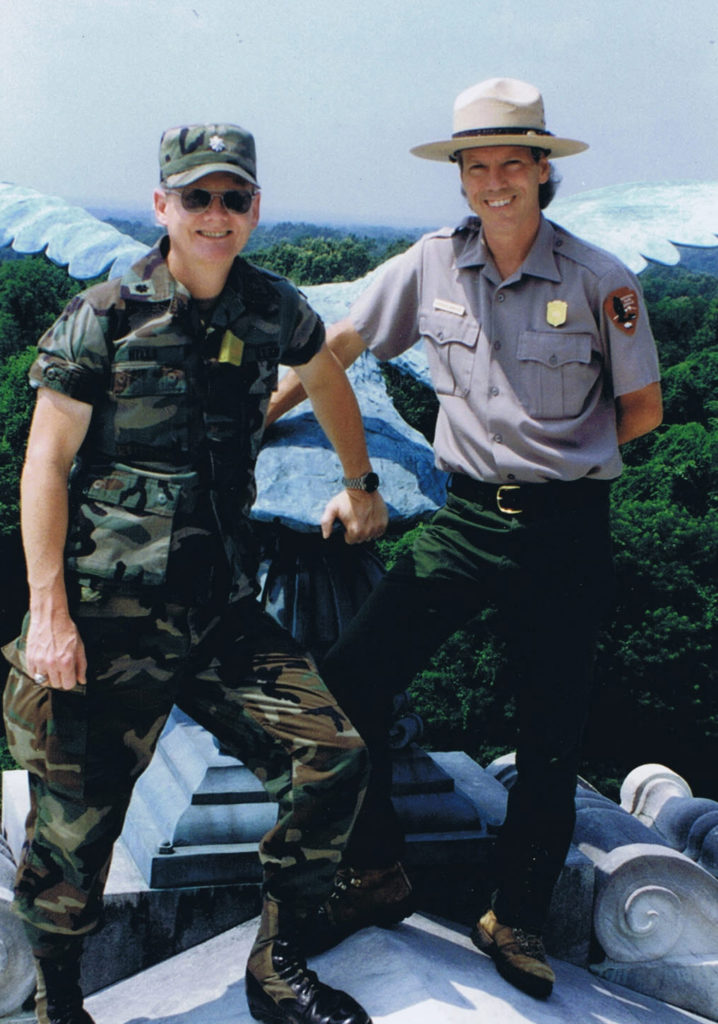 BGES Blog: The preservation of the Vicksburg Campaign was a huge project. What role did you play? What was your vision for it?  What were the challenges?
Parker Hills: Since I was sporting the aforementioned SME suffix, I led my first military staff ride at Vicksburg in 1989. I soon found myself leading as many or more staff rides at Vicksburg than I did at Shiloh and Brice's Crossroads, and I quickly realized that, while Brice's Crossroads was the best tactical training opportunity I had found, the Vicksburg Campaign was the best training opportunity for teaching the Operational Art and for teaching strategic thinking.
Now, the terms "strategy" and "tactics" are often misused, and operational art is rarely mentioned, so I will describe them as simply as I can: Strategy is what the national leadership—remember, that means elected civilian officials—wants the military to accomplish. Operational Art is the military commander's maneuvering of the forces into position to achieve the strategic goal. Tactics is organizing and managing the actual fighting to make it happen.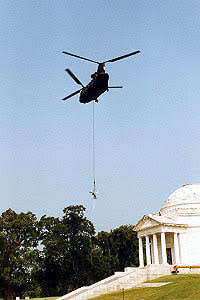 Back to Vicksburg. Over the years I led staff rides and scout hikes at Vicksburg, and in 1994, I was asked by my friend, Terry Winschel, then the Vicksburg National Military Park (VNMP) historian, to remove the eagle from atop the Illinois Memorial for re-gilding. We accomplished that successfully with a Chinook helicopter, and my military work in support of VNMP developed a number of friendships which reaped wonderful benefits for Friends of Raymond years later.
In addition to military staff rides, I was asked by the State Historic Preservation Officer (SHPO) of Mississippi to take the Southeastern SHPOs to Brice's Crossroads and to Okolona, Mississippi. Okolona is another 1864 battlefield that I was working to preserve. Then, in 1994 the Mississippi Department of Archives and History referred my name to Len Riedel, who had just retired from the Air Force and had established BGES. Len quickly organized a Vicksburg Campaign preservation conference in Jackson, Mississippi, and asked me to speak. That was the beginning of my long-term relationship with BGES, and frankly, it was the beginning of the movement to preserve the Vicksburg Campaign.
Len's work led to the establishment of the Friends of the Vicksburg Campaign and Historic Trail (FOVCHT), and I became a board member. Upon my military retirement, I made the mistake of going to the bathroom during a meeting, and when I came back in the room I had been elected president. During this time I had the pleasure of meeting and working with the late Warren Grabau of Vicksburg, who was a board member, and he and I became fast friends. We shared an admiration of the genius of Vicksburg Campaign.
As soon as I retired in 2001, I also became a board member of Friends of Raymond, which was established in 1998 in order to successfully purchase 40 acres of battlefield property at Raymond. If you believe in the butterfly effect, then you must accept the fact that the BGES conference in Jackson greatly influenced this.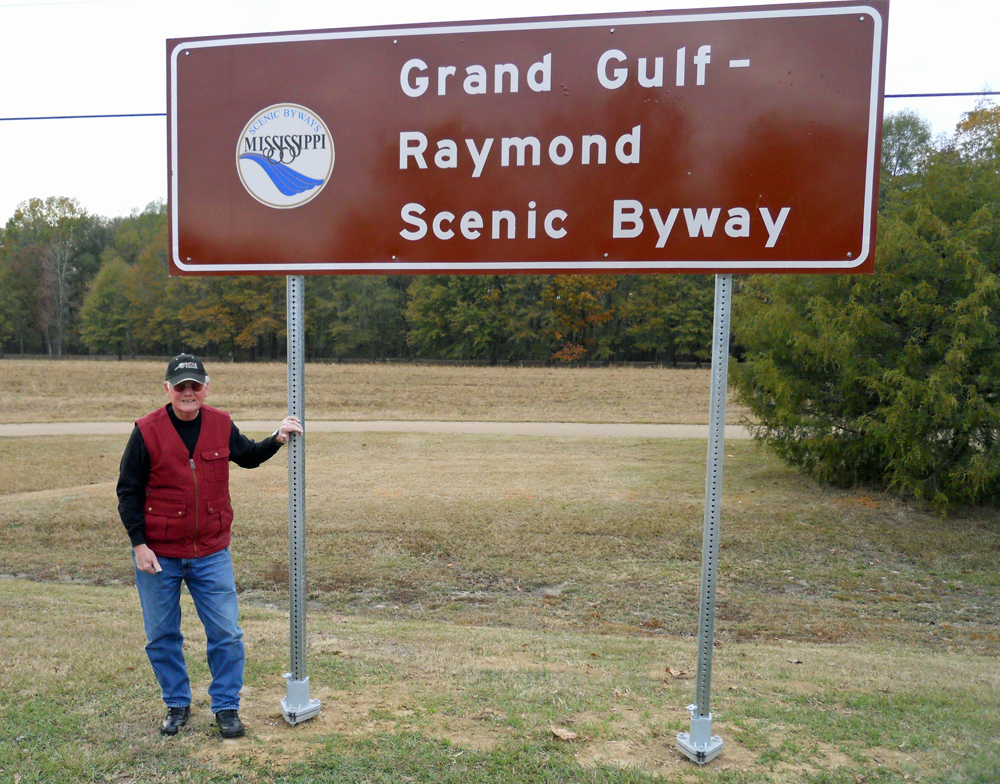 BGES Blog: Let's talk about the Grand Gulf–Raymond Scenic Byway, the first scenic byway in the state of Mississippi. How did it feel to be part of history? What are your favorite parts of this byway?
Parker Hills: One of the goals of Friends of Vicksburg was to convince all of the communities in Mississippi and Louisiana along the campaign trail to work together, a truly daunting task because the leaders of towns, cities, counties, and parishes are concerned only with their piece of real estate. In short, they think tactically, not strategically, because that is their job. But Warren Grabau and I felt that a key to developing a mutual interest would be to develop the campaign trails connecting the various communities. A good beginning, we thought, would be the establishment of a state scenic byway to connect Grand Gulf and Raymond. It would be a 50-mile historic trail that had a battlefield at the genesis and a battlefield at the terminus. Most of that trail is the historic Natchez Trace, and it is chock full of history with the road cutting through nearly pristine countryside.
There were some political and business obstacles that had to be overcome, but Isla Tullos, the Mayor of Raymond, who was on the board of Friends of Vicksburg, and I drew up the necessary legislation and then held the required public hearing in the Hinds County Courthouse in Raymond. I briefed the State Scenic Byway Commission and received its approval, then I walked the bill through the Mississippi legislature. The bill passed and was signed into law by the Governor of Mississippi on April 12, 2004, and the Grand Gulf–Raymond Scenic Byway became Mississippi 's first scenic byway.
The only other scenic byway in the state at that time was a federal scenic byway, the Natchez Trace Parkway. So, the Grand Gulf–Raymond Scenic Byway was a significant achievement, and we were very proud for Friends of Vicksburg. This was a great step because it took into consideration the campaign, not just the battles, and the scenic byway provided the opportunity to discuss key decisions made under stressful conditions—the perfect training ground for leaders.
Those decision points are my favorite stops, that is, where the gray matter was burnt, not the gunpowder. That is why I wrote the soon-to-be-published monograph on the scenic byway for BGES. It is a study guide for the greatest offensive campaign ever fought on American soil, and you can drive through the very heart of that campaign, almost in total isolation on rural roads, stopping along the way to see and feel the history around you.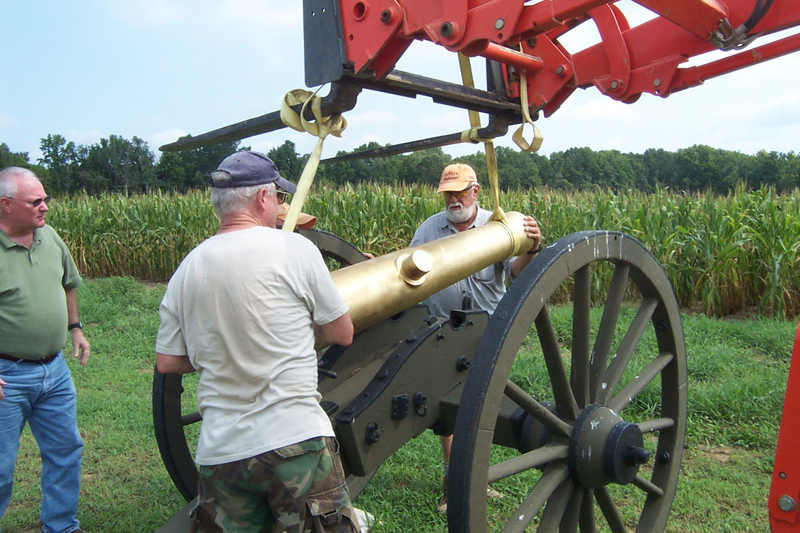 BGES Blog: You also played an important role in the preservation of Raymond Battlefield Park. What was the significance of the Battle of Raymond? How do you go about capturing that historical significance when preserving a site?
Parker Hills: The Battle of Raymond, although a small battle in Civil War terms (around 1,000 casualties), was pivotal in the Vicksburg Campaign. Grant had decided to cut the Confederate line of communication, which was the Southern Railroad of Mississippi. He was planning to strike the railroad on May 13, 1863, and he was positioning his three maneuver corps to do this. But the Battle of Raymond, on May 12, caused him to change his plans. Instead of going north to the railroad, he pivoted east to go to Jackson and drive Joe Johnston and his troops out of the capital city. Raymond changed the face of the Vicksburg Campaign.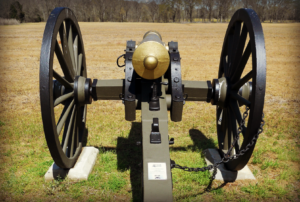 Looking back to my interest in preserving the Raymond battlefield, I commanded two artillery batteries in my company-grade officer days, so my interests naturally gravitated to the King of Battle. And, on a modern Civil War battlefield, visitors expect to see cannon; in fact, they gravitate toward them. So, in my early years on the Friends of Raymond board, specifically, 2003, I conducted a study of the artillery at Raymond. I made up my mind that Raymond needed cannon, but I wanted the actual number of guns, in the correct caliber, in the correct location. That task, I was told by many, was unreachable. I like a good challenge, so when I served as president of the board of directors for five years I spent much of my time working to achieve this goal.
As mentioned, I had friends at VNMP, and upon learning that the park was donating its 100-year-old cast-iron cannon carriages to a metal scrapper because it was receiving new aluminum carriages, I called in some Green Stamps. The park agreed to donate the old carriages to Friends of Raymond if we would come to Vicksburg and pick them up, and that was the start of a ten-year program of welding the broken-up carriages back together and obtaining sponsors and barrels. I discussed this project with Len, and BGES ended up donating $30,000 to the $80,000 project. We completed all the guns in 2016, including a Whitworth breech-loading rifle with an operational breech. But, in my mind, the key is that all the guns are in the correct number, caliber, and location on the battlefield. Raymond is historically accurate.
We have placed red and blue infantry and artillery cast aluminum markers on the battlefield, and these are the exact marker types that are at VNMP, so the campaign's battlefields, or at least Vicksburg and Raymond, will appear seamless. We built a ¾-mile walking trail on the battlefield in 2005, and we conducted an archaeology study from 2011 to 2016. From this study we were able to determine the exact location of a rail fence used by Union troops for a battle line at Raymond, and we constructed that fence in 2016. We also learned what type of weaponry the soldiers used, and we were able to determine the location of many of the units and key events of the battle. A number of diaries were located, as were some almost-forgotten sketches by an on-the-scene newspaper artist, and these, along with the Official Records reports, complemented our archaeology.
With the help of the Civil War Trust, we purchased sixty-seven acres of core battlefield property in 2009, preventing it from becoming a housing subdivision, and we obtained a preservation easement for Artillery Ridge, where the twenty-two Union guns that we built were subsequently located. We leased the property for the three Confederate guns, and we built a limber and caisson to place beside those guns. So, the Raymond battlefield is looking very good, and we are working hard to make it look the way it looked during the time of the battle. Authenticity is the key, and Raymond is authentic in a rural environment.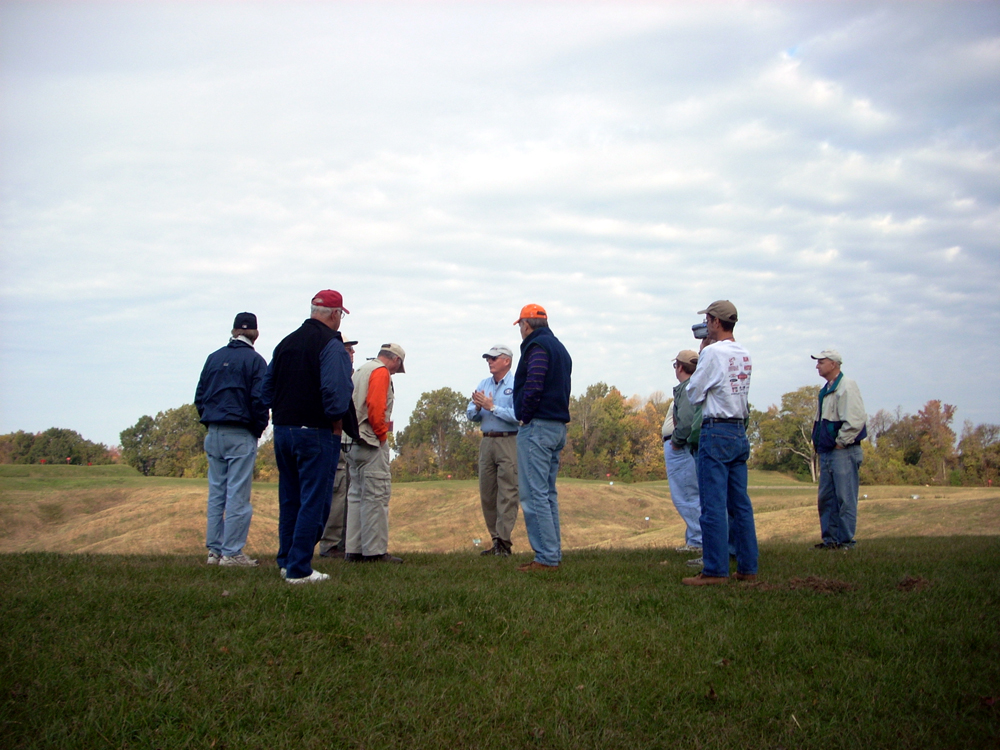 BGES Blog: What are you working on next? Do you have your eye on a new site in Mississippi that you'd like to see preserved?
Parker Hills: I have just completed the design and writing of nineteen historical panel markers for the Raymond battlefield and for the City of Raymond. The funds have been raised, and the markers will be in the ground before the end of this year. We still need a pullover area in front of the Confederate guns, and that will most probably be the next project.  But, time will tell, as priorities are constantly shifting. Meantime, we will Press the Fight!