Hal Jespersen may be the author of hundreds of Civil War articles, not to mention his prolific career as a Civil War cartographer and travel writer, but he doesn't like to be called a historian. Jespersen prefers to say he is a "student of history." If that's the case, then this former U.S. Army Signal Corps officer gets straight As for his vast knowledge of the Civil War.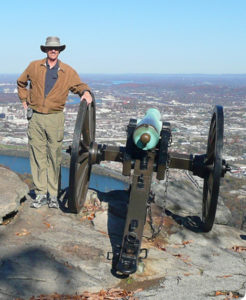 A retired computer industry executive (formerly of Sun Microsystems), Jespersen discovered his passion for Civil War history by accident. In his youth as an ROTC cadet, he studied military history and visited battlefields. But it wasn't until he read Michael Shaara's The Killer Angels in 2003 that the fire was lit. A year later, Jespersen began making significant contributions to Civil War pages on Wikipedia. At the same time, he was pursuing two other callings: drawing Civil War battle maps and visiting Civil War sites.

Fast-forward 15 years, and Jespersen has built his own Civil War cottage industry. His mapping website, www.CWMaps.com, includes some 200 freely available maps of the war, as well as information about his custom cartography business. His personal website, www.posix.com/CW/, contains links to his Wikipedia articles and a large number of travelogue articles, which record his visits to Civil War battlefields and seminars.
Jespersen has also journeyed with the BGES 15 times since 2005, and he produced a few dozen large-format battlefield maps that are used during tours. We talked to Jespersen about his impressive career as a "student" of the Civil War.
BGES Blog: You're the principal author of more than 125 Civil War battle and campaign articles, plus an equal number of biographical pieces about Civil War generals. What sparked your interest? What about this period is so compelling to you?
Hal Jespersen: My overriding interest in the Civil War was triggered later in life. That led to a period of voracious reading about the Battle of Gettysburg, and later to the first of a number of trips to that hallowed ground.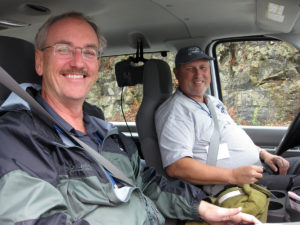 I find the Civil War the most compelling because it ranks with the Revolution as the most important event in our country's history, with ramifications we still feel today. It also occurred all around us in places whose names we know and we can visit. All of the colorful characters make reading the enormous library of materials entertaining as well as insightful.
BGES Blog: You've also been writing a Civil War travelogue since 2004. How did you get started? What keeps you going?
Hal Jespersen: My primary motivation in doing the travelogues is not for publicity. It is to provide a well-organized place for me to remember my trips. (I also do travelogues for the non-Civil War related travel experiences.) I can access all of the details of my trips–including hotels, good restaurants, interesting historians, etc.–at any time, from my desktop or smart phone. And since all of my thousands of photos are kept online nowadays, the captions in the webpage allow me to describe the images with more detail than a simple file name.
BGES Blog: Of all the Civil War sites you've visited, what is your favorite? What are the top sites that you recommend others see?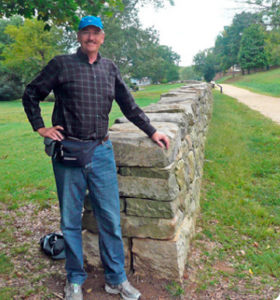 Hal Jespersen:
My favorite is certainly Gettysburg, which I think I have visited about 20 times (a lot for a California resident). There is so much that happened there and the interpretation is really excellent. Although I certainly enjoy all of the major battlefields (Manassas, Antietam, Chancellorsville, Fredericksburg, Spotsylvania, Petersburg, Shiloh, Winchester, Chattanooga, and Vicksburg), I might suggest that an interesting recommendation is Perryville in Kentucky. The battlefield is pristine and the terrain is very interesting. (Just bring your own sandwich because the tourist infrastructure there is pretty slim.) Wilson's Creek and Pea Ridge are also worth the trips.
BGES Blog: As a cartographer, you have created literally thousands of maps. What have you learned about the Civil War through the process of mapmaking?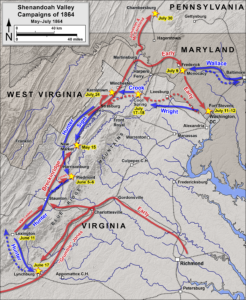 Hal Jespersen:
I am often merely rendering in graphical form the historical judgment of an author who hires me to help with his book. But what I have learned, applicable to any war, is that no matter how good the map is, it can never be a complete substitute for visiting the battlefield and seeing the terrain with your own eyes.
My maps are not actually based on my personal observations. I do not have the talent of a, say, Jedediah Hotchkiss, to sit on my horse and sketch out the terrain. I use government data sources of elevation data, watercourses, roads, and railroads as the starting point for my maps, which I then manipulate based on input from historians or the Official Records Atlas.
BGES Blog: What is the most challenging aspect of Civil War mapmaking?
Hal Jespersen: Since it is the role of my historian client to be concerned with the unit positioning and movements, my primary concern is depicting the terrain and features so that they are reasonably accurate for the 1860s. New roads and highways have been installed and older roads may have moved or have been renamed; even towns move and names change. Railroads have been added, although their original roadbeds are often still the same. Streams that run through defined valleys are usually the same, but larger rivers–particularly the Mississippi–can meander around or be dammed up into lakes, causing large changes to maps such as Belmont, Fort Henry, Vicksburg, etc.
Even the terrain is changeable, such as the Atlanta battlefield's Bald Hill, or Chattanooga's Cameron Hill. In this latter case, I need to do artistic modifications of terrain shading and contour lines to approximate the original shapes as best I can. Finally, wooded areas have certainly changed on every battlefield and it is sometimes difficult to convert some of the sketchy maps in the Official Records Atlas accurately onto the modern terrain.