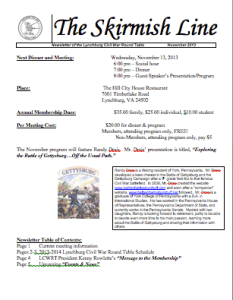 If you got here via one of our email links, please excuse the repetition — we wanted to make sure that everyone saw the lead-in words.
For those of you in or near the growing city of Lynchburg, Virginia, Kenny Rowlett at Liberty University has put together a robust Civil War Round Table with an annual conference and a very impressive lineup of speakers, running through May, 2014.
I take the liberty (no pun intended) of providing their most recent newsletter to you. It contains the information you will need if you want to attend one of their dinner meetings in Lynchburg. At just 50 miles from BGES headquarters I may drop in myself one day soon. Here's a pdf of the newsletter with the program listing:
The Skirmish Line, November 2013.
Enjoy!