A 2022 BGES Weekend Warrior Program
Presented by Norm Dasinger
July 8-10, 2022; from Chattanooga, TN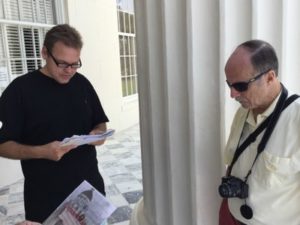 The press screamed about the east and yet the American Civil War was always about the west. The country had moved in that direction—two presidents in office were both born in Kentucky. The American President had been a Springfield Illinois lawyer and the Confederate President was a Mississippi senator who had been the US Secretary of War. The vast expanses of industry north of the Ohio River was juxtaposed to the massive and multitudinous plantation homes—each an industry in and of itself.
So this Civil War was and had to be won in the west and this program will expose you to one of the most important locations in the west—the geography and transportation nodes in and around Chattanooga. It had been important and a target as early as the spring of 1862; but it came into full fruition in the fall of 1863 attracting many of the key players in the war and a series of military operations that were incredible and at the same time seemingly impossible. Chance interfered with planning and personality conflicts undercut good military strategy. Along the way you will see the largest battle in the west and a highly romanticized "Battle above the Clouds." Officers from whom much was expected failed and those who were not highly regarded shone brightly when their moments came.
Civil War 101 Chickamauga/Chattanooga is meant to be a shared experience—a solid weekend program in the very best traditions of BGES' 28 years of offering study tours. However, it is also meant as a renewal of memories we all shared and a formal passing of the torch to the next generation to allow them to experience the rich fulfillment of the battlefield, embrace it and contemplate how the study of the Civil War can enhance their own citizenship and their obligation to preserve it for the next generation.
This program is suitable for all but structured to accommodate students, young adults and mid-level professionals who have wanted to tour battlefields for years and couldn't find the time. Rules are simple one full paying adult can sponsor any number of "younger" men women and children 40 years and under for just $30 per person to cover lunch on Saturday and Sunday. Special deal for BGES's Wounded Warrior Alumni—bring your family for just $50. We can accommodate up to 52 registrants on a full sized, sponsored bus.
Itinerary
Friday, July 8, 2022
We will meet at the Fairfield hotel at 6 PM to meet and greet your fellow students. Norm Dasinger will follow with an opening discussion briefly reviewing the evolution of the Civil War and the geography of this really challenging area.
We will break so you can get your dinner.
Saturday, July 9, 2022
We will start this morning at 8:15 loading our vehicle en route to the Chickamauga battlefield where you will spend the entire day. How the armies got there and to the battlefield will soon be consumed in the detail of one of the largest battlefields of the war. Remembering that your opening lecture talked about terrain you will quickly learn that fighting in the west rarely involved fields that were open and clear like many of the eastern battles. At ground level it is a hard fight to understand but Norm will take you to some "Ah-Hah" moment elevations that will answer many questions about this 9,000 acre site. After lunch at the most famous and preferred diner in the area: Bea's Restaurant, we will finish the day on Snodgrass Hill learning about the "Rock of Chickamauga."
Lunch included but dinner is on your own.
Sunday, July 10, 2022
8:15 AM Although you could easily, and we have, spend 3 or more days just on Chickamauga we have delivered the essence and Chattanooga is a refreshing and new series of challenges that you will quickly survey and grasp. The Union army has a river at its back, it is changing commanders, the food supply is dwindling and winter is coming. Count on Norm to deliver with clarity and interest the famous Battle Above the Clouds—The fight for the peak of Lookout Mountain, the miraculous assault on Missionary Ridge that swept the besieging Confederate army off the high ground all the way to Dalton, Georgia and the spirited and important rear guard action facilitated at Ringgold Gap by Confederate general Pat Cleburne. Lunch is included and dinner is on your own.
This fresh look at Civil War at its basic level (101 for you who take or will be taking college classes soon) will put the larger Civil War in context covering the basics of the battle and expanding it with the stories of the people who were involved or affected. We think it is a great concept that anyone but especially folks just delving into history will "get it" and all will enjoy. We will return to the hotel by 5 PM and you will be good to go.
About the Faculty
Norm Dasinger Jr is a businessman with a passion for history and an excellent delivery style. Although holding a deep southern drawl, Norm's relations go back to the American Revolution and he is a legacy member of every heritage group from the Revolution and both North and South—an honest broker. Norm is a leading battlefield preservationist whose forward looking passion helped preserve the "Hell Hole" portion of the Dallas, New Hope Church and Pickett's Mill battlefields from the Atlanta Campaign. He has become an expert of all aspects of Alabama history and has been leading tours for the BGES for more than 5 years—all his programs have been highly rated. Within an hour of your first meeting him you will know why he is popular. The Civil War 101 concept is his brainchild and he is the founding sponsor of the series. He is subsidizing the low $30 young adult and youth cost. He walks his talk. Not unimportantly he is a Kansas City BBQ Society certified competition judge—the man knows his cue!
Hotel Information
This program will be at the Fairfield Inn, 2345 Shallowford Village Drive, Chattanooga, TN 37421, The rate is $139-$149 per night plus tax–call in to 423-499-3800. Ask for the Blue and Gray Rate Code Blue-Gray-Chatt.101 for June 10 and 11 (Friday and Saturday). This is a busy time in Chattanooga and the block goes away on June 17th leaving you vulnerable to paying rack rates or staying elsewhere. Since COVID, the hotel has ceased shuttle service to and from the airport which is 4 miles away. You can take a cab or Uber or Lyft. The airport is very small.
Transportation
The servicing airport is Chattanooga (CHA), Nashville (BNA) and Atlanta (ATL) require rental cars but may be more affordable for some despite the need to drive a rental car to and from. For people driving in, the hotel is convenient to Interstate 75.
Recommended Reading
You will be provided with maps upon arrival. The following books are suggested to enhance your readiness for the program. These books are available online. Amazon.com has a program to support non-profits IF YOU SIGN UP to support Blue and Gray Education Society (EIN 54-1720582) at AmazonSmile. When you sign up there rather than the normal Amazon site, one-half of one percent of your purchase price will be provided to BGES as a donation from Amazon. This will apply not only to this purchase but others you may make at other times. Thank you.
Registration
Registration includes two lunches, all paid admissions, maps, the academic program, support of a professional historian, tour director and transportation by passenger bus or van. We will also provide snacks and bottled water.
Register for this program using a secure PayPal link
---
To register by mail or fax, download this printable registration form: Civil War 101: Chickamauga and Chattanooga
Questions? Need more information? Please contact us.