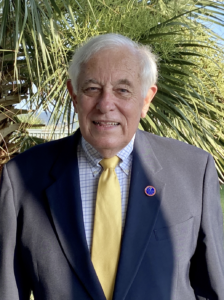 When it comes to history, Bill Davies has lived a life of it. Through the years, the South Carolinian native and former attorney has delved into general military history, European history, as well as Asian and colonial African history—though he is most profoundly interested in South Carolina history, especially as it relates to the Revolutionary War. He is involved in a plethora of organizations that work toward a variety of goals, including developing a Civil War battlefield and a South Carolina Liberty Trail. The BGES Blog caught up with Davies to chat about his love of history and some of the fascinating projects he's working on.
BGES Blog: You're from South Carolina. Where exactly did you grow up? What was your childhood like?
BD: I grew up as a hybrid citizen of South Carolina until I finished school. I lived in Greenwood, South Carolina, a (cotton) mill village in the Piedmont section of the state, for the nine months of school and then moved to Edisto Beach for the three months of the summer every year. The history of the two areas of South Carolina is very different, and having multiple residences made me more interested in finding out the differences in the history of my state.
BGES Blog: You clearly have a passion for South Carolina history. Where does this stem from? What motivates you? Do you go beyond South Carolina?
BD: My love of History was probably instigated by my maternal grandmother who at age 53 started writing. She eventually authored numerous articles published in newspapers and nine books, mostly nonfiction history books but one historical novel. The core of my love of history is military history centered around South Carolina and United States history initially. I also grew very interested in European history, still with a focus on military history. I have numerous books concerning the Mongols and Genghis Khan as well as Shaka Zulu and the subsequent colonial wars in Africa. I became fascinated by the history of China several years ago after a tour there.
BGES Blog: I have found a list of organizations you have been involved with since your retirement, including the South Carolina Historical Society, the South Carolina Department of Archives and History Foundation, the Fort Sumter-Fort Moultrie Historical Trust, and the Edisto Island Historic Preservation Society. This is a very impressive list! Is this it or are there more?
BD: In addition to the organizations you mention, I have been active with The Citadel Museum & Archives as well as the Santa Elena Foundation which deals with the Spanish settlements in South Carolina prior to the arrival of the English. For several years I have also been involved with the Friends of Honey Hill. This group is developing a pristine battlefield from the Civil War at which the second largest land battle of that war in South Carolina occurred. We hope to open that battlefield to visitors within the next year.
For the last five or six years, I have focused on the Revolutionary War in South Carolina. The American Battlefield Trust (previously the Civil War Trust) has partnered with the South Carolina Battleground Preservation Trust in the creation of the South Carolina Liberty Trail. We are creating a driving trail connecting almost 80 of the sites in South Carolina where blood was shed in the fight for independence. The core of this effort will be a hi-tech app for cell phones that will plan trips, act as a GPS to help travel to the battlefield, while providing recommended stops along the way (non-battlefield sites, historical sites during the Revolutionary War, and other times of history, places to sleep, and places to eat, including the best barbecue joints). At the site, it will serve as a history professor in your hand to explain the events of the military clash as well as answer questions about prior and subsequent events, the individuals involved, and many other related topics. The American Battlefield Trust has an outstanding website that has a link for the Liberty Trail.
In 2019, I was appointed to a South Carolina State Commission to commemorate the 250th anniversary of the American Revolution in South Carolina (The South Carolina American Revolution Sestercentennial Commission). The commission has been very active without funding until this fiscal year because of the pandemic. We are working in conjunction with the Liberty Trail, developing interpretation for the battlefield and other historical sites as well as working with educators of all ages. Our education committee is formulating materials that can actually be used by teachers in the classroom as a result of input from the actual teachers at all levels. We are committed to telling the story of the Revolutionary War in South Carolina from the perspective of everyone living in the colony from 1770 to 1783, the year of the peace treaty in which Great Britain recognized the independence of the nation of South Carolina. This includes the men who fought on both sides, the women and children of both sides who suffered from the horrible uncivil, in fact barbaric, war in the backcountry. We will also include the stories of the Native Americans and those of African descent, enslaved and free, who were in the colony during the years of the conflict. The goal of both organizations, the Commission and the Liberty Trail, is twofold. We want to educate South Carolinians and visitors on the pivotal role of South Carolina in the battle for Independence. We also wish to enhance cultural heritage tourism by making our history available to the thousands of people driving through our state on our numerous interstate highway systems. Having attractive venues will hopefully pull them off of the interstates and into the rural sections of the state enhancing local economies ( I can tell you much more anytime you have 45 minutes or an hour).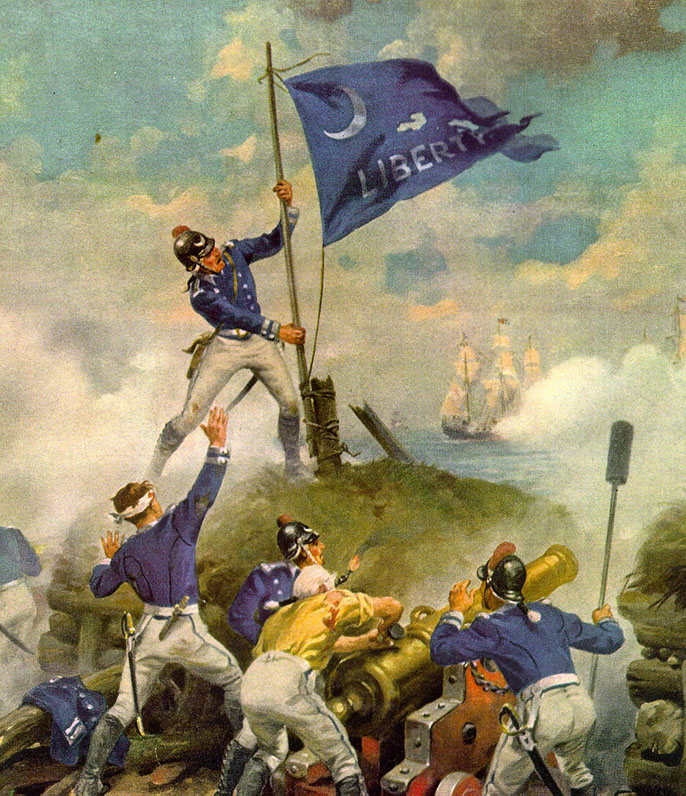 BGES Blog: You also give lectures, right? Give us a sample of the topics you enjoy speaking about. Is there one particular subject that you enjoy talking about the most?
BD: I focus mostly on the Revolutionary War now but I also enjoy talking about the Spanish settlements that included the first capital of the present United States being located in South Carolina for 10 years. Our educational system ignoring the history of non-English-speaking people is frustrating to me.
BGES Blog: What is the satisfaction that you find in this kind of work?
BD: The satisfaction I get from what I do is sharing with others the wonderful history of our state and our country. It is exciting when someone makes a comment that I told them something they did not know and they now plan to read about it to learn more.
BGES Blog: What is your favorite aspect of history to study?
BD: Military history remains my favorite.
BGES Blog: Are you involved with other activities?
BD: My other activities include following the adventures of my nine grandchildren as they mature (usually) and grow in age and knowledge. Someone said, "memories make us rich." Some of my favorite memories have resulted from trips by my family to watch the Green Bay Packers play at Lambeau Field in Green Bay, Wisconsin. In 2019, 12 of us spent a weekend there together, but smaller groups have been going for about 15 years.
BGES Blog: Is there one or several projects with any of the organizations in particular that you are especially proud of? If so, please tell us a little bit about it/them!
BD: I was involved in a series of coincidences that, like dominoes falling, resulted in an artifact of the local history of Edisto Island, South Carolina, becoming one of the focal points of the new Smithsonian Museum of African American History and Culture in Washington, D.C. Starting with a connection I made during one of the Blue and Gray tours of the area around Charleston, I eventually made the initial call on behalf of the Edisto Island Historic Preservation Society, which resulted in a slave cabin from Edisto Island being transported and restored and becoming a major exhibit at the new Smithsonian Museum.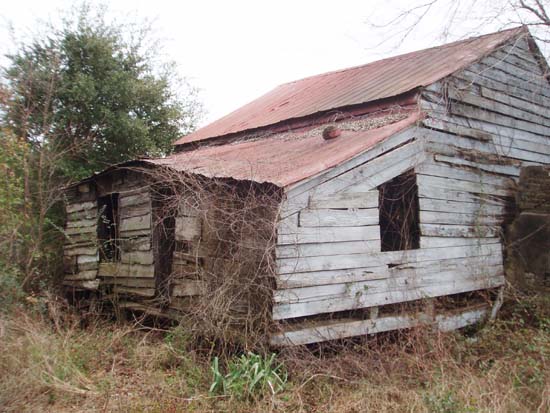 BGES Blog: Why is the study of history important to you?
BD: History is very important to me, but I've never really thought about why. Since I retired, it has given me many hours of pleasure as well as the opportunity to preserve and make available to others the fascinating story of those who came before us.
BGES Blog: Do you feel that as a country we're losing touch with our past?
BD: The lack of focus on the history of our country as a whole and especially of our educational system is very depressing to me. I ascribe to the saying that if we do not study our mistakes and our history, we will be doomed to repeat them.
BGES Blog: What absolutely excites you right now in your current work?
BD: The most exciting thing I'm doing now is the two-headed attempt to preserve and make available to South Carolinians and visitors the rich and pivotal history of South Carolina in winning our independence. Having an opportunity to help create things that will last and keep this process moving in the future is very meaningful to me.
BGES Blog: What is that one book that has influenced you the most?
BD: I really cannot identify one book that has influenced me the most but I am sure Len wrote it, whatever it is.
BGES Blog: How did you get involved with BGES?
BD: I really cannot remember how I got involved with Blue and Gray, but it certainly arose from my desire to take a battlefield tour. After that first tour, I could not wait to do it again. I have made some very great friends on the tours. I have taken especially to Lee McDowell (no relation to the outstanding Union general he adores), who caused me to have the opportunity involving the slave cabin. Len has become a very good friend and creates more opportunities than I can enjoy. I still regret he was not smart enough to get into the Citadel and had to attend VMI.
BGES Blog: What advice do you have for the next generation?
BD: I have no advice for the Next Generation. I don't feel qualified. I hope that members of that generation can develop an interest in and love of history that has made my life very rich.
BGES Blog: Thanks, Bill, for all of your great work!