A field report from Diane Hartmann:
A friend asked me what I liked about BGES's "Civil War on the Ohio" tour. I was honestly able to reply, "Everything."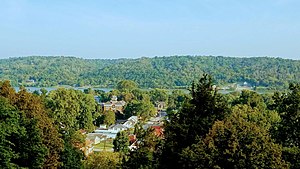 Darryl Smith gave an outstanding presentation, not only of information related to the Civil War but of the importance of Cincinnati to the nation. He brought enthusiasm to his narratives. Darryl's extensive knowledge, research, and love of history were evident in everything he presented. I especially enjoyed walking the streets of Cynthiana and Augusta, Kentucky, as Darryl explained the conflicts that took place there. Visits to the beautiful Spring Grove Cemetery, two museums, and other sites added to my understanding of the times.
A lot of thought went into this program, including the choice of restaurants. We all enjoyed generous, tasty lunches at small, one-of-a-kind restaurants. Our dinner at the iconic Greyhound Tavern combined a historical setting with wonderful food. That was a meal to remember. The headquarters hotel was carefully chosen. It offered convenience to the airport, a beautiful lobby with generous seating, and a restaurant that served delicious food promptly.
This program has encouraged me to learn more about the material presented and to join an organization dedicated to the preservation of Civil War history in Augusta.
This was my first BGES tour but it won't be my last. I appreciated the strict Covid restrictions that enabled me to feel safe.
–Diane Hartmann
Hear Darryl Smith talk about the Civil War on the Ohio on BGES's Youtube channel.