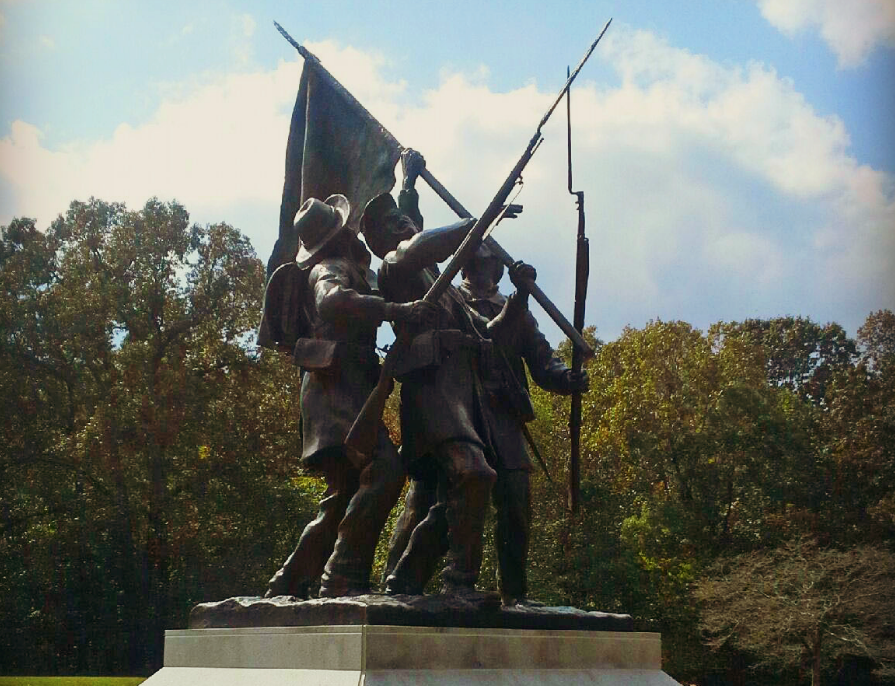 The Battle of Shiloh raged on April 6 and 7, 1862, in southwestern Tennessee. It remains the seventh bloodiest battle of the Civil War, and the nineteenth bloodiest battle in all of American history. Monuments to the battle began being erected in 1902, with fifteen total soon honoring the service and sacrifice of different states' men. Though for the longest time, one Southern state—one that experienced a staggering casualty rate—egregiously was missing: Mississippi, which had 6,000 sons involved in that battle. All that changed in 2015 with the unveiling of the Mississippi Monument at Rea Field. Retired U.S. Air Force Lt. Col. and BGES member Kimble Johnson, a resident of Columbus, Mississippi, and a past chairman of the Mississippi Veterans Monument Commission, was involved in planning, fundraising, securing permission, and getting this monument designed, sculpted, and installed at Shiloh. We caught up with him to learn how it happened.
BGES Blog: Why did it take so long to get a Mississippi Monument built?
 Kim Johnson: In some preliminary online research, I discovered that in 1910 or so, there was a modest effort to place a Mississippi monument at Shiloh. But then a general monument to Confederate soldiers was erected at Shiloh in 1917, and the effort to erect that Confederate monument siphoned away momentum for a Mississippi monument. I don't have a lot of documentation to prove that, but I'm thinking that's what happened.
Much later in the century, the Mississippi Legislature enacted the Mississippi Code of 1972, which supported the building of three new monuments, one of which was a Mississippi Confederate Memorial monument at Shiloh. The new legislation also established provisions for a Mississippi Veterans Monument Commission to make it all happen. It took until the early 1990s for the commission to get up and running. When finally formed, the commission quickly built a Mississippi veterans monument and a monument to Mississippi holders of the Congressional Medal of Honor, both placed across the street from the new state capitol in Jackson. But talk of a Mississippi monument at Shiloh probably ran afoul of political correctness at the time, so the commission passed on it and went out of business.
 BGES Blog: How did it finally come about?
Kim Johnson: Back in 2010, I was on a tour of Shiloh with Blue-Gray, led by Len Riedel and Parker Hills. A lot of people in the van one day were asking Parker about various state monuments and their location. I thought I'd indulge in a little mischief and asked, "Where's the Mississippi Monument?" … knowing there wasn't one and knowing Parker knew that too. Others quickly chimed in, "Yeah, where's the Mississippi Monument." Parker explained there wasn't one, that I was just joking around. And of course that prompted questions on just why there was no monument to Mississippi valor after all these years. No one was able to answer that question.
But the fact that there was no Mississippi monument stuck with me when I got back home to Columbus. So I looked into the history of efforts to erect such a monument, which led me to the defunct Mississippi Veterans Monument Commission. Long story short, I breathed new life into the commission, got it fired up again, and got the governor to appoint me as the first member of the reconstituted commission. Then I got myself elected as the commission chairman.
One of my first tasks was to start looking for possible sculptors. I had little idea of what was involved, especially how much a monument would cost. As to sculptors, my thoughts were that we needed someone who had already placed a monument in one of our national military parks. Additionally, the prospective sculptor's established works had to be generally acknowledged as aesthetically pleasing and inspiring. Dr. Kim Sessums, an OB-GYN physician from Brookhaven, Mississippi, was our man. Dr. Sessums was the sculptor of the very well done African-American Monument at Vicksburg National Military Park.
BGES Blog: Tell us about the monument.
 Kim Johnson: When I first met with Dr. Sessums, early in 2011, I told him about my concept of what the monument should look like and asked him about costs, etc. The Marine Corps War Memorial monument in Arlington, Virginia, had always struck me with awe, and I wanted something as inspiring as that monument. My initial concept design was modified only slightly over the next few years, although Dr. Sessums did offer up another totally different design of his own at one point. The original design is what was accepted by the commission. The monument is bronze and granite, rising 25 feet over that hallowed ground of Rea Field. It depicts three members of the 6thMississippi Infantry Regimental color guard charging across that field, legs bent, with the flag bearer taking a hit, his comrades looking toward their noble banner while reaching for the flag staff to keep it from falling to the ground.
 BGES Blog: How was it funded?
Kim Johnson:The biggest concern I had was getting money for the monument. The legislation authorized—not that it would be appropriated—up to $250,000 in matching funds to build the monument. I knew in those politically charged times, it was going to be a tough sell to get any funds for a Confederate monument. But I traveled around the state, talking to sympathetic legislators at the Capitol, in their places of business, and in their homes, trying to generate interest in a Mississippi monument at Shiloh. I did the same thing at meetings of Lyons Clubs, Rotary Clubs, and Kiwanis Clubs, as well as other organizations. The Mississippi Legislature finally consented to fund $250,000 outright for the monument, thus dropping the matching requirement. Through great effort, $150,000 was raised from private sources, allowing the commission to contract for a very nice monument at a cost of $400,000.
BGES Blog: When was the statue installed and where can you find it in the park?
 Kim Johnson: Because the monument depicts the 6thMississippi in action on April 6, I originally thought that the best place to erect the monument was somewhere near where the Union Army's 53rd Ohio was camped, but I knew the prime spot was across the road, facing north toward the old Shiloh Church, which was about 450 yards away. The park superintendent agreed that the prime spot was across the road, and consented to let us place it there, so we did. It's a beautiful spot. The dedication ceremony was held on October 10, 2015, right after the tragic shooting in a church in Charleston in June. Originally, the governor and a few other dignitaries at the state and national level were scheduled to attend, but I guess they thought better of it in the end. But we did have a few state legislators, the regional director of the National Park Service in Atlanta, and a large crowd in attendance. In any case, it's a beautiful monument and a fitting tribute to those sons of Mississippi who fought so valiantly over those fields of Shiloh for two days in April 1862.