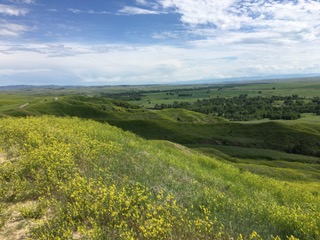 BGES member Jo Roberts recently joined Neil Mangum and a group of history enthusiasts on BGES' tour "Death in Montana: The Last Stand of George Armstrong Custer." Here's what she has to say about her experience, with photos to boot!
In the summer of 1998, I drove up to the Little Bighorn Battlefield on my way to visit friends in North Dakota.  I viewed the museum, walked down to the river, listened to the park ranger, and bought a few post cards.  I was overwhelmed by events that occurred there.
June 11th through June 15th, 2019, I participated in the "Death in Montana: The Last Stand of Custer" tour with Historian Neal Mangum, BGES Executive Director Len Riedel, and a van full of other historians.  This time I was prepared!  I read multiple books on Custer, his life, his wife, his courage, and his follies. With this research as a foundation, I saw the battlefield through different, informed eyes.
Neal took us to sites where tourists are not often given access, so we viewed the battles from different perspectives.  Earlier in the week we walked the Rosebud Battlefield, and stood on top of the site where Captain Guy Henry was grievously injured. My most memorable time, however, was eating Indian tacos with Ramona Red Bird, the great-great-granddaughter of Crow Scout White Man Runs Him at the Custer Battlefield Trading Post Cafe. I went home with postcards signed by Ramona Red Bird. Awesome trip!