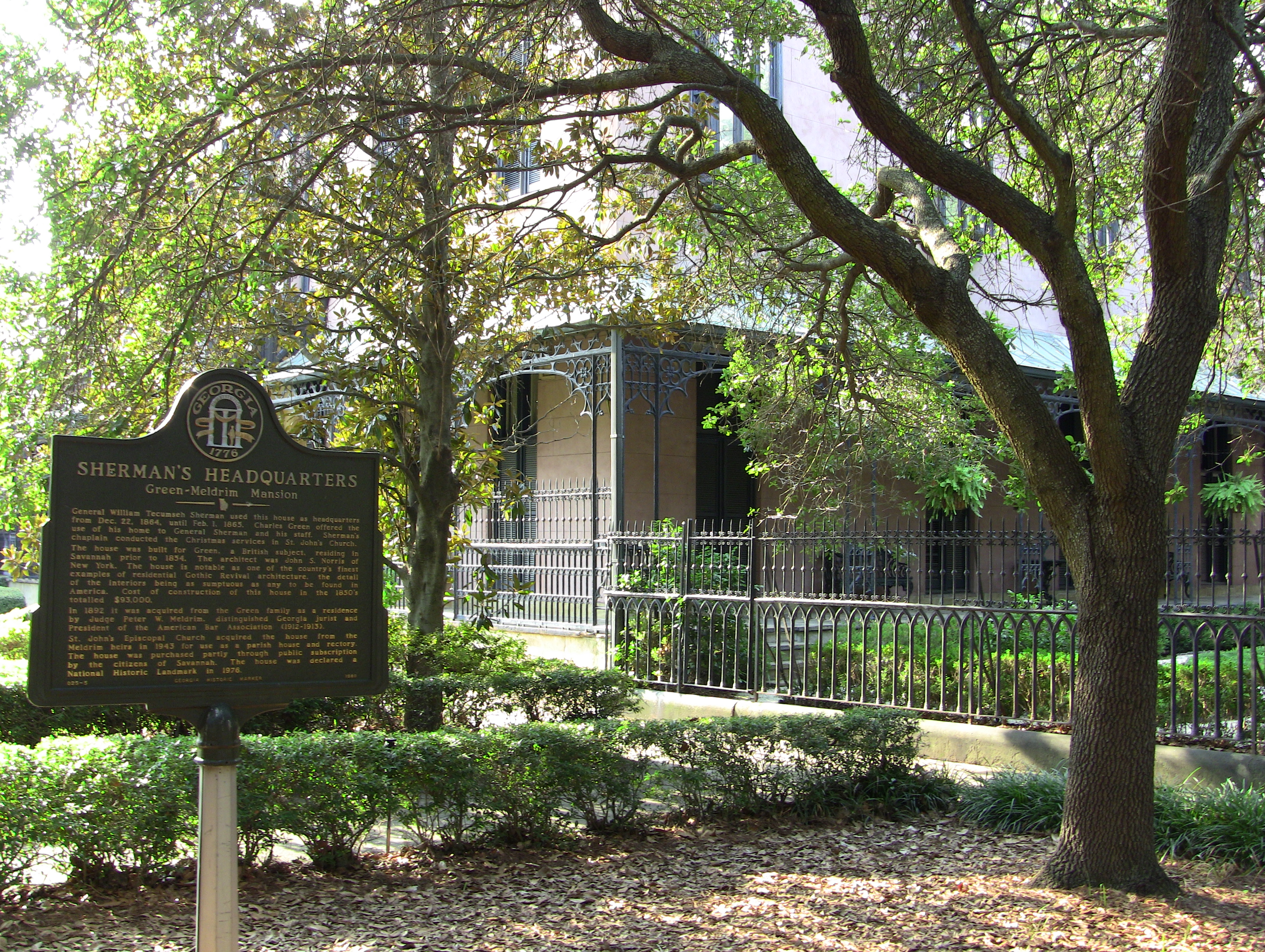 Of the three "southern sisters"—Charleston, Savannah, and Wilmington—the city of Savannah is the most authentic. Its historic buildings and design, set around a series of squares, makes this a delightful walk filled with Civil War history. Find a parking place along Bay Street and begin your tour at City Hall. 
City Hall (2 E. Bay St.) With your back to City Hall, look left to see the point where Sherman's troops marched into Savannah. On the corner of Bay and Bull Streets stands the U.S. Custom House, which held revenue gathered before the war. Walk left and take one of the crosswalks over the small alleyway.
Commercial Heart Incoming goods were off-loaded and stored in the riverside buildings until they could be exported or picked up to be sold by local merchants. Return to the intersection of Bull and Bay Streets. Walk south on Bull Street.
Slave Auction Site An immediate left past the U.S. Custom House leads to an alley. Walk 20 steps. Here is where enslaved people were sold. Return to Bull Street and turn left.
Johnson Square Delegates met in the Pulaski Hotel (now Regions Bank) to discuss secession, and mourners gathered here after the first battle of Manassas and also after the assassination of Lincoln. Go south on Bull Street
Juliette Gordon Low Birthplace (10 E. Oglethorpe Ave.) The founder of the Girl Scouts, whose father was a Confederate officer, was a small child during the Civil War. Her family hosted Generals Sherman, Howard, and others. Walk south to Chippewa Square. 
Savannah Theater (222 Bull St.) From the balcony of the 1818 theater, Alexander Stephens, soon to be Confederate vice president, delivered a stirring defense of secession. Continue south.
Oglethorpe Barracks (15 Liberty St.) Now the site of DeSoto Hilton, this is where city commander Hardee and General Beauregard decided to evacuate Savannah. Continue on to Madison Square.
Madison Square Sherman's headquarters during the occupation, the Green-Meldrim House is open to visitors. Walk east down West Harris Street to Barnard Street.
Bartow House (126 W. Harris St.) Francis Bartow, commander of the Oglethorpe Light Artillery, was killed in the first battle of Manassas. His death was mourned citywide. Walk north on Barnard Street. Turn right on Oglethorpe and walk to Abercorn.
Colonial Park Cemetery (201 Abercorn St.) Established in 1750, this cemetery was desecrated during the Union occupation. Burials were looted and headstones altered or used for target practice. After the war, the dislocated gravestones were lined up on the far wall and eventually cemented into place.
If time permits, visit the Confederate monument in stunning Forsyth Park at the intersection of Drayton Street and East Park Avenue.
Excerpted from National Geographic's The Civil War: A Traveler's Guide