A 2023 BGES Americana Field University Program
Presented by Neil Mangum
July 9-18, 2023; from Kansas City, KS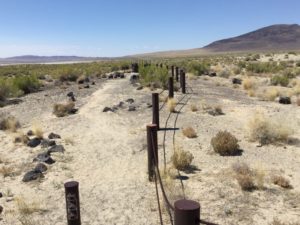 With the discovery of gold in California a need for rapid communication between potential investors and vendors produced an early precursor to Federal Express and UPS—The Pony Express. The concept of operations was based around an endless run of riders changing horses and riders at relay stations. The system was designed to sprint along side of the Oregon, Mormon and California Trails making the 2000 mile run in just 10 days. It was a spectacular financial bust and yet few innovations better captured the imagination and spirit of the Wild West.
Today we can retrace significant elements of the route and share the stories of an enterprise that will leave you in awe of the unforgiving landscape and the optimistic execution of the long, lonely route. Ultimately it was negated by the Civil War, and overcome by the development of the telegraph and transcontinental railroads. Come on and join us.
Itinerary
Sunday, July 9, 2023
8 PM: Check in at our headquarters hotel in Kansas City. Neil and I will meet you in the lobby and distribute readings and other information about the program. Kansas City is famous for steaks and BBQ—we will break the ice with a BBQ dinner before calling it a night.
Hotel and dinner included.
Monday, July 10, 2023
Mount up at 8 AM, we will bus to the starting point in St. Joseph, Missouri—the eastern terminus. Here we will tour the Pony Express Museum which includes the original stables. Close by is the Patee House, the headquarters of the Pony Express—another stop. As a bonus we will also see the home where Jesse James was murdered. We end the day in Marysville at the Pony Express Station there.
Hotel, breakfast, lunch and dinner provided.
Tuesday, July 11, 2023
Leaving at 8:15 we follow along the track of the Pony Express—it is familiar to many travelers as it follows the route of the western trails—the major difference being that instead of wagons the route is being covered by sprinting horses carrying a mail pouch and driven by an aggressive and focused young man racing to a waypoint where he will change mounts and carry on. We've three significant sites today—Rock Creek Station where a Pony Express employee—James Butler Hickok, known to history as "Wild Bill" Hickok, shot and killed three men, Fort Kearny and the site of the Plum Creek Massacre. We overnight in North Platte, Nebraska.
Breakfast, lunch and hotel included.
Wednesday, July 12, 2023
Keeping in mind the nation was embroiled in a destructive Civil War our stops today cover a number of small engagements between the native Americans and remaining US soldiers—this was the American frontier and antebellum military service almost certainly included postings in the west. We will see several sites including some in Julesburg, Colorado and Fort Rankin. Indeed it should not escape your notice that the entire route to date is chocked full of these sites. Today you will also notice that we have transitioned from the farming country of the Great Plains to the wide open spaces of the Nebraska panhandle. We will see navigational landmarks such as Chimney Rock, Jailhouse Rock and Courthouse Rock. Our featured stop today is Fort Laramie. We conclude the day passing Register Cliff and the rutted sandstone of the Oregon Trail as we move to Guernsey where we overnight.
Breakfast, lunch and your hotel are provided.
Thursday, July 13, 2023
The changing landscape will become very pronounced today as we move to Lander Wyoming for our overnight stop. Our first encounter today is the National Interpretive Trails Museum in Casper. We will then head to Fort Casper and cross the North Platte River as we ascend towards South Pass—a significant milestone in the trails west.
Breakfast, lunch and lodging is included.
Friday, July 14, 2023
Today we pass through the mountains at South Pass. These awe inspiring geological formations must have fomented fear in those immigrants traveling west and yet they were unavoidable, without the breaks in the mountains such as at South Pass one imagines that the spirit of the traveler would have been broken. As we move through South Pass we will split from the Oregon Trail and pick up the California Trail—of course we should because the Pony Express terminus was Sacramento. We will spend time at Fort Bridger, Wyoming and then enter Utah passing through Echo Canyon before overnighting in Salt Lake City.
Breakfast, lunch and the hotel are included.
Saturday, July 15, 2023
We have spent much time in the remote west and the Great Salt Lake and Mormon migration is too attractive to ignore. We will make stops at both the Pony Express monument and famous Temple Square. We will then head south to Camp Floyd and Faust's Station. The afternoon will break your heart for both the immigrants and the riders on the Pony Express trail. The great natural beauty of the salt flats along the southern shore of the Great Salt Lake is both enchanting and at the same time daunting—so far and to face this? We will overnight in Ely, Nevada.
Breakfast, lunch, dinner and the hotel are included.
Sunday, July 16, 2023
In 30 years of historic traveling I have never seen any place more pristine than the Nevada Basin. The Great Basin defies description and the area has changed little since the days of the Pony Express. The region is devoid of ranches and towns yet stone ruins bear silent testimony that man was here—they are relay stations where horses were changed out and a brief bite of food or a splash of water was greatly appreciated. We will visit several of these sites where riders faced brutal heat and bone chilling cold in a waterless, barren region. We will overnight in Fallon, Nevada.
Breakfast, lunch and dinner are included along with the room.
Monday, July 17, 2023
Our final day begins with vestiges of Old Fort Churchill. Troopers from the fort were engaged in the Paiute War. This nasty dispute temporarily closed the Pony Express in May and June of 1860. Then it is onward through Lake Tahoe—one of nature's great gifts to travelers—can you imagine the relief a rider must have felt to see this site? We will cross the Sierra Madres Mountains and head directly for the western terminus of the Pony Express in Sacramento. Here we will take a group photo at a magnificent Pony Express monument. As time permits we will also tour the Wells Fargo Museum before pushing on to our hotel at the San Francisco airport.
We have been on the road on a comfortable motor coach with comfortable beds each night—we have been gone for about the same length of time as a single run of the Express route by horseback—are you not in awe given all you have seen?
Breakfast, lunch and the hotel are included.
Some of you may opt to catch a "Red Eye" flight home tonight. If you do, we will adjust your registration fee accordingly—just let me know by June 16th, 2023—after that date you own the room.
Tuesday, July 18, 2023
Depart at your leisure. Thank you for coming.
About the Faculty
Neil Mangum is one of the nation's foremost historians and is an expert on frontier life. A retired National Park Service official, Neil served as Superintendent at the Little Big Horn National Battlefield as it transitioned from Custer National Battlefield. The popular Mangum only allows himself two or three tours a year and BGES is fortunate to enjoy his favor. He enjoys the cliental and the small folksy nature of the group that is usually well prepared. Neil is author of The Battle of the Rosebud: Prelude to the Little Big Horn. He has a following and most people on this trip will have travelled with him before which makes this event even nicer.
Hotel Information
Your registration fee includes includes 9 nights single or double occupancy lodging. Hotels will be announced and contact information provided by December 1st, 2022.
Transportation
The arrival airport is Kansas City International (MCI) and the departure airport will be San Francisco International (SFO). We will seek hotels that afford transportation to and from the airport. If you drive to Kansas City we will make arrangements for you to leave your car parked there—an additional charge may apply or you may want to park in long term parking at the airport and take the hotel shuttle back to the hotel. The hotel will be easily accessible by automobile. Amtrak services Kansas City. The return from San Francisco to Kansas City involves buses and two days travel with train service starting in Los Angeles or you can take a shuttle flight to LAX and connect with the train there. The Southwest Chief is a very scenic route.
Recommended Reading
You will be provided with a reading book and maps upon arrival. The following books are suggested to enhance your readiness for the program. These books are available online. Amazon.com has a program to support non-profits IF YOU SIGN UP to support Blue and Gray Education Society (EIN 54-1720582) at AmazonSmile. When you sign up there rather than the normal Amazon site, one-half of one percent of your purchase price will be provided to BGES as a donation from Amazon. This will apply not only to this purchase but others you may make at other times. Thank you.
Registration
Registration includes 9 nights lodging, 8 breakfasts, 8 lunches and 4 dinners, a reading book with maps, the academic program, support of a professional historian, tour director, all admissions and transportation. We will also provide snacks, bottled water and a limited selection of sodas.
Register for this program using a secure PayPal link
---
To register by mail or fax, download this printable registration form: The Pony Express: A Romantic Failure
Questions? Need more information? Please contact us.