A BGES Civil War Field University Program
Presented by Lee White
October 29-November 1, 2023; from Chattanooga, TN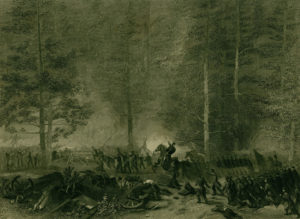 The study of the Civil War is largely about battles and personalities. The major battles we know and the frontline characters get all the ink. However, leadership is best examined at the tip of the spear, where men in combat are led by men of intrinsic and or learned character. A select group of lower-level officers, fairly young, rose to prominence in the war and become legends in their own right. One such man was 33-year-old Patrick Cleburne, an Irish immigrant and an Arkansas lawyer whose battlefield legend creates one of the great "What if?' stories" of the American Civil War—What if he had been given more responsibility?
Cleburne has a following and several excellent books and essays written about him; but we will contextualize his legend by examining those battles from late 1863 until his heroic death at Franklin on November 30, 1864. Set in the wake of our excellent program on the Battle of Chickamauga—we will start with Cleburne in the subsequent Chattanooga Campaign and conduct it through the early part of the Atlanta Campaign—this is a wonderful extension of our previous tour. Do one or do both; you will find your time very well spent. Part 2 of this study will take place in 2024.
Itinerary
Sunday, October 29, 2023
6:00 PM: We will assemble at the Fairfield Inn to meet and greet your fellow students. Lee White will meet you to overview his program while addressing why Cleburne so interests him and the background that brought this Irishman to the hills and hollows around Chattanooga.
We will break so you can get your dinner.
Monday, October 30, 2023
8:30 AM: Depart from hotel. Pat Cleburne didn't sneak up on anyone, and we will pick him up as a major general in command of a division. As Bragg assembled a loose siege of Rosecrans and Chattanooga, General Grant arrived in the region and brought his protégé, William "Billy" Sherman, with him. As Grant plotted the lifting of the siege, he brought Sherman discretely to his left, intending to roll up Bragg's right atop Missionary Ridge. We will spend the majority of the morning looking at Sherman's failure to break the rebel line—the fighting at Tunnel Hill has long been masked by the unexpected success of Thomas's men who carried Bragg's position.
As Bragg's men fell back, Cleburne's stiff spine was stretched across the Federal lines of pursuit when he stopped the Yankees at Ringgold Gap. Cleburne's fierce fighting and control of the surrounding terrain chilled the Federal pursuit and let the Confederates reset at Dalton. We will finish the day at Cleburne's encampment and winter quarters over the 1863-1864 seasonal change.
We are then back to the hotel. Lunch is included, but dinner is on your own.
Tuesday, October 31, 2023
8:30 AM. Depart from hotel. The disaster at Missionary Ridge was the last act of Braxton Bragg's command. Bragg had failed miserably and evacuated a strong defensive position. Over the next few months, the Confederates licked their wounds and determined what was needed to grab the initiative. Cleburne, a respected immigrant, determined that enlisting enslaved African Americans as soldiers would be a decisive game changer, and he advocated the action at a meeting in Dalton that stirred a great deal of controversy and likely destroyed his credibility with his commander and the political leadership of the Confederacy. We will visit the Huff House and see where the meeting took place.
Dalton is where the Confederate Army of Tennessee reorganized and drove off, probing Federal excursions. Gen. Joseph E. Johnston was given yet another chance to lead Confederate forces to victory. The winter improved the morale of the rebel army, and a Grand Review displayed that esprit de corps.
The end of the winter revealed that Sherman would be the aggressor, and Johnston would parry his various thrusts. We will head to Dug Gap, where Johnston's carelessness left open a route to his rear. The Federals fail to exploit the opportunity, and Cleburne is center stage at the fight for Resaca, a wonderful new battlefield park you will get to enjoy.
We are then back to the hotel. Lunch included, but dinner is on your own.
Wednesday, November 1, 2023
8:30 AM. Leave the hotel. Cleburne's star continued to rise with solid performances on the battlefields. Johnston's carelessness opened the opportunity for Sherman to pry him out of his well-developed lines in and around Dalton. We will follow Cleburne and his division as they fall back and defend Calhoun's Crossroads and then follow and fully discuss the impact of the miscommunications at Cassville, a potentially fatal opening for the Federals that went unexploited.
Cleburne's final résumé builder was his alacrity and performance around the area now known as the Hell Hole and its central action at Pickett's Mill. The unsettled nature of the two maneuvering armies has been labeled "The Red Clay Minuet," but the casualties were real, and soon one of Johnston's Corps Commanders, Leonidas Polk, would be killed by an artillery barrage that opened the door to a realignment within Johnston's Army of Tennessee—the call goes to the bullpen, but it is not for Cleburne. As he settles into the Mudcreek Line, we will see how he channeled it in the four months that remained in his life, which will be the objective for Part 2 in 2024.
Lunch is included. We will return to the hotel by 5 PM, and you will be good to go.
By the way, if you have the time and interest, you can get an immersion with one of the nation's most exciting and dynamic historians, David Powell. Powell has published five books on Chickamauga, including an awesome map book. He will precede this tour with three full days covering the Chickamauga Campaign. Check out the registration form for that program, which is based out of the same hotel. This is a great week of battlefield tramping at the best time of the year.
About the Faculty
Lee White is one of two outstanding interpreters working at Chickamauga and Chattanooga National Military Park. While many high-visibility tours have opted for the "Park Historian—Jim Ogden," we are fortunate to be able to work with both, and serious historians owe it to themselves to study under both. Lee has found his own niche in a society of younger Revolutionary and Civil War historians known as the Emerging Civil War and the Emerging Revolutionary War. He has published several books in that fine organization's series of lengthy monographs under the name William Lee White. Check them out in the recommended reading section.
If you have been out on a tour with Lee, you will go again. If you haven't, you owe it to yourself.
Hotel Information
This program will be headquartered at the Fairfield Inn, 2345 Shallowford Village Drive, Chattanooga, TN 37421; 423-499-3800. The rate is $99 per night, plus tax. Ask for the Blue and Gray Education Society Stonewall of the West rate. You may also directly book from the following hot link:
Book your group rate for Blue & Gray Education Society – Stonewall of the West
This is a busy time in Chattanooga, and the block goes away on October 4, leaving you vulnerable to paying rack rates or staying elsewhere.
Transportation
The servicing airport is Chattanooga (CHA); it is very small. Nashville (BNA) and Atlanta (ATL) require rental cars but may be more affordable for some, despite the need to drive a rental car to and from. For people driving in, the hotel is convenient to Interstate 75.
Recommended Reading
You will be provided with maps upon arrival. The following books are suggested to enhance your readiness for the program. These books are available online:
Registration
Registration includes three lunches, all paid admissions, maps, the academic program, support of a professional historian, a tour director, and transportation by passenger bus or van. We will also provide snacks and bottled water.
Register for this program using a secure PayPal link
---
To register by mail or fax, download this printable registration form: Stonewall of the West: Patrick Cleburne, Confederate Paladin, Part 1
Questions? Need more information? Please contact us.