A BGES Civil War Field University Program
Presented by David Powell
October 25-27, 2023; from Chattanooga, TN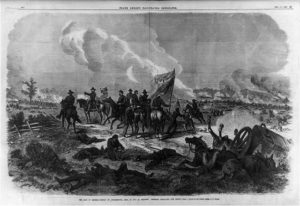 The press screamed about the East, and yet the American Civil War was always about the West. The country had moved in that direction—two presidents in office were both born in Kentucky. The American president had been a Springfield, Illinois, lawyer, and the Confederate president was a Mississippi senator who had been the U.S. Secretary of War. The vast expanses of industry north of the Ohio River were juxtaposed against the massive labor intensive and multitudinous plantation homes—each an industry in and of itself.
So this Civil War had to be and was won in the West. This program will expose you to one of the most important locations in the West—the geography and transportation nodes in and around Chattanooga. It had been important and a target as early as the spring of 1862; but it came to full fruition in the fall of 1863, attracting many of the key players in the war and a series of military operations that were incredible and, at the same time, seemingly impossible. Chance interfered with planning and personality conflicts undercut good military strategy. Officers from whom much was expected failed, and those who were not highly regarded shone brightly when their moments came.
Itinerary
Wednesday, October 25, 2023
6:00 PM. We will meet at the Fairfield Inn and Suites Hotel to meet and greet your fellow students. David Powell will follow with an opening discussion briefly reviewing the development of the Chickamauga Campaign.
We will break so you can get your dinner.
Thursday, October 26, 2023
8:00 AM. Depart the hotel. Gen. William Starke Rosecrans, a converted Catholic, was an odd bird in the Federal command structure. Rewarded for his battlefield achievements, dating back to western Virginia in 1861, Rosecrans had succeeded Don Carlos Buell in command of the Army of the Cumberland, relieving General Grant of a troublesome subordinate while hopefully bringing some fire to the operations of a quite capable field force. For nearly 11 months, Old Rosy had waged war his own way, and now he was producing measurable results.
Rosecrans had fought Gen. Braxton Bragg at Stones River right after Christmas 1862, and now, when the campaigning weather was favorable, he had maneuvered his opponent practically out of Tennessee by flanking marches and using the various valleys and hollows while crossing the barren mountains northwest of Chattanooga.
Bragg had not run away, and he carefully watched Rosecrans's maneuvers. When Rosencrans overextended himself crossing Sand Mountain, Bragg attacked him. Sadly, for the much-maligned Confederate commander, the character and inadequacies of his subordinate commanders again emerged and drove underwhelming outcomes for Bragg's promising plans.
Our first area of exploration is the lost Confederate opportunity at McLemore's Cove. Here, Bragg ordered a strategically valuable attack against a portion of the isolated Federal force—misfire! As the Federal forces assembled near Chickamauga Creek, we will follow many of those maneuvers until we reach the bridges at Reed's and Alexander's crossings. Here, we will discuss and evaluate the cavalry fights at those two choke points.
We will return to the hotel where you can have dinner on your own. Lunch will have been provided.
Friday, October 27, 2023
8:00 AM. Depart the hotel. Chickamauga becomes a big fight quickly, and it takes someone of David's comprehensive knowledge of the grounds to present the fighting in a logical and comprehensive fashion. Bragg's opportunity is large. With the Federals scrambling to assemble, the fight unfolds in earnest on September 19. An effort to turn the Federals left and cut to the road to Chattanooga comes up short, as do other Confederate efforts that day.
There are significant fields of fighting all along the Federal line. Again, Bragg's plans are not carried out with alacrity, and the day becomes bloody—fast. The Federals hold tight but are severely battered and will have to consolidate and strengthen their lines for the test to follow on September 20.
Lunch is included, but dinner is on your own.
Saturday, October 28, 2023
8:00 AM: Depart the hotel. Bragg has bloodied Rosecrans on September 19, and with the arrival of troops from Lee's army in the east under the command of Gen. James Longstreet, Bragg's fortunes take a turn for the better. During the night, he reorganizes his forces into wings controlled by Longstreet and Leonidas Polk. Sadly, his intent is received from couriers rather than directly from Bragg. By morning, his orders have misfired, and Polk does not initiate an attack—when confronted, he starts late…by hours.
Longstreet's luck is much better, and he succeeds not only in pushing the Federals back but drives through an unfortunate gap created in the Federal lines by confused orders from Rosecrans sent directly to a division commander. The rupture in the Federals' line causes them to collapse and, indeed, the entire Federal right pulls away in disorder.
Longstreet's success is so complete he pauses to enjoy lunch on the battlefield. But his day is darkened by the severe wounding of one of his division commanders, John Bell Hood. Hood will lose his leg, but Longstreet will lose momentum, and a line cobbled together on Snodgrass Hill stops the Confederates for hours—ironically, the line is under the command of a Virginia-born commander, George Thomas, who has remained loyal to the Union during the war. This day, Thomas will earn the sobriquet "The Rock of Chickamauga."
Bragg has won a smashing and decisive victory—the damage to Rosecrans's reputation is irreparable. Undercut by devastating reports from War Department representative Charles Dana, he will lose his position within a month—replaced by U.S. Grant. Bragg is indecisive about how to exploit his success. This will reignite the backbiting plaguing the southern army since Perryville nearly a year before. This time, Longstreet joins in, and even President Davis cannot quell it. Despite dispersing his enemies, Bragg cannot reorganize his command team into a group of leaders, and he will be out of a job in late November when Thomas's men carry Missionary Ridge after Joseph Hooker has taken Lookout Mountain. Chattanooga is the subject of another field study; ours will today conclude on Kelly Field and Horseshoe Ridge.
Lunch is included. We will return to the hotel by 5 PM, and you will be good to go.
By the way—you may want to double your pleasure by staying over into the next week when Chickamauga historian Lee White will initiate the first of a two-part series studying the military fortunes of the very capable but overlooked Maj. Gen. Pat Cleburne. The first part of his study will follow Cleburne and his Division from Tunnel Hill during the Chattanooga Campaign and the first part of the Atlanta Campaign through Pickett's Mill. It will be time well spent.
About the Faculty
David Powell is one of the Western Theater's most engaging and prolific historians. A Virginia Military Institute graduate, Powell has produced a steady stream of comprehensive studies for Savas Beattie books. His study of the Chickamauga Campaign is already heralded as the standard by which that significant campaign will be evaluated. Most recently, he has tackled the Atlanta Campaign in a projected multi-volume study. He has also compiled a series of map studies that supplement his narrative studies. If you are lucky enough to own his different monographs, you will appreciate what a treat it is to be on the battlefield or on a bus with him. Powell's mastery of the grounds, his commemoration and analytic insight, will leave you dramatically smarter than you were on the first evening of the program.
Hotel Information
This program will be headquartered at the Fairfield Inn, 2345 Shallowford Village Drive, Chattanooga, TN 37421; 423-499-3800. The rate is $133 per night, plus tax. Use this link to make your reservations:
Book your group rate for Blue & Gray Education Society – Chickamauga
The block goes away on September 27, leaving you vulnerable to paying rack rates or staying elsewhere. The airport is very small.
Transportation
The servicing airport is Chattanooga (CHA). Nashville (BNA) and Atlanta (ATL) require rental cars but may be more affordable for some despite the need to drive a rental car to and from. For people driving in, the hotel is convenient to Interstate 75.
Recommended Reading
You will be provided with maps upon arrival. The following books are suggested to enhance your readiness for the program. These books are available online:
Peter Cozzens: That Terrible Sound (Chickamauga)
David Powell: The Chickamauga Campaign. Barren Victory: The Retreat to Chattanooga et al, September 21-October 20, 1863
David Powell: The Chickamauga Campaign. Glory or Grave: The Breakthrough, the Union Collapse, and the Defense of Horseshoe Ridge, September 20, 1863
David Powell: The Chickamauga Campaign: A Mad, Irregular Battle: From the Crossing of the Tennessee River Through the Second Day, August 22-September 19, 1863
David Powell: Maps of Chickamauga: An Atlas of the Chickamauga Campaign, Including the Tullahoma Operations, June 22-September 23, 1863
Steven Woodworth: Six Armies in Tennessee: The Chickamauga and Chattanooga Campaigns
Registration
Registration includes three lunches, all paid admissions, maps, the academic program, support of a professional historian, a tour director, and transportation by passenger bus or van. We will also provide snacks and bottled water.
Register for this program using a secure PayPal link
---
To register by mail or fax, download this printable registration form: Lost Opportunity: Chickamauga
Questions? Need more information? Please contact us.